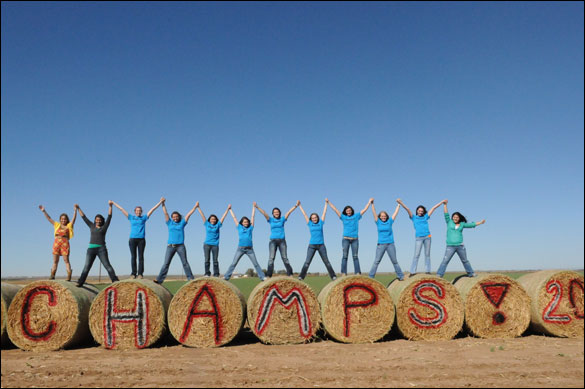 holly campbell photo
The 2012 Friona Squaw District Volleyball Champions. From left, managers Joanna Hernandez and Magali Morales, Ashli Smith, Dakotah Hicks, Bianca Romero, Kalley Preston, Marissa Lozoya, Mykelti Rhodes, Brianna Miller, Maddie Murphree, Kendall Kimbrough, and manager Gaby Quintana. More Squaw photo albums in our photo section.
Squaws sweep district,
head to playoffs
From Coach Bryan Masse
The JV and varsity volleyball teams worked hard to complete a sweep of Dimmitt there Saturday. The JV had to overcome a change in their lineup but adjusted fine to win 2-0.
The varsity swept Dimmitt 3-0 to win the outright district championship.
All three teams were victorious Tuesday night in Friona. The C team started off the night with a 2-0 sweep of the Tulia Lady Hornets. With this victory the C team became district champs. I think the C team became better as the year went along and everyone improved on their skill level. Congrats Coach Moreno.
The JV team also won over Tulia 2-0. The JV continued their dominance over district opponents and were also district champs. The JV team did not lose a district game. Well done. JV Coach Ray continues to do a great job developing players for the varsity level. Great job Coach Ray.
On senior night the varsity team came out with a lot of fire. The girls put together the best two games of the season for 25-10, 25-16 wins in the first two games. In game three the Squaws lost momentum and had to fight back from behind. Tulia began to serve better and pick up everything on defense.
The Squaws fought back and had chances to win in three but fell short 27-29. In game four the Squaws had to fight from behind again but they were determined to go undefeated in district and rose up to pull out the win 25-23. The Squaws finish the regular season with a 24-11, 8-0 record.
We play a warm-up game against Dalhart at 6:30 p.m. Monday October 29 at River Road. The area playoff game will be at noon Saturday November 3 with the site still to be determined.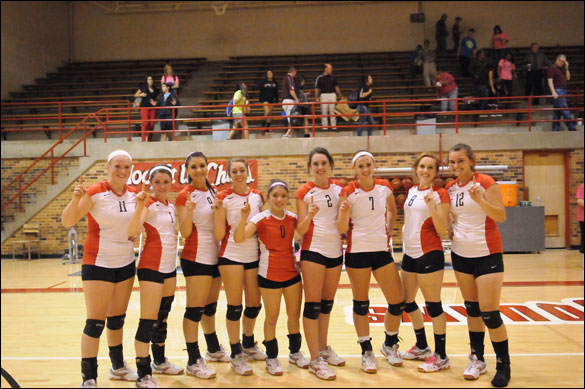 holly campbell photo
The "Number One" Friona Squaws, 8-0 undefeated district champions, shown after defeating the Tulia Lady Hornets in Tuesday night's final regular season match, left to right, Maddie Murphree, Kalley Preston, Marissa Lozoya, Ashli Smith, Bianca Romero, Kendall Kimbrough, Brianna Miller, Mykelti Rhodes, and Dakotah Hicks. Lot more action photos in our photo section.