Gonzalo Vivi Hernandez, III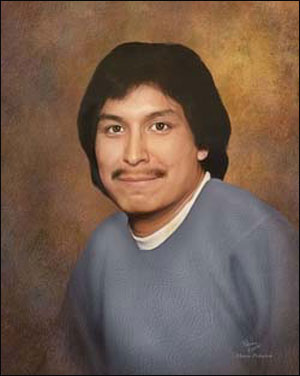 Gonzalo Vivi Hernandez, III, of Waxahachie, Texas ended a sudden battle with cancer on Sunday, November 18, 2012 at his home in Maypearl, Texas, with family members at his side. He was born in Dimmitt, Texas August 2, 1962, to Gonzalo and Teya Hernandez.
Services to celebrate his life were held Saturday, November 24, 2012, at the Pat Boze Memorial Chapel of Wayne Boze Funeral Home with Pastor John Martinez officiating. Interment followed at the Maypearl Cemetery.
He was a dedicated family man who loved taking his grandsons to the movies and enjoyed his daily routine. Vivi was a devoted son, an honorable brother, and an irreplaceable father. He attended Friona High School and later Waxahachie High School. He was a loyal employee to Magnablend in Waxahachie for a number of years.
He lived a peaceful, easy going life and will be missed tremendously by those who are privileged to call him their son, brother, father, and friend.
Survivors include his father, Gonzalo Hernandez, Jr.; mother Teya Rodriguez; brothers Joe (Virginia) Hernandez, George (Cynthia) Hernandez, and Oscar Hernandez; two daughters, Heather Hernandez-Haire and Haley Hernandez Soldervilla and their husbands; four grandsons, one granddaughter, one nephew, and three nieces.
Graveside services for Jo Mimms, 88, of Hereford were held Saturday, November 24, 2012, at Ralls Cemetery in Ralls, Texas, with Clay Mimms of Ima, New Mexico and Mike Mimms of Hereford officiating. Arrangements by Ellis Funeral Home of Muleshoe, Texas.
Mrs. Mimms died Tuesday, November 20, 2012, in Hereford. She was born June 16, 1924 to William T. and Sarah Lula (Wilson) Webb in Ralls, Texas. She married Virgin "Marvin" Mimms in Portales, New Mexico on January 29, 1945. He preceded her in death July 25, 2006. She was also preceded in death by her parents.
Mrs. Mimms was a member of the Lazbuddie Church of Christ. She was a homemaker. Survivors are many nieces and nephews. Memorials can be made to Children's Home of Lubbock, PO Box 2824, Lubbock, Texas 79408.