Squaws/Chiefs vs Muleshoe
Friday January 18 the Squaws and Chiefs swept the Muleshoe Mules and Lady Mules in a district match, winning by almost identical scores.
Squaws 59 Lady Mules 37: The Squaws led the entire game. Scoring: Dakotah Hicks 18, Brianna Miller 11, Maddie Murphree 10, Kendall Kimbrough 9, Nohely Juarez 6, Marisol Posada 5. Three point goals by Kimbrough and Miller.
Chiefs 56 Mules 37
The Chiefs pulled ahead 13-10 in the first quarter and led the rest of the game. Scoring: Cole Stowers 18, Jake DeWit 11, Dallin Woods 10, Mason Loflin 6, Sawyer Osborn 4, Joselito Cigarroa 3, Brad Stowers 2, John Haile 1, Gavin Douglas 1. Woods and C. Stowers had three point goals.
The teams travel to Olton Friday Jan 25 and host Dimmitt here Tuesday Jan 29. Game times are JV at 5 p.m. Squaws at 6:30 p.m. and Chiefs at 8 p.m.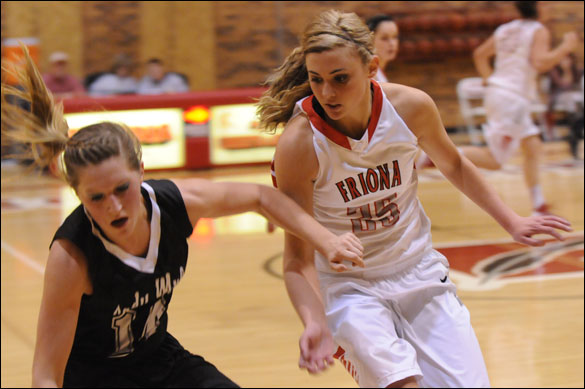 ron carr photo
Brianna Miller (25) harasses a Muleshoe Lady Mule along the sideline during Friday night's 59-37 district win by the Squaws. The teams travel to Olton Friday then host Dimmitt here Tuesday January 29.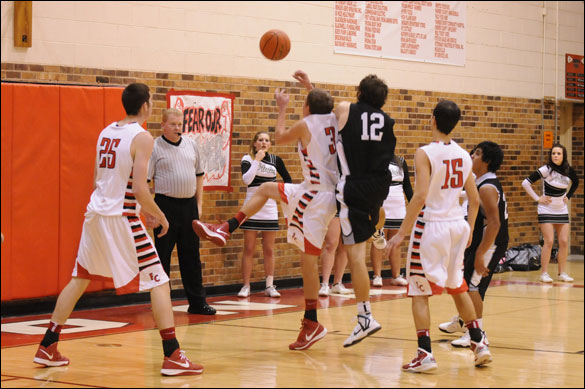 ron carr photo
Mason Loflin (3) battles a Muleshoe Mule for a rebound as Jake DeWit (25) and Brad Stowers look on. The Chiefs improved their district record to 2-4 with a 51-37 win over the Mules. They are halfway through district play and travel to Olton Friday night then host Dimmitt next Tuesday here.