Clara Mae "Mama" Seale, 87, of Amarillo, formerly of Friona, died Sunday, December 30, 2012, in Amarillo. Graveside services will be held at 2 p.m. Thursday, January 3, 2013, at the Friona Cemetery with family officiating. Burial will follow by Blackwell-Mullins Funeral Home of Friona.
Clara was born September 30, 1925, in Greenville, Texas to Logan and Ada Immel Payne. She graduated from Kress High School.
She lived a full life and was best known as Mama Seale, owning and operating Mama Seale's Drive-In for many years in Friona. She also served as a nurse's aide and home caregiver. Throughout her life she enjoyed a large circle of friends and an extended family, including Karen, Carolyn, Alan, Lana, and Charles Wayne Seale. Mama Seale will be remembered by many as a listener and counselor. She spent most of her adult life in Friona, but most recently lived in Amarillo.
She is preceded in death by her parents, five sisters, and three brothers. Family visitation will be held Thursday, January 3, 2013, from 10 a.m. to 12 noon at the funeral home.
Survivors include two sons, Rodney Seale of Farmington, New Mexico, and Dan Seale of Kermit, Texas; two daughters, Deborah Seale of St. Louis, Missouri, and Charlene Seale of Amarillo; two sisters, Odene Helms of Arlington and Marie Sims of Logan, New Mexico; and 12 grandchildren.
In lieu of flowers the family requests memorial donations be made to the Alzheimer's Association, 2200 West 7th St., Amarillo, Texas, 79106 or a favorite charity.
You may sign the online register book at www.blackwellmullins.com.
Jose N. Vega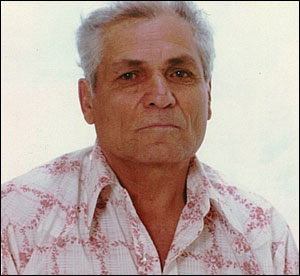 Jose N. Vega, 85, of Friona died Friday, December 7, 2012, in Hereford, Texas. Prayer vigil was recited at 6 p.m. Sunday, December 9, 2012, at St. Teresa's Catholic Church. Mass of Christian Burial was held at 3 p.m. Monday, December 10, 2012 at St. Teresa's Catholic Church with Reverend Anthony Swamy Aakula, Celebrant, and Pastor of St. Teresa's Catholic Church. Burial followed in Friona Cemetery under the direction of Blackwell-Mullins Funeral Home of Friona.
Jose N. Vega was born August 15, 1927 in Mexico to Jose F. Vega and Maria Centeno Vega. He married Ursula Carreno-Juarez in May 1954 in Mexico. He was employed as a farm laborer for Sloan Osborn and for Harold Joe Wells for many years, then was employed by Santa Fe Railroad, and then was employed by Excel Meat Packing Plant for 30 years before retiring.
His hobbies included carpentry, watching Lucha Libre and old western movies, and raising cats. He was a member of St. Teresa's Catholic Church.
He was preceded in death by his parents and one son, Jose Feliciano Vega.
He is survived by: his wife, Ursula Vega of Friona; five sons, Andres Vega, Carlos Vega, and Roberto Vega, all of Friona, Jorge Vega of Amarillo, and Jose Antonio Vega of Abilene; five daughters, Estela Vega and Evangelina Vega, both of Hereford, Olga Cantu of Canyon, Emma Arias of Lubbock, and Angelica Jeffries of Dimmitt; one brother, Gonsalo Vega of Mexico; two sisters, Amelia Vega of Mexico and Jovita Vega of Friona; 30 grandchildren and 9 great-grandchildren.
You may sign the register book online at www.blackwellmullins.com.
Clarence Hall was born September 6, 1926, in Saddle, Arkansas to James Arthur and Ellen (Evans) Hall. He departed this life Tuesday, December 18, 2012, at Ash Flat Healthcare & Rehabilitation Center in Ash Flat, Arkansas at the age of 86 years, 3 months, and 12 days.
Clarence was a former Friona resident. He worked as a rancher and a cowboy. He was an avid outdoorsman and loved his family.
He is survived by two daughters, Beverly Cosby and husband Charles of Springdale, Arkansas, and Helen Gail Bond of Franklin, Arkansas; one son, Larry Ross Hall of Dunnellon, Florida; his former wife and mother of his children, Mary Luceile Williams; four grandchildren, four great-grandchildren, a special nephew, and many other relatives and friends.
He was preceded in death by his parents; one son, Verl Dean Hall; a grandson Heath Lesley; two sisters, Elvie Powell and Nova Jean Hall; and four brothers, Aud, Owen, Dixie, and Burnice Hall.
Arrangements were by Barker Funeral Home, P.O. Box 783, Salem, Arkansas, 72576. Phone is 870-895-3990.