Junior High Student Council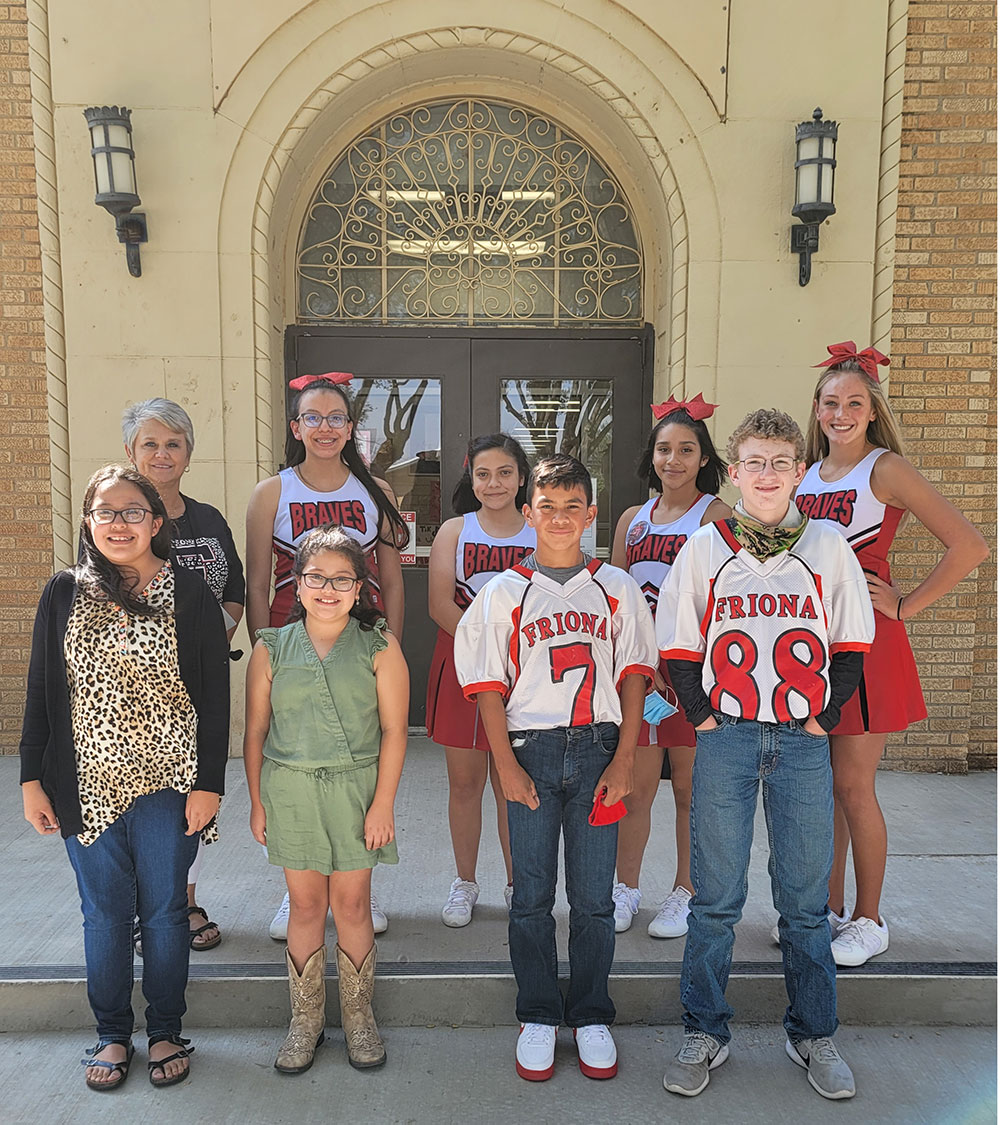 The purpose of the Student Council at Friona Junior High is to give students an opportunity to develop leadership skills by organizing and carrying out school activities, service projects, and planning events that contribute to school spirit and the community. They are the voice of the student body. The newly elected Friona Junior High Student Council Members are: Back Row (l-r) Mrs. Clark, Vanessa Penaran, Ashley Maldonado, Aylin Mendez, and Kitzy Welch. Front Row (l-r) Abby Marquez, Kayla Vielman, Aaron Rosales, and Jameson Daniels.
***
Town Talk
The Drive-thru Flu Shot Clinic had an excellent turnout and was deemed a success. It was estimated that approximately 80 flu shots were administered. The turnout was better than last year's walk-in clinic.
***
There will be a Friona Junior High accountability meeting at 4:00 pm on Wednesday, October 14 at the Friona Junior High Band Hall.
***
The Prairie Acres "Resident of the Month" for October is Ruth Miller. The "Employee of the Month" is Veronica Reyes. She works at Friona Heritage Estates and has been there since November 2018. Veronica also celebrated her birthday on October 5th. Cindy Hooley, housing manager at Heritage Estates, also celebrated a birthday on October 1st. Call the Friona Star at 250-2211 if you wish to add your name to the birthday list.
***
Prairie Acres & Friona Heritage Estates will be handing out candy on the lawn beginning at 5:00 p.m. on Halloween day. More details later.
***
Plans are also being discussed for a modified "Trunk or Treat" event for Halloween. Stay tuned.
***
Columbus Day is the U.S. federal holiday that commemorates the date when Christopher Columbus first set foot in the Americas. Columbus' voyages across the Atlantic Ocean initiated the European exploration and colonization of the Americas.
***
While the first voyage in 1492 was immensely significant, Columbus did not actually reach the American mainland until his third voyage in 1498. Instead, while trying to find a sea route to India, he made landfall on an island in the Bahamas that he named San Salvador.
***
It is now generally accepted that Columbus was not the earliest European explorer to reach the Americas and that Viking sailors had ventured as far as Newfoundland around 1000 AD. (Leif Erikson Day on October 9)
***
Columbus Day was first officially proclaimed by President Benjamin Harrison in 1892, to mark the 400th anniversary of Columbus' landing in the Bahamas. Franklin Roosevelt established the first federal observance of Columbus Day in 1937. Since 1971, the holiday has been celebrated on the second Monday in October.
***