Davis Madison "Dave, DM" Thompson II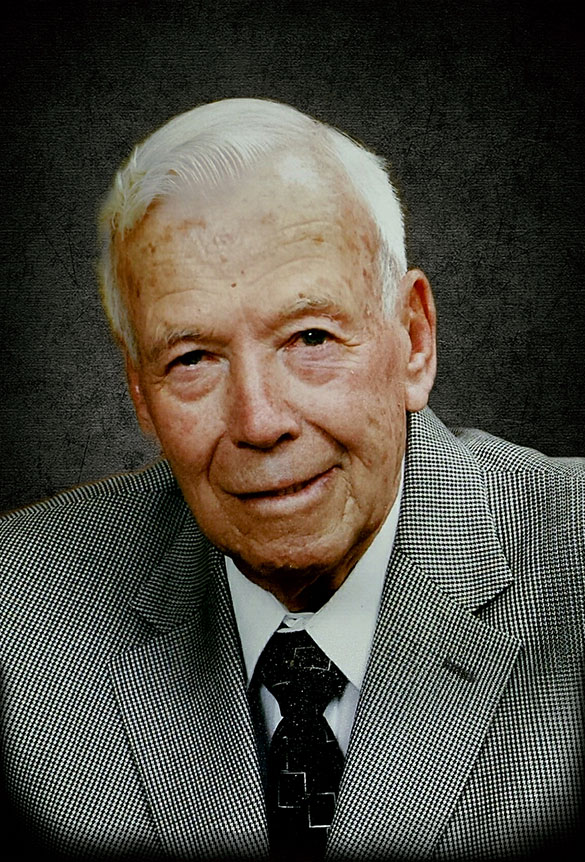 Davis Madison "Dave, DM" Thompson II, 96 passed away Thursday, December 10, 2020 in Dallas Texas. Viewing will be held from 9:00 A.M. until 8:00 P.M. Tuesday, December 15, 2020 in the Ron Smiley Memorial Chapel of Hansard Family with Celebration of Life Services scheduled for 1:00 P.M. Wednesday, December 16, 2020 at the Friona First Baptist Church with Pastor Brett Hoyle officiating. A family-only graveside service with Military Honors will be held immediately following at the Friona Cemetery. Burial following by Hansard Family Funeral Home of Friona.
Masks and social distancing are required at the viewing and both services.
Safety First!
During these tough times, we encourage you to just be with us in your thoughts.

Dave was born in Plainview, Texas on July 23, 1924. He became well-known and was respected as a very knowledgeable farmer and served in many leadership positions in many agricultural organizations throughout the Panhandle. His first job was working as a grocery delivery clerk during high school. In the summers, he worked on the family farm in Cotton Center. Dave was a wonderful musician and while in the Plainview High School Band he played every reed instrument and assisted the band director in teaching at the junior high school band. Dave also played in the Plainview High School Jazz Band. He earned a musical scholarship to Baylor University and after the war he formed a "Champaign Music" style band known as the Blue Jackets. Dave played saxophone with the Clovis Community Band until he was 93 years old.
In his first year of college, he was called to serve in the Army during WWII. He served in the Battle of Bulge where he almost froze to death. He earned a Purple Heart for saving other's lives.
After returning from the war, he returned to work on the family farm in Cotton Center and eventually went on to buying his own farm in Tulia. He moved from Tulia to Friona in 1961 where he married Vera Beth Thompson in 1962. They raised eight children and prior to her death, they served as band parents, Chieftain Booster Club members, and senior class sponsors. Dave went on to become active in the Texas Sugar Beet Growers Association in Parmer County and sat on the Holly Sugar Board of Directors and served as the research chair on their behalf. Dave farmed in several counties throughout the Panhandle and Eastern New Mexico. He called ranching his hobby.
In 1996, Dave married Norma Coffey and they enjoyed traveling throughout the country to see their children and grandchildren. They also traveled in Europe, Canada, and the Caribbean. At age 72, Dave took up the sport of golf and he was proud of making a hole-in-one at the Friona Golf Course.
Dave was active in the church his entire life, and he served as a deacon in the Baptist Churches in Cotton Center and Tulia where he sang in the church choir . He was also a very active member of the First Baptist Church of Friona. His Christian habits served as a great example for his children and others. Dave's greatest legacy is the Christian faith he leaves his family.
Dave is survived by his wife Norma, cousins Marion Coker of Norman, Oklahoma, and Marjorie "Pat" Ryan of Plainview and children Dinah Mae Thompson of Watsonville, California; Davis M. Jo Ann Lee of ? Thompson III of Estacada, Oregon; James Glen Hodges (Mary) of Tulia; John Robert Hodges (Jean) of Castroville; Lonny Joe Coffey (Karen) of Mansfield; Marsha Eileen Cline of Los Lunas, New Mexico; Autry Craig Hodges of Burleson (Vaughn Ann) ; Betty Jean "Jeanie" Thompson of Dallas (Daniel Seider Deceased); and Terry Lee Thompson (Mary) of Carrollton.
He was Grand Dave to 22 grandchildren: Cary Thompson (Jennifer); Randy Thompson (Valerie);Tracy Thompson (Sandra); Jolie Rutledge (Nate); Brandon Thompson (Kelly); Tawny Thompson (Julia); Jeffrey Thompson (Klicia); Davis Thompson IV; Scheid Hodges (Devon); John J Hodges (Sarajane ); Francie Gust; Rhett Cline (Keri); Tara-Jill Cline-Smith (Anthony); Ashley Cline; Lauren Hodges (Cory Parker); Emily Hodges (Jeremy Motley) Travis Thompson (CJ); Angela Thompson; Micah Coffey (Robyn); Michelle (Wolf (Chris)); Leslie Smithwick (Phillip); and Brad Stapp (Amy); 50 great grandchildren: Gavin, Connor , and Bailey Thompson; Shaleigh, Carsen, and Henry Thompson; Silas, Micaella Zoey and Selah-Rose Thompson; Remi and Cassie Rutledge; Stephanie and Christopher Thompson: Seth, Connor and Madison Thompson; Hannah Lee, Bethany, Kayla and Jacob Hodges and Annah Kreiner; Joshua and Brett Hodges; Kordell (Thayane), Jared (Ella): Meagan and Mathias Thompson; Brittney Maloy (Dustin); Ciarra and Davis Thompson V; Lindsey Whittaker (Cody); Tawnee Hall (Deceased), Alison Steele (Tyler), Kaili Nichols, Kelsie, Coy and Raegan Cline; and Jameson Parker; Callan Coffey; Lainey and Allie Wolf; Haley, Brooklyn, Hannah, Peyton, and Joshua Smithwick; Jordan Stapp 7 great great-grandchildren: Riker and Oliver Maloy Theodore thompson; Little John Hall III; Brooklyn Gage; and Brody and Ryder Nichols; and Brinley Smithwick. He had numerous nieces and nephews and was a father figure to many, especially Janaline (Hank) Taylor, Walter (Vickie) Buenger Jr. (Vickie), Quinnell (Steve)Thornburg, and Nick (Andrea) Redinger.
He was preceded in death by his father, Davis Madison Thompson I and his mother Ethel May; his older brother Lewis (Alice) Thompson and sisters Vernie (Mac) McCaskill, Aileen Redinger, and Janice (Walter) Buenger; and a daughter, Carole Stapp. Cousins Davine (Jack) Sageser, and Sharon (Bob)Thomas. His first wife, Betty Louise Cirillo and Vera Beth Thompson, his second wife. Sisters-in-law Peggy Dodson of Waco, Jo Ann Lee of Cedar Park and JoAnn Gordini of Norman, Oklahoma.
Pall bearers are Terry Thompson, Craig Hodges, Brandon Thompson, Christopher Thompson, Rhett Cline, and Ashley Cline.
In lieu of flowers, the family suggests memorials be sent to the First Baptist Church of Friona or Prairie Acres Rehabilitation and Nursing 201 East 15th Street, Friona, Texas 79035; or an alternate organization of your choice.
To give memorials in honor of Dave Thompson to First Baptist Church Friona, send checks made out to "First Baptist Church Friona" to 404 w 5th St, Friona, Texas 79035. Please put 'memorial for Dave Thompson' in the memo. Also, you can give online at fbcfriona.com, by going to the Online Giving page and selecting "Memorials" when you give.
For the video, Live Stream "First Baptist Church Friona" on Facebook or YouTube. You can also go to the church website fbcfriona.com and go to the Live Stream page.
In addition to the Memorial Book at Hansard Family Funeral Home, a private family printable and downloadable social media site has been created where people can leave messages, short stories, and photos at https://www.kudoboard.com/boards/ybUa7Qi8 We encourage you to do both.