New Game Warden Campbell filling gap
Local post open several years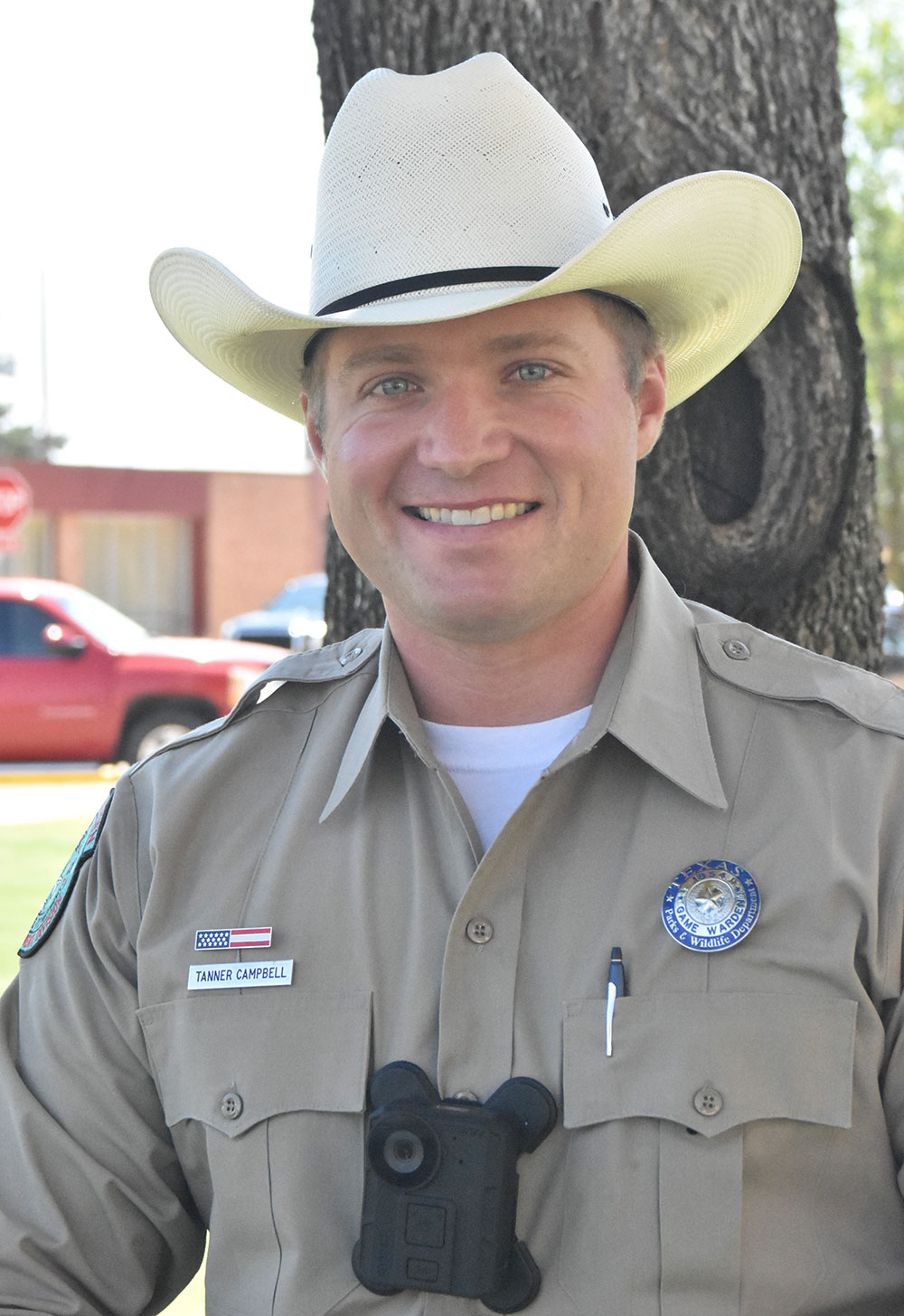 By Jim Steiert
It's a long way from the dripping humidity and limb-gnawing chiggers and ticks of ArkLaTex to the lofty heights of the Llano Estacado. Mount Pleasant native Tanner Campbell, 25, is learning the lay of farms and ranches of the area as the new Texas Game Warden for Deaf Smith, Castro, and Parmer counties.
Campbell came on scene in May. He was among a host of Texas Game Warden cadets who participated in the seven months of intensive training at the 63rd Texas Game Warden Academy in Hamilton, near Brownwood.
Seven members of that class have moved into assigned duty stations in the Amarillo, Lubbock and Abilene districts.
In addition to Campbell, other wardens for the region and their assigned duty stations are: Wesley "Casen" Driskell, Oldham County; Zack Fisher, Childress and Hall Counties; Josue Hernandez, Lamb, Bailey and Cochran Counties; J.D. Cuellar, Borden and Dawson Counties; Trent Walker, Scurry and Garza Counties; and Larry Hampel, King and Knox Counties.
Campbell is filling a much-felt gap that has existed for several years in the Deaf Smith, Castro, and Parmer County post since the departure of Warden T.J. Tweedle, who now serves in Jack County. Driskell steps into the post vacated with the retirement of long-time veteran Oldham County Warden Matt Marshall.
Campbell is learning that good landowner contacts and positive relations with local hunters can come in every bit as handy as high-power binoculars and a spotting scope, which are the standard tools of his trade.
Duties of a Texas Game Warden include enforcement of all state laws as well as hunting, fishing, and water safety regulations. As fully commissioned peace officers, they respond to emergencies, assist other law enforcement agencies, and work to educate the public about conservation issues.
All graduates of the 63rd academy met state-mandated requirements for peace officer certification, including criminal and constitutional law, firearms, self-defense, use of force, defensive driving, arrest, search & seizure, ethics, and first aid.
Campbell and his fellow new wardens join more than 500 game wardens currently in the field and will help enforce Texas Parks and Wildlife Department (TPWD) regulations and carry the department's high standards statewide.
Fresh off recent training and orientation work at Lake Meredith, Campbell paused to visit August 13th and explained that officer water survival and rescue training at the academy is handy to have in the resume on a daunting water body like Lake Meredith where the wind and waves can come up swiftly.
"This is my first time up here in the Panhandle. When local guys were showing me the ropes they were wading right into tall grass and I was thinking-what are they doing-ticks and chiggers, man-that's a first reaction for somebody from Mount Pleasant," he observed.
A graduate of Mount Pleasant High School-where he dated his wife, Heather, a native of Omaha, in high school, Campbell went on to attend Stephen F. Austin University in Nacogdoches, where he received a Bachelors degree in Animal Science.
He worked at "animal science" with a poultry company after college graduation, but admits he was only marking time until he could get into the next Game Warden Academy.
"It was always my dream to pursue a career as a game warden. I graduated college in December of 2017 and had to wait a year to get into the next academy. I'm an avid waterfowl and deer hunter and I just grew up dreaming of this," he said.
"I'm a passable duck caller. We hunted ducks on private sloughs and deer hunted at Rock Springs and on a small ranch at home. Poking around after ducks I find the leaks in my waders most every year. I'm a farm and ranch kid, so I learned how to work growing up."
Campbell will concentrate his local efforts initially on deer and pronghorn and waterfowl regulations enforcement. He said encountering sandhill cranes in this area should prove interesting.
His work toward enforcing mule deer and whitetail regulations is likely to be well appreciated by some local landowners who have had to endure problems with big game poachers in recent years, and flagrant cases of poaching and wanton waste of wildlife relative to mule deer.
"I've been riding with DPS Troopers and Sheriff's Office Deputies learning the country and the landowners, and retired veteran local wardens have been giving me some pointers, too. One thing I've learned is that rural roads can get slick in a hurry when it rains and you can wind up in the ditch pretty easily. Matt Marshall advised me to find the concentrations of water, and that's where I'm going to find the game and the hunters," he said.
Tanner and wife, Heather, are expecting their first child in December-just in time for the busy part of the hunting season locally. They also have a black Labrador Retriever.
Heather works as a labor/delivery nurse at Northwest Texas Hospital in Amarillo.
"I'm enjoying meeting local ranchers and landowners, and look forward to positive encounters with the region's hunters and anglers," he said.
Jim Steiert is an award-winning member of the Texas Outdoor Writers Association and a Certified Texas Master Naturalist.