Annie Sue Inmon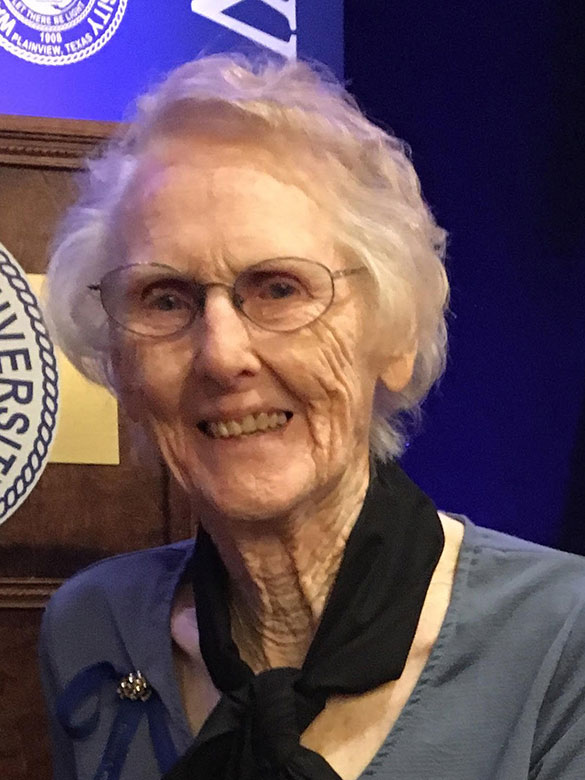 Memorial Services for Annie Sue Inmon, will be held Saturday, September 26, 2020 at Parkside Chapel with the Reverend Bob Gilkerson, former pastor of Temple Baptist Church, officiating. Burial will be at West Park Cemetery. Memorial and cremation services are under the personal supervision of Parkside Chapel Funeral Home.
After a long and courageous struggle, Sue Painter Inmon went to her heavenly home on September 18th, 2020. She passed away in hospice care at Good Samaritan Society Denton Village of natural causes. She was 92 years old.
Annie Sue Crow was born on Easter Sunday, April 8, 1928 to L.M. and Elizabeth Ann (Annie) Crow in Friona, Texas. She was the youngest of nine children; two boys and seven girls. She spent her youth on her parents' farm and working at her father's meat market in Friona. With such a large family, she grew up with many of her nieces and nephews as playmates in a close-knit and loving family. She attended school at Lakeview and Friona and graduated from Friona High School in 1946.
Sue continued her education at Wayland Baptist College from 1946 through 1950, where she earned her Bachelor of Arts degree. She later earned her Master's of Education in 1964 from West Texas State University in Canyon.
She started her teaching career in 1950 at Kress, teaching math. She also taught at O'Donnell; Westlake, Arkansas; Littlefield; Wellington; Quail; and Hereford. She retired in 1984 after a 34-year career. She did, however, continue to tutor students for many years. Sue was a member of the School Teachers Organization, Retired Teachers, and had been a 55-year member of Delta Kappa Gamma at the time of her death.
In 1982, she married Vernon C. Inmon. They had a wonderful life together until his death in 1991. With this marriage, she gained three step-children, seven grandchildren and two great grandchildren. She was known to most people who knew her as Granny Sue.
Basketball was always important to Sue. She loved the game and began playing on the Friona Girls Team in high school. At Wayland, she was a founding member of what became known as the Wayland Flying Queens Basketball Team. In 2019, Sue was able to take part in the induction ceremony of the Wayland Flying Queens to the National Naismith Memorial Basketball Hall of Fame in Springfield, Massachusetts. It is believed that she was the only surviving original player at the time of their induction.
Sue was an active member of Temple Baptist Church, where she sang in the choir and taught a women's Sunday School class. She helped with Vacation Bible School in the summers, and went on four mission trips to Central and South America.
Sue was an avid crafter and specialized in crochet. Many Hereford residents have angel tree toppers and ornaments and crocheted name plaques hanging in their homes made by Sue. She was always eager to help anyone learn how to craft and inspired many to be creative.
Sue was always generous and eager to help others with whatever project or problem they might have. She visited shut-ins and those in the nursing homes several times a week for many years. Even as a resident of Kings Manor, she liked to help "take care" of her neighbors and made many good friends there among the residents and staff.
Sue was preceded in death by her eight siblings, her husband Tobb Painter, her husband Vernon Inmon, granddaughter Brittany Fuller, and several nieces and nephews.
She is, however, survived by a host of cousins, nieces, nephews, and great-nieces and nephews. Survivors of her immediate Inmon family include: step-daughter Lynne Fuller and husband George, their children Courtney Morgan and her husband Justin, and children Georgia, Jake, and Jordan; Dustin Fuller and wife Ashley, their children Keelan and Aria. Step-son Giles Mark Inmon and wife Wendi, their children Amanda, Aaron, and Meghan, and great grandchildren Kami and Luke. Step-daughter Robyn Kaye Inmon and her children Preston Kyle and Brianne.
Sue was greatly loved by family and friends and we will miss her sorely.