Ruben Alfaro Sr.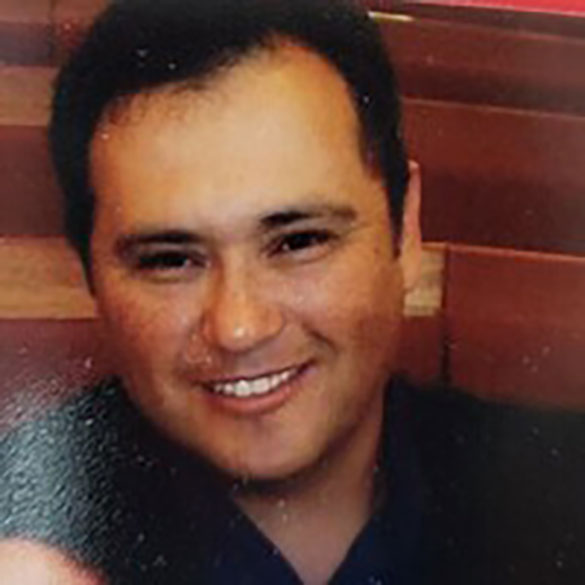 Ruben Alfaro Sr., 51, of Clovis NM passed away on Thursday December 31, 2020 at UMC in Lubbock TX. A visitation was held on Friday, January 8, 2021 from 1:00PM to 5:00PM. A funeral service was at 11:00 am on Saturday, January 9, 2021 at The Chapel, 1500 N. Thornton. A private burial was held in Friona, TX.
Ruben was born on May 5, 1969 in Sinaloa, Mexico to Ponciano Alfaro and Maria Ellena (Rodriguez) Alfaro. They moved to Friona and he graduated from high school in 1988. He married Angie (Ortegon) Alfaro on February 14, 1999 in Clovis. Ruben worked for the city of Clovis as the assistant Superintendent for waste water department for the past 18 years.
Ruben is survived by his wife; Angie Alfaro and two children they raised together; Ruben Alfaro Jr. and Julissa of Clovis, his daughters; Brooke (David) Salinas of Canyon, TX, Denise (Alex) Perales of Amarillo, TX, his step-children; Damin James of Clovis, Nieves (Justin) Davis of Portales, and Britney (Austin) Huggins of Florida, twenty cherished grandchildren; Diego, Ashton, Azalee, Audra, Caleb, Taylor, Brayden, Genesis, Cali Rey, Wyatt, James, Julian, Sophia, and Ella. He also leaves behind his father; Ponciano, sisters; Gracie (Robert) Chavez and Doraly (Rey) Lawas, and many beloved nieces, nephews, and cousins.
Ruben was a man known for his tremendous work ethic and contagious smile. He was a family man and loved playing with his grandchildren. He was always ready and willing to lend a helping hand, and never met a stranger. He enjoyed watching the 49ers, grilling, traveling, boating, and aspired to retire and spend time with his wife, children, and grandchildren. He will be greatly missed and left an impact on many lives.
Arrangements have been entrusted to Muffley Funeral Home, (575)762-4435, www.muffleyfuneralhome.com