Jim Taylor (right) passes the torch to new Fire Chief Danny Campbell.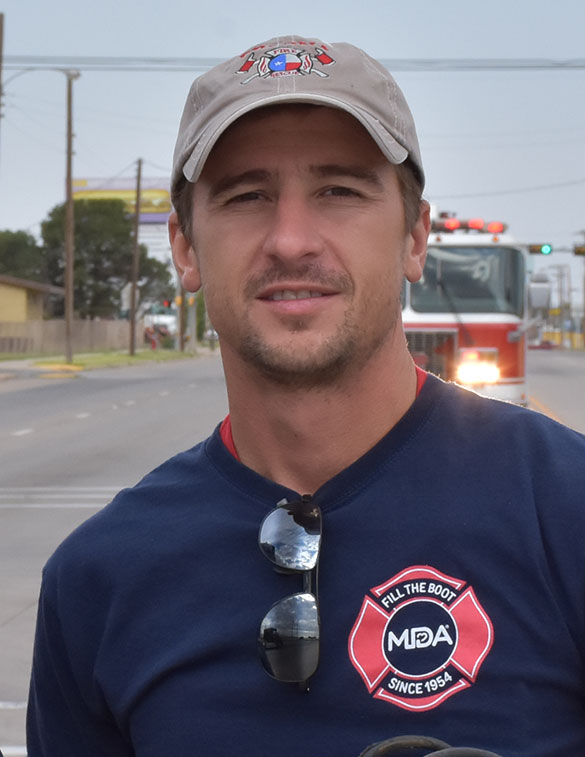 J'Lond Jarecki, Fireman of the Year
Town Talk
Coffee Memorial Blood Center will conduct a "2020-2021 Fingers Crossed" blood drive on Thursday, January 21st from Noon until 7:00 p.m. in the Calvary Baptist Church Fellowship Hall. The Friona Community Blood Drive is sponsored by the Friona Noon Lions Club.
Call 806-331-8833 or visit yourbloodinstitute.org to schedule an appointment. All donations will be tested for COVID-19 antibodies to identify potential convalescent plasma donors.
Appointments are preferred to help with social distancing but walk-ins are accepted as the schedule allow. Masks are required.
All donors will receive a 2021 long sleeve t-shirt and a free pass to Escape the Trap House to try an escape room.
***
Texas has now distributed 1 million vaccines. Since Texas has 254 counties, that would work out to be 3,937 per county. Parmer County has received 200 vaccines. Parmer County's population of roughly 9,000 is .00031 percent of the 29 million who call Texas home. That percentage of 1 million vaccines distributed would be 310 for Parmer County. We have received 200 vaccines. Parmer Medical Center currently has 400 people on the waiting list.
***
Vaccination update
Parmer Medical Center did not receive a new allotment of "first dose" vaccines this week. Notification from the state that a new allotment is being distributed is not sent out until the day the vaccines are shipped. For those on the waiting list for vaccines, please be patient. However, if you decide to go somewhere else for the vaccine, you certainly have that option.
So far, each allotment to PMC has been 100 doses. They have received two allotments and have given 200 first doses. PMC should receive an allotment of "second doses" for the first group of 100 sometime this week.
When the next allotment of "first doses" arrives, the priority will be on people 75 years old and older, then 65 years old and older, then other adults with at least one chronic medical condition that puts them at increased risk.
Examples of these conditions include, but are not limited to; Cancer, Chronic kidney disease, COPD (chronic obstructive pulmonary disease), Heart conditions, such as heart failure, coronary artery disease or cardiomyopathies, Solid organ transplantation, Obesity and severe obesity (body mass index of 30 kg/m2 or higher), Sickle cell disease, and Type 2 diabetes mellitus.
PMC is not charging for vaccinations. They are provided by the state and PMC will not charge any fees for the vaccine or for administering the vaccines. However, be informed that some clinics are charging an office visit and/or administrative fee for giving the vaccine.
Info for this vaccine update was provided by Gayla Quillin, CEO/Administrator at Parmer Medical Center.
***
U.S. Senator John Cornyn (R-TX) has ranked first among Members of Congress in number of bills sponsored that were enacted into law during the 116th Congress with a total of 20, according to GovTrack. By these metrics, Sen. Cornyn has passed the 11th most laws (54) of all Senators since the 93rd Congress beginning in 1973.
"In addition to confirming a Supreme Court Justice and nearly 150 additional judicial nominees, I'm proud of the bipartisan legislation we have passed here in the Senate over the past two years," said Sen. Cornyn. "I look forward to continuing to work on behalf of Texans and seeing what we can accomplish during the 117th Congress."
***
National Days
January 21:
Granola Bar Day
January 22:
Sanctity of Life Day
January 23:
Handwriting Day
January 24:
Compliment Day
January 25:
Opposite Day
January 26:
Plan for Vacation Day
January 27:
Chocolate Cake Day
***