Billie Jo Hand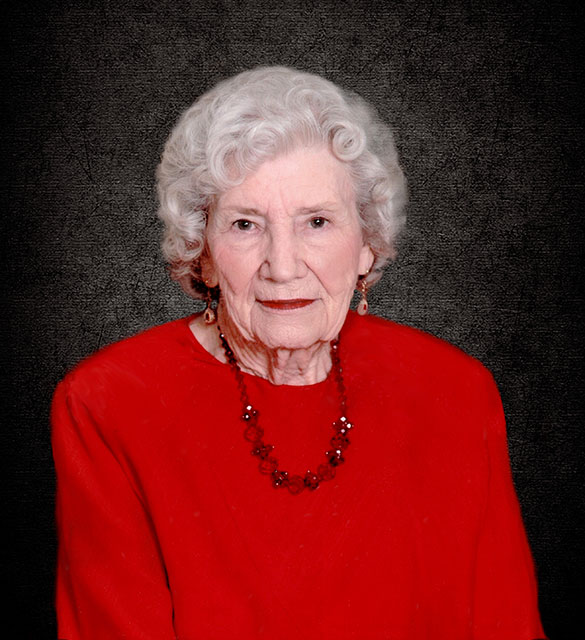 Billie Jo Hand, long time resident of Friona, Texas, passed from this earth on Saturday, January 23, 2021, surrounded by her adoring family. Viewing will be held from 9:00 A.M. to 8:00 P.M. Thursday, January 28, 2021 in the Ron Smiley Memorial Chapel of HANSARD FAMILY. Celebration of Life Services have been scheduled for 10:00 A.M. Friday, January 29, 2021 at the Sixth Street Church of Christ in Friona with Jeff Procter and Mark Dennis, officiating. Burial following in the Friona Cemetery by HANSARD FAMILY Funeral Home of Friona.
A Valentine's baby, Billie Jo was born on February 14 1926 to Delmar and Carrie Brock Shirley in Wellington, Texas. She married her love, John Hand, in 1944 and built a life and family with him at their home and farm in Hub, Texas. Billie Jo was a woman of many talents but many of those talents revolved around her hard working, loving hands. With her hands, she could create the most delicious desserts. Her hands painted pictures that many might mistake for a famous artist. Her hands could play the most beautiful piano music that ranged from country to the blues. Her hands loved playing Skip Bo with her grandkids until they saw cards in their sleep. But most of all, her hands were always seen holding onto those she loved.
Billie Jo grew up listening to her talented father and uncles playing the fiddle and guitar in their band. Because of this, she loved listening to music and anytime it was playing she was sure to be found tapping her foot and shaking her finger in such a way that was contagious to everyone else in the room. "When you dance, your purpose is not to get to a certain place on the floor. It's to enjoy each step along the way."-Wayne Dier. Billie Jo did just that, not only on the dance floor but in life as well. You might see her sitting in church wearing her pearls one day and the next she might be killing rattlesnakes in her backyard or fighting off bear cubs with a broom from her back porch in Ruidoso. Although all of this brought a smile to her face, her greatest love was being with her family; whenever they were together she had everything she needed. Billie Jo was a member of Sixth St. Church of Christ in Friona, Texas and a resident of Autumn Hill Manor in Weatherford, Texas.
She was preceded in death by her husband of 68 years, John Hand, her parents and one sister, Peggy Fern Milloy.
Billie Jo will be dearly missed and loved by her two sons- Gary Hand and wife Gail of Friona, Texas, Rex Hand and wife Evelyn of Gainesville, Texas and one daughter- Cari Dennis and husband Mark of Aledo, Texas. Billie Jo was blessed with eight grandchildren-Tamara Outland of Shallowater Texas, Boone Hand and wife Amy of Cave Creek, Arizona, Trista Stallings and husband Tommy of Shallowater, Texas, Bowie Hand and wife Abby of Austin, Texas, Tania Raindl and husband Brady of Shallowater, Texas, Josh Dennis and wife Lexi of Trophy Club, Texas, Jeremy Dennis of Hurst, Texas and Chase Hamilton and wife Karaline of Ft Worth, Texas, and twelve great-grandchildren who will all miss her warmth and kindness, laughter and love.