Town Talk
The Parmer County Hospital Auxiliary announced this week that their 2020 Project Christmas Card collected $2,867.78 in donations. The proceeds will be used to enhance and upgrade the "COVID-19 Wing" at the hospital.
***
Happy 21st Anniversary to Wayne and Tammy Odell. They will celebrate 21 years of marriage on Friday, February 12th. Congratulations!!!
***
The Prairie Acres "Resident of Month" for February is Walter Glass. The February "Employee of the Month" is Elvira Carrasco. Elvira works at Friona Heritage Estates and has been there since December of 2019. Congratulations to both!
***
Senior Citizens lunches will restart on Monday, February 15th. Meals are served on Monday and Thursday of each week. Please call Susie at 806-626-8602 or 250-2713 a day or so in advance so she will know how many to cook for. Curbside pick-up is available. Masks are recommended but not mandatory except around the food center.
***
Thursday is "Thank a Mail Carrier Day" and the Friona Star would like to thank our local "Pony Express". Friona mail carriers are; Joann McDonald, Dee Sifuentes, Jan Box, Jeremy Hart, and Vickie Vasquez. The motto of the Pony Express riders, who were the most famous early American mailmen, was "Neither rain, or snow, nor death of night, can keep us from our duty." The most popular variation of this motto is "Through rain or snow, or sleet or hail, we'll carry the mail. We will not fail."
***
National Wear Red Day, on Tuesday, February 5th, is an annual campaign to raise awareness about heart disease in women. Heart disease and strokes kill one in three women. These diseases are 80 percent preventable according to Go Red for Women's official website. Go to www.goredforwomen.org for more information.
***
There are changes for our local radio station. KGRW 94.7 is now "Positive Radio" and is a simulcast with their sister station KNNK 100.5 in Hereford. They will continue to cover Friona sports events. Catch "Good Morning Texas" Monday-Friday with host Jeri Wells to stay updated on local events. Both radio stations are part of the HPRN radio network.
***
Depot receives needed repairs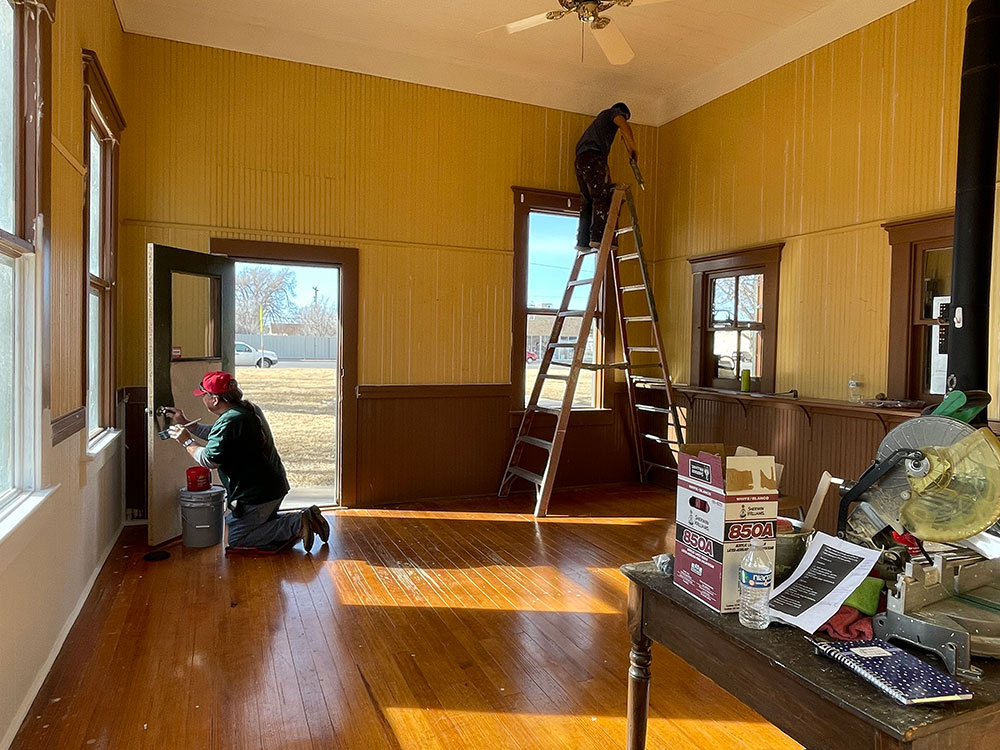 Johnny Alvarez, and crew. have been refurbishing the Depot the past few weeks. Birds had found their way in but could not get out and therefore caused quite a bit a damage. The outside of the Depot will also get a facelift as soon as the inside repairs are finished and warmer weather arrives. Courtesy photo. If you would like to make a donation to help with repairs you can contact Jeri Lynn White.