Lucy B. Everett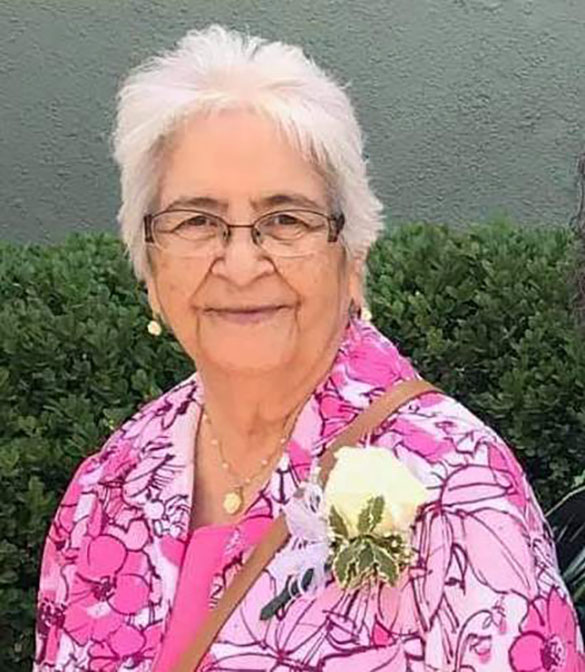 Church service for Lucy B Everett, age 84, of Earth, Texas, was held at 3:00 p.m., Friday, June 4, 2021 at St. Mary Magdalen Catholic Church in Earth with Father Heriberto Mercado of Muleshoe, Texas officiating. Lucy died Sunday, May 30, 2021 in Lubbock, Texas. She was born March 4, 1937 in Bovina, Texas to Segundo and Adelaida (Vigil) Brito. She married
John A. Everett in Bovina on September 19, 1957.
Lucy enjoyed sewing and crossword puzzles. She loved watching novelas and game shows, and spending time with her family and her church family. Lucy is preceded in death by her parents; a son, John Jacob Everett; two brothers; and four sisters.
Lucy is survived by her husband, John; her son, Jamie Everett and his wife, Wilma of Earth, Texas; her four daughters, Cathie Villa of Earth, Texas, Carrie Melton and her husband, James of Roswell, New Mexico, Clarice Dominguez and her husband, Joe of Amarillo, Texas and Cynthia Silva and her husband, Pastor Aurelio of Friona, Texas; her two sisters, Marie Cervantez of Clovis, New Mexico and Elizabeth Sena of Clovis, New Mexico; her brother, Joe Brito of Ribera, New Mexico; her nineteen grandchildren; and her thirty-two great-grandchildren.
The family suggests memorials be sent to St. Mary Magdalen Catholic Church, 806 East Highway 70, Earth, Texas, 79031. Online condolences may be made at www.ellisfuneralhomes.com.