Mules kick the Chiefs 52-13
The Muleshoe Mules, ranked 6th in the state in 2A Division I in the Harris polls, visited Friona Friday October 12, 2012, and went home with a 52-13 victory over the Chiefs. It was the first district game for both schools.
The Mules rolled out 485 yards of offense, 161 rushing and 324 passing. Friona managed 193 offensive yards, 146 rushing and 47 passing. Muleshoe led 41-7 at the half.
Omar Ramos was the leading rusher for Friona with 61 yards on 9 carries, his longest was 48 yards. Brad Stowers carried 9 times for 55 yards and Francisco Martinez carried 5 times for 24 yards.
Quarterback Mason Loflin completed 3 of 7 passes before suffering a concussion in the second quarter. Officials say he will be out for one to two weeks. Brad Stowers took over and completed 2 of 7 passes for 22 yards. Loflin had a touchdown pass to Sebastian Santiago and Stowers threw a TD to Sawyer Osborn.
On defense Eduardo Rojas was credited with 8 tackles, 4 of them solo, Edgar Guerrero and Stephen Dominguez each had 6.5 tackles, and OP Vazquez had 5 tackles.
The Chieftains travel to Childress for a district matchup with the Bobcats Friday October 19. Game time is 7:30 p.m. Video of the game will be shown Saturday October 20 at 10 a.m. on WT Services channel 76.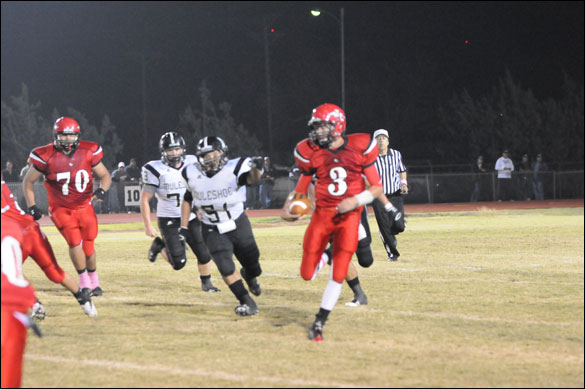 holly campbell photo
Chieftain quarterback Mason Loflin (3) turns up the field and tries to avoid several Mule tacklers. The Chiefs lost to the Mules 52-13 and travel to Childress Friday October 19. More action photos at frionaonline.com.