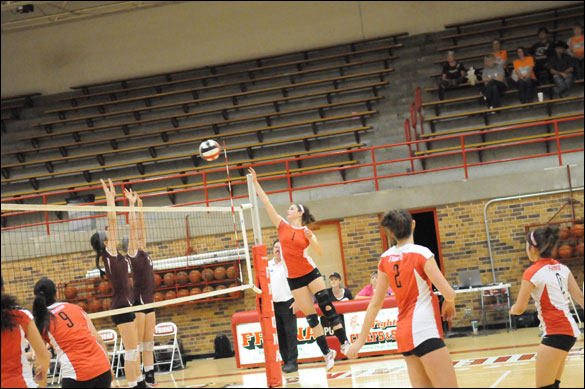 holly campbell photo
Kalley Preston (1) lobs a soft shot over two Littlefield defenders in last Saturday's match. Teammates Marissa Lozoya (9), Kendall Kimbrough (2), and Bianca Romero look on. The Squaws won the match to remain undefeated in district at 6-0. They travel to Dimmitt Saturday then end the regular season at home Tuesday October 23 vs. Tulia. It will be senior night for players and parents prior to the varsity match.
Squaws are 6-0 in district, headed to playoffs
From Coach Bryan Masse
On Saturday the Squaws JV and varsity volleyball teams played host to the Littlefield Lady Cats.
The JV Squaws used good serving to start things off and finished with some good passes, sets, and hits to a 25-14 win. The second game was a little closer but there was never any doubt that the Squaws were the better team, winning game two 25-17. The JV team has yet to lose a match or game in district play. Good job ladies and Coach Ray.
The varsity made it nine matches in a row with a 3-0 sweep of Littlefield. In the first game the Squaws pulled away from the Lady Cats with good serving runs and smart hitting, which allowed the Squaws to keep the momentum going for a 25-12 victory.
Game two was a lot like game one in that the ladies continued to serve well hitting the open spots on Littlefield's serve receive. The Lady Cats tried to rally but the Squaws responded to a 25-17 victory.
In game three Littlefield knew that their backs were against the wall and they made a last stand, however the Squaws were up for the challenge and finished off the game 25-22 to win the match. The Squaws are 22-11 and 6-0.
All of the high school teams were in action against Brownfield Tuesday night in a non-district match. The C team played their match at the junior high and won 2-0.
The JV team had to make some adjustments but handled that along with the pressure of a tight match and pulled out the victory 25-11, 25-23. The JV team has won 10 in a row and will try to keep that streak going Saturday in Dimmitt.
In the varsity match the girls were not as sharp as they needed to be resulting in a 22-25 loss. Brownfield kept the Squaws off balance during game two also but the ladies were able to make some plays when they had to and came back for a 25-22 win.
In game three the Squaws got off to a good start and played better, getting into an offensive rhythm and dusting the Cubs 25-10. Brownfield did not quit after being down two games to one but continued to fight and make a match of it. The Squaws were able to pull together and get another win 25-21.
We were not as sharp as I would like at this time of the season but it is a win. We will need to go back to work on some things and get back in the groove. We have Dimmitt at their place Saturday with the JV playing at 12 p.m. followed by the varsity. (Tuesday October 23 the Squaws play their final district game here. It will be senior night for players and parents. Introductions will be made before the varsity game.)