Bushland beats the Chiefs 28-0
The Bushland Falcons and Friona Chieftains squared off Friday night with identical records, 1-6, 0-2. In the battle to stay out of the cellar in District 1-2A, the Falcons riddled the Chieftain secondary with 412 passing yards and earned a 28-0 victory.
On what was probably the coldest night of the season, the Chiefs ran the ball 47 times and picked up a total of 138 yards rushing. Paco Martinez carried 23 times for 47 yards. Stephen Dominguez gained 69 yards on 13 carries and Omar Ramos had 13 yards on 7 carries before leaving the game with a dislocated elbow. Martinez attempted only 3 passes and completed one to Richard Rodriguez for negative –3 yards.
Just before the half the Chiefs held Bushland on a 4th and 4 attempt at about the Friona 20-yard line. The Chiefs took over and drove to the one-yard line but lost a fumble to stop the scoring drive.
Mason Loflin, returning to limited duty after a concussion two weeks ago, punted three times for 144 yards, a 34.67 average. Stephen Dominguez returned three kickoffs for 68 yards, a 22,67 average. Brad Stowers was credited with 6 tackles (5 solo), Edgar Guerrero had 3.5 tackles and Eduardo Rojas and Richard Rodriguez each had 4 tackles.
The Chiefs travel to Littlefield this Friday, November 2, and host Dimmitt for the final game of the season Friday November 9. Game time is 7:30 p.m.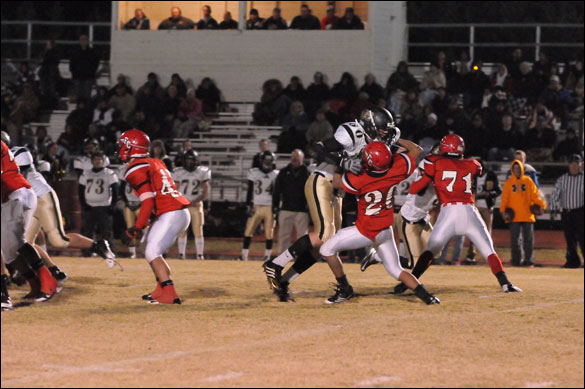 holly campbell photo
Not an even match. Chieftain Stephen Dominguez (20) takes on a giant Falcon during Friday night action at Chieftain Field. The Chiefs lost to Bushland 28-0. More action photos in our photo section.