Chiefs stopped by the Wildcats
The Chieftains visited Littlefield Friday night. The Wildcats piled up 374 yards of offense to 100 for the Chiefs. Final score was Littlefield 34, Friona 0. Littlefield travels to Muleshoe Friday night in a game that will decide the district championship. Both are 4-0 in district.
Mason Loflin, back at quarterback after recovering from a concussion, completed 8 of 16 passes for 59 yards. Receiving were Sebastian Santiago one catch for 25 yards, Richard Rodriguez 2 for 17 yards, Stephen Dominguez 1 for 10 yards, and Brad Stowers 2 for 9 yards.
Francisco "Paco" Martinez led rushers with 6 carries for 24 yards and Dominguez was 3 for 11 yards. Martinez led the defense with credit for 6 tackles, OP Vazquez had 5 tackles, and Edgar Guerrero also was credited with 5 tackles.
The Chiefs are 1-8, 0-4 as they host the Dimmitt Bobcats Friday night at Chieftain Field for the final game of the season. It will be senior night as parents of seniors are introduced. Senior night activities should begin about 7 p.m. Kickoff is 7:30 p.m.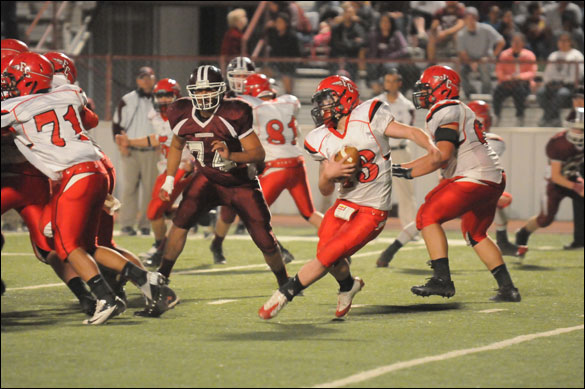 ron carr photo
Paco Martinez (13) looks for running room against the Littlefield Wildcats. The Chiefs lost to the Wildcats 34-0 and host Dimmitt Friday November 9 in the final game of the season. It will be senior night. More photos from Littlefield in our photo section.