After an opening district win over Abernathy, the Squaws traveled to Muleshoe Friday December 14 where they lost to the Lady Mules 43-40 in overtime. They are 1-1 in district with the Olton Fillies coming to town for a game Friday December 21. Game time is 6:30 p.m.
At Muleshoe, Dakotah Hicks led scoring with 12 points. Other scoring: Maddie Murphree 9, Kendall Kimbrough 7, Brianna Miller 7, Marisol Posada 3, Kalley Preston 2.
Tuesday December 18 the Squaws lost to Nazareth 43-36 in a non-district match.
The Chiefs traveled to Portales, NM Friday December 14. They lost to the Rams 77-49. Scoring: B. Stowers 11, DeWit 11, Harris 6, Osborn 5, Loflin 5, C. Stowers 4, Woods 3, Haile 2, Douglas 2.
Tuesday December 18 the Chiefs played host to the Nazareth Swifts. They lost 53-47. Scoring: C. Stowers 16, B. Stowers 13, Loflin 5, Espino 5, Woods 3, Osborn 2, DeWit 2, Haile 1.
The Chiefs will host the Olton Mustangs Friday December 21 in their opening district game. Game time is 8:00 p.m.
The Squaws and Chiefs will participate in the Littlefield Tournament December 27-29. School is out for holiday break until Monday January 6, 2013.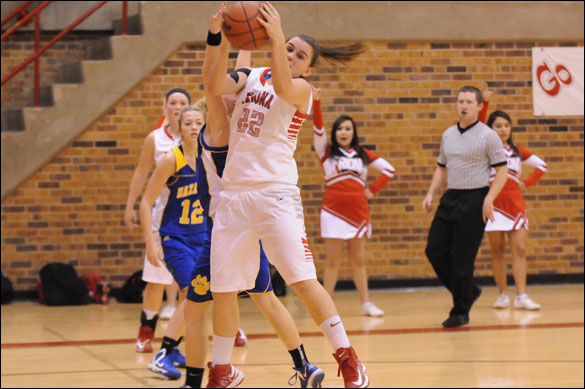 ron carr photo
Dakotah Hicks (22) gets a rebound in the game with Nazareth Tuesday. More game photos in our photo section.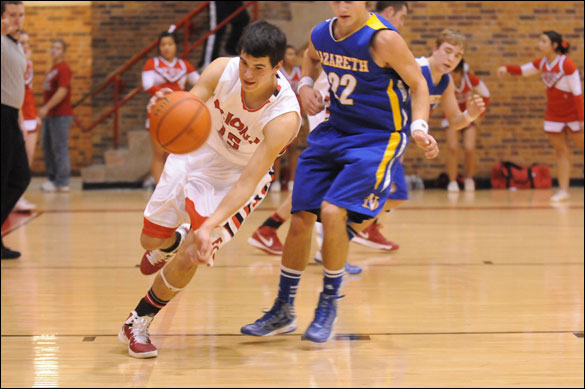 ron carr photo
Cole Stowers drives past a Nazareth Swift in non-district basketball action Tuesday night at Friona gym. The Chiefs lost 53-47. The JV and varsity play Olton Friday night here in a district match. More game photos in our photo section.