The Friona Star will not publish a newspaper next week. We are taking the Christmas week off. Our next issue will be January 3, 2013. Thanks to everyone for sending in your photos and news items and supporting the Friona Star throughout the year.
The office will reopen Monday December 31, close New Year's Day, and open Wednesday January 2. In 2013 our office hours will continue to be 9 a.m. to 5 p.m. Monday – Wednesday. We wish you each a Merry Christmas, Happy Holidays, and a Prosperous New Year.
by Ron Carr
The annual Project Christmas Card had collected $2,495.86 as of our press time Wednesday. There were 70 resident families that contributed. Project Christmas Card is a program coordinated by the Hospital Auxiliary. The money will be given to Parmer Medical Center to purchase an air bed. Thanks to your generosity the hospital is able to purchase a useful piece of equipment each year. Donor names are listed elsewhere in this Star Christmas edition.
*****
JoAnn Berend was the big winner of $100 Friona Bucks in the Chamber of Commerce Ho! Ho! Home for the Holidays promotion. Other $25 Buck winners are listed elsewhere in this Star.

*****
We received wind, dust, rain, and small hail all wrapped up in the same storm last Friday afternoon. The aftermath left most vehicles around town in need of a wash. The strong wind gusts left a couple of big trees blown over here and in Bovina. Not enough rain to do any good but it sure was nice to see it. (more...)
After an opening district win over Abernathy, the Squaws traveled to Muleshoe Friday December 14 where they lost to the Lady Mules 43-40 in overtime. They are 1-1 in district with the Olton Fillies coming to town for a game Friday December 21. Game time is 6:30 p.m.
At Muleshoe, Dakotah Hicks led scoring with 12 points. Other scoring: Maddie Murphree 9, Kendall Kimbrough 7, Brianna Miller 7, Marisol Posada 3, Kalley Preston 2.
Tuesday December 18 the Squaws lost to Nazareth 43-36 in a non-district match.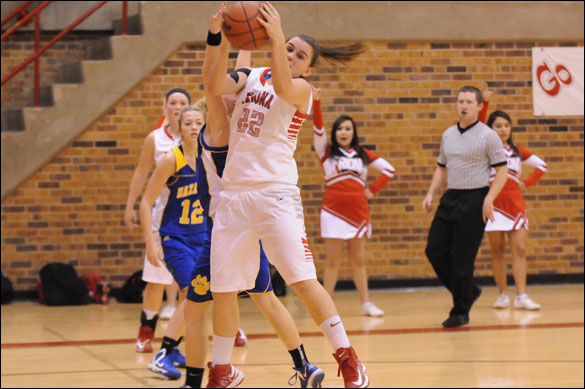 ron carr photo
Brianna Miller (25) plays keep away with an Abernathy Lady Lope Tuesday night at Friona gym. The Squaws won the district opener 51-43 and travel to Muleshoe Friday Dec 14 for a district match with the Lady Mules.