Cheeseburger Champions

Miss Friona Esperanza Santiago presented the First Place trophy and People's Choice award to the Hilmar Cheese Company cooking team at last week's 15th Annual Cheeseburger Festival. Their prize winning "QiQi Burger" consisted of a toasted bun, apricot chipotle sauce, grilled onions, smoked gouda, medium-well burger, habanero pepper jack, pineapple, and citrus slaw.
Fast friends help cancer patients, raising funds through golf
Parmer County and Hereford Cancer Coalitions
Those battling the frightening reality of cancer need all of the support they can get from family, friends, and community.
Two women from Hereford and Friona-Julie Butler, who fought a protracted battle with cancer personally as a young adult, and Jamie Lewellen, who has uplifted family and friends in the great battle, are well-aware of that need and have built a fast friendship by nurturing such support on an impressive and growing scale.
Together, these J&J girls have merged efforts to raise funds in support of cancer patients that have resulted in 201 grants to cancer patients in Parmer County totaling $102,100 since 2010, and $77,600 in grants to cancer patients in Hereford since December, 2016.
Jamie Lewellen of Friona, a very community-minded young woman, wanted to help family and friends battling cancer when she saw the financial and emotional toll that the fight imposed on them. She got involved in "Relay for Life" and other activities that raised substantial money in the cancer cause, but realized that the support dollars mostly left her community and went elsewhere.
Thinking there was a better way for the home crowd, she launched the Parmer County Cancer Coalition in 2010 with the help of husband, Greg, and family friend Jyl Grimsley to assist those battling cancer in her community with locally raised funds. Now, the Parmer County Cancer Coalition is administered by a 10-member board.
"Our first year we held a "Pink Out" and small fundraisers such as "Walk For A Cure" and T-shirt sales. My dream was to be able to give back to the community that has given so much to me and my family," Mrs. Lewellen explained.
In 2009, the Lewellens, who were golfers themselves, became involved in the Pudge Kendrick Memorial Golf Tournament after the passing of well-respected Friona golfer and community supporter H.K. "Pudge" Kendrick of Kendrick Oil in Friona. The initial tournament benefited the Friona golf course and the Parmer Medical Center. In 2011, it was decided that the proceeds from this new "annual" event would benefit the Parmer County Cancer Coalition.
While all of that was going on, Julie Butler went through her own very personal years-spanning battle with cancer and is now 10 years cancer free since her diagnosis and eventual stem cell transplant.
"The community of Hereford poured so much love and generosity into me and my family that I feel like I have a lifetime of giving back to do," said Ms. Butler.
"You're forced to learn a whole vocabulary of things you never wanted to when you're a cancer patient. Once I was able to, I wanted to find a way to give back."
While she had not met the Lewellens, she became aware of their success in raising funds for community-based support of cancer patients in Parmer County. She contacted them, asking advice on how to start a similar coalition in Hereford, and the Lewellens provided "tremendous support" in forming the Hereford Cancer Coalition that got going five years ago.
"We keep things simple for those diagnosed with cancer in the community. The last thing anybody wants when they get a diagnosis is paperwork. All we require is proof of residence and diagnosis, and that they are receiving treatment or are under hospice care.
"When we provide a grant to a patient, there are no restrictions on use of funds, it can go for gas for travel to doctor visits, for treatments or prosthetics and so forth. These are gifts of love from a community that cares," said Ms. Butler.
After the PK Memorial tourney moved to Hereford in 2015, the Lewellens and Butler opted to combine efforts and the tournament has turned into a big draw that has grown steadily into the primary fundraiser for both coalitions. Proceeds from the tourneys are split right down the middle between the Hereford and Parmer County cancer coalitions.
"We also receive amazing support from the Hereford High School Student Council and the Hereford school system overall is an amazing partner for the Hereford Cancer Coalition," Ms. Butler said.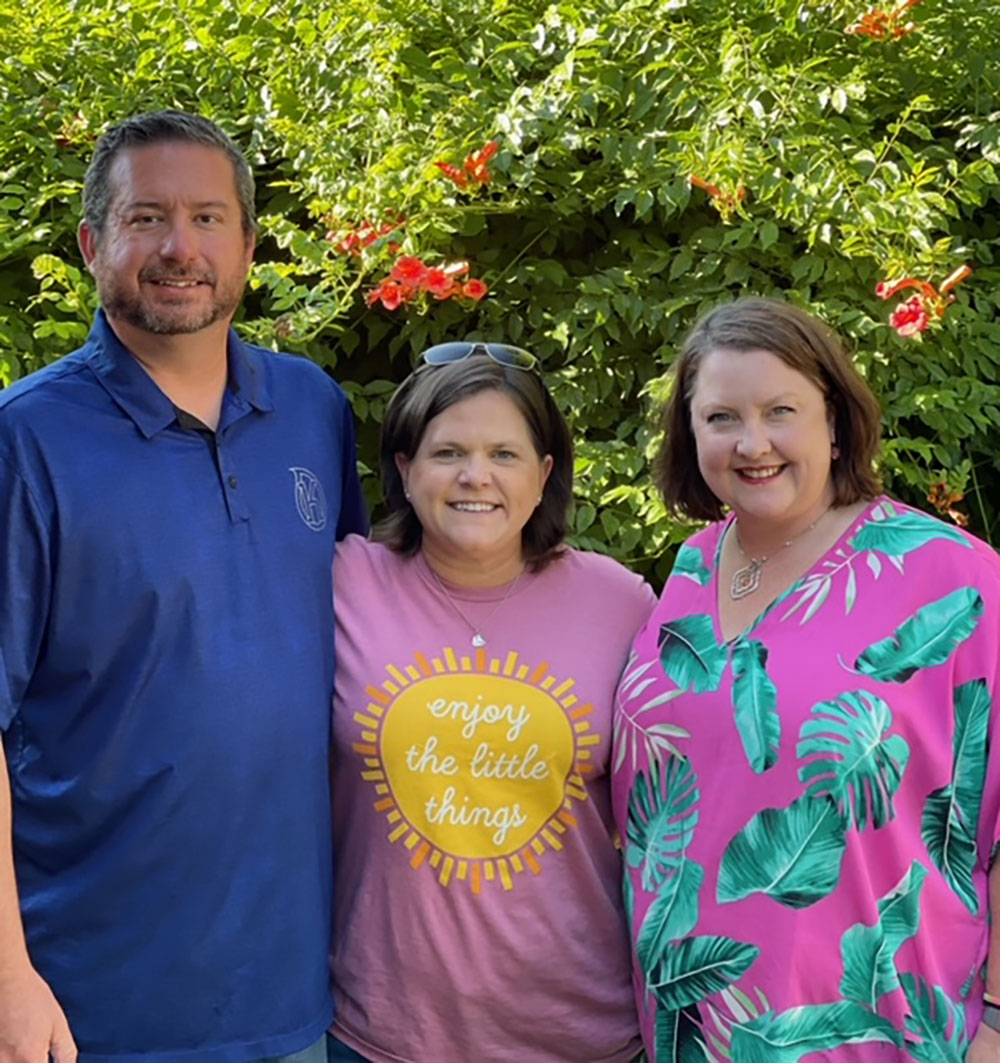 Greg and Jamie Lewellen of the Parmer County Cancer Coalition and Julie Schlabs of the Hereford Cancer Coalition. (courtesy photo)