Town Talk
Next Wednesday is National Superhero Day. It honors superheroes, both real and fictional. Batman, Superman, Captain America, Wonder Woman, Iron Man, Hulk, and Spiderman are just some of the superheroes whose names we recognize. Even though they are fictional, these superheroes are great role models for our children. They serve and protect while fighting evil. Our real-life superheroes may not have superpowers or wear capes, but they are also great role models who serve and protect while fighting evil. Police officers, firefighters, EMS personnel, doctors, nurses, and teachers are just a few of the heroes who protect us on a daily basis. They deserve our admiration and support.
***
Congratulations to the Friona FFA Chapter. In the past few weeks, the Floriculture, Meat, & Dairy teams have qualified for the State contest. The Star will have photos and details in next week's edition.
***
A Playa Field Day was held in Friona on Tuesday and featured a visit to John Fred White's reconditioned playa lake south of Friona. Local "playa guru" Jim Steiert of Hereford will have a feature story and photos in next week's Star.
***
Early voting for school board continues this week at the FISD Administration Building at 909 E. 11th. You can vote from 8:00 a.m. to 5:00 p.m. on Thursday, April 22nd and Friday, April 23rd. The final two days of early voting are 7:00 a.m. until 7:00 p.m. on Monday, April 26th and Tuesday, April 27th.
***
Do not forget to drop by the Friona Public Library this month and purchase tickets for a chance to win one (or more) of the 10 awesome Gift Baskets in the annual fundraiser raffle by the Friends of the Library. See more on back page. The Friends Annual Meeting is May 2, 2021 at 2 p.m. in the Friona Public Library. Drawings for the Gift Baskets will be held then.
***
Tickets are on sale for the 2021 FHS All Sports Banquet. The event will be held on Friday, April 30th at the Friona Community Center. The meal begins at 7:00 p.m. and the ticket price for non-athletes/parents is $10 per plate. The menu is Steak & Fries with the Noon Lions Club cooking the "world famous" fries. All non-athletes/Parents who plan to attend are asked to purchase tickets in advance. Contact Mayra Olmos at 250-2900 for tickets. The Booster Club will be accepting memberships for 2021-22 at the banquet.
***
National Days
April 22:
Earth Day
April 23:
Talk Like Shakespeare Day
April 24:
Sense of Smell Day
April 25:
DNA Day
April 26:
Audubon Day
April 27:
Tell A Story Day
April 28:
Superhero Day
***
Schlenker signs with WT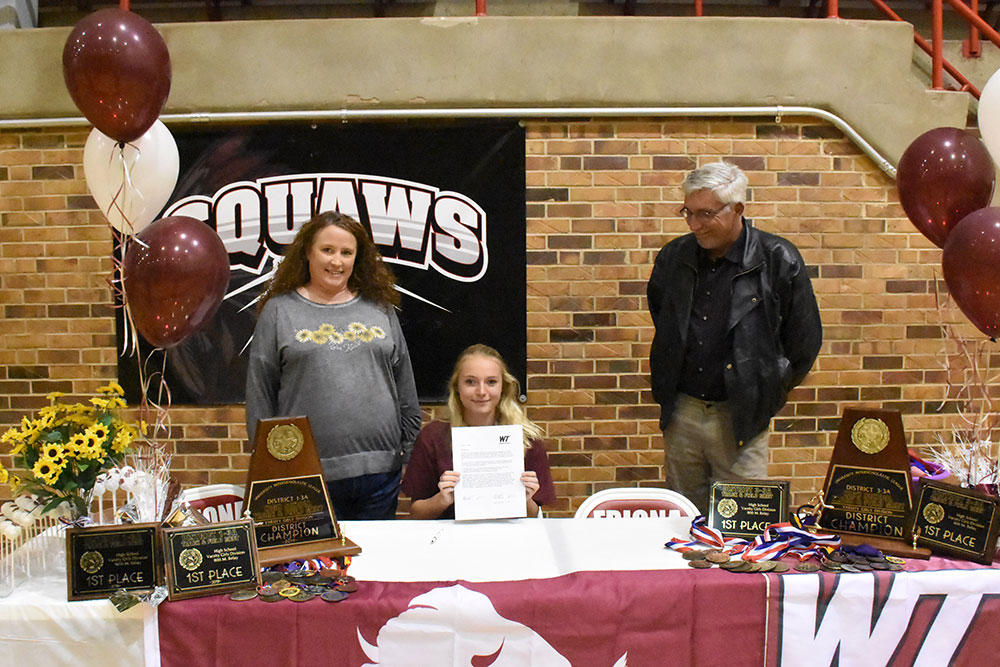 At a ceremony last Wednesday, FHS track stand-out Rebecca Schlenker signed a letter of intent to continue her track career at West Texas A&M University in Canyon, Texas. She will focus on the long jump and triple jump events. Her parents, Karen Hansard and John Schlenker, as well as family, friends, teammates, and coaches were there to help celebrate her decision to compete at the collegiate level. Congratulations Rebecca and Go Buffs!!!