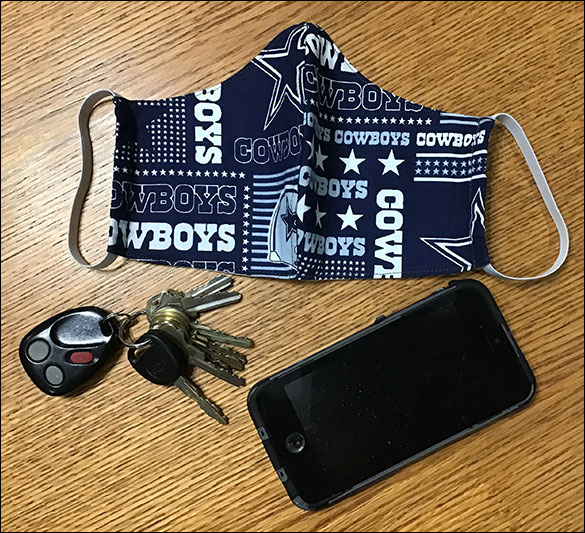 Keys, cellphone, and a protective mask are the new essentials for living in our COVID-19 world. Don't leave home without them!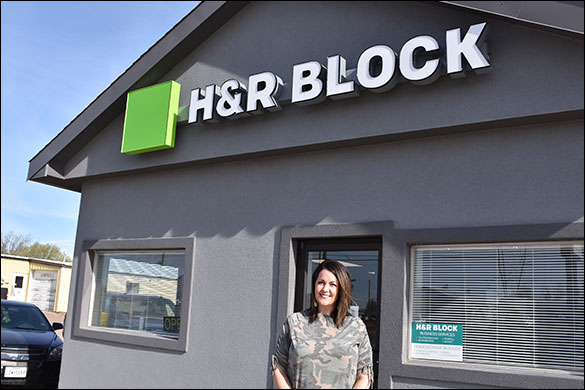 Marla Hart is the proud owner of Friona H&R Block and her newly remodeled office at 904 W. 11th (the old Sonic building). She reminds everyone that April 15th is Tax Day (sort of). The IRS has moved the required filing date back to July 15th. Call her at 806-250-3638 for more information.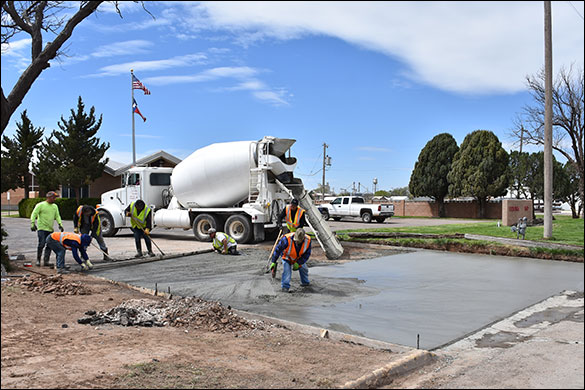 Bermea Construction, Inc. employees are installing a new concrete driveway at the Friona ISD administration building. The entrance was also widened to allow for easier access to the facility.
---
Months ago we were outside, in school, at our jobs, being together. Now, we live in a world where handshakes, hugs, and holding hands are in desperate need. But to every dark story, there is light at the end of the tunnel. At the end of the tunnel there is graduation for the seniors, there are mall trips with family that we took for granted, there are family cookouts where your grandma is giving huge hugs to all her grandkids, not worrying that she might catch a virus she can't fight off. But in time, everything will go back to normal. The future is bright as long as we as citizens do our part.(more...)
Area Closures:
• All Texas State Parks & Historic Sites are closed.
• Outdoor drama "Texas" has been cancelled for the season.
• Texas 4-H Roundup hosted by Texas A&M has been cancelled.
• 2020 Cheeseburger Festival has been cancelled.
• Jury duty for April 15 has been rescheduled to June 23.
• FISD Schools are closed through May 4.
• FISD Meal Schedule: Meals will be served from 9:00 a.m. - 1:00 p.m. at the Friona Jr. High Cafeteria. Available to all children 18 years of age & under. Breakfast & Lunch will be combined into one package each day.
• City of Friona, Chamber of Commerce, Municipal Court & Friona Public Library will be closed to the public until further notice. You can still call to conduct business and use City Dropoff.
• Parmer County Courthouse is open but office entry is restricted. Please call in advance for more information.
• Friona Interbank, Friona Banking Center, Friona TX Credit Union offices are closed until futher notice. You can conduct business at their drivethru locations only.
• All restaurants are take-out or drive-thru only.
• Senior Citizens Center meals will be discontinued until further notice.
• No visitation at Prairie Acres until further notice.
• County Jail Visitation Suspended.
• Bovina Chamber Banquet Postponed.
• Drivers License Office Temporarily Closed (CDL testing by appointment) .
• Deaf Smith Electric Coop 82nd Annual Meeting has been postponed. DSEC has closed its lobby. Call 806-364-1166 for info.
• WT Services Annual Meeting has been postponed. WTRT/WT Services lobbies are closed. Call customer care at 250-5555 for more information.
• Friends of the Library Book Shoppe is closed until further notice.
• Friona Star Newspapers are available at our office.
• Bi-Wize Pharmacy and Furniture will be "limited access" for the foreseeable future. We are open regular hours and most services are still available, however, only the front foyer of the store is open to customers. We ask that no more than 1 customer be in the front area at a time. We encourage you to handle as much of your business as possible by phone. Curbside service is available and we urge the most at-risk members of the community to use it. Prescriptions, over-the-counter items, and even furniture are all still available for purchase. See our ad in today's paper for more details.
• Chieftain Sports and Fitness is closed until further notice. All memberships are frozen until the re-opening.
Contact Friona Star at 250-2211 or frionastar@wtrt.net to add to this list.
---
Town Talk
The Resident of the Month for April at Prairie Acres is Amy Wylie. The Employee of the Month is Natalie Correa. She works in the nursing department and has been at Prairie Acres since July 2019. (more...)
---
Census News
The Friona community has outdone itself yet again! Our 2020 Census numbers are looking great at a 40.9% response rate, almost matching Texas' state-wide response rate number of 41.1%. However, the Census is far from over, and you still have time to take the survey. (more...)
---
Texas State Parks Temporarily Close to the Public
At the direction of Gov. Greg Abbott, Texas State Parks will be closed to the public effective at the close of business Tuesday, April 7 in order to maintain the safest environment for visitors, volunteers and staff. The Texas Parks and Wildlife Department (TPWD) will continue to stay current with the latest public health recommendations and will announce when a definite reopening date has been determined. (more...)