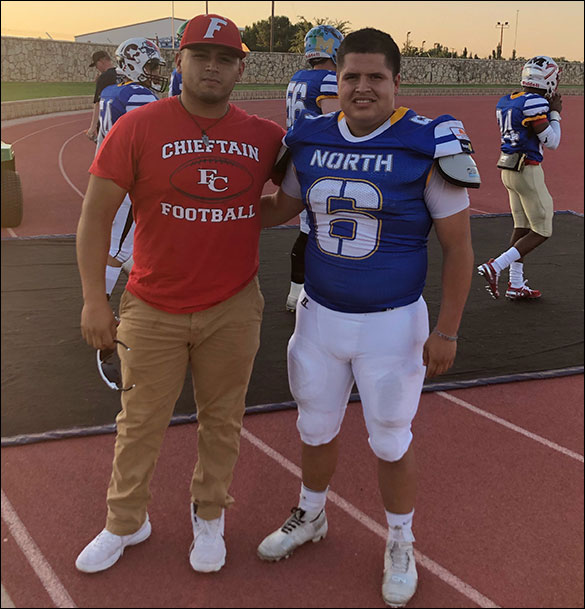 Former Chieftain running back Sergio Flores represented Friona last Saturday night at the 70th Annual Greenbelt Bowl at Fair Park Stadium in Childress, Texas. Nine area towns were represented in the All-Star game which is hosted the by the Childress Rotary Club.
Sergio played for the "North" team which lost to the "South" team by a final score of 47-7. He had approximately 80 yards rushing in the game. Sergio led the Chieftains in rushing the past two years with 2,150 yards and was on the All-District team both years. In the photo, Sergio is shown with Coach Eduardo Rojas.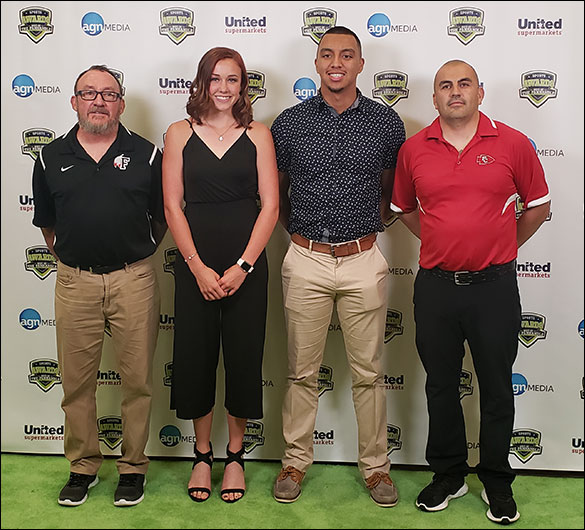 The "Best of the Panhandle" Sports Awards Ceremony was held last Thursday at the Amarillo Civic Center. The event was hosted by AGN Media and United Supermarkets. Dallas Cowboy Leighton Vander Esch was the featured speaker. Bailey Pope was honored for volleyball and Jonathon Hernandez for football. They were both recognized as Scholar Athletes. Photo (l-r) Volleyball Coach Bryan Masse, Bailey Pope, Jonathon Hernandez, and Head Football Coach Jimmy Arias.
The Friona Community Blood will be conducted by Coffee Memorial Blood Center on Thursday, June 13, 2019 from 12 noon until 7 p.m. at the Calvary Baptist Church Fellowship Hall at 1500 N. Cleveland. Don't forget to go donate blood!!
«««
The FHS Class of 1969 will have a fifty year reunion at the Holiday Inn West in Amarillo on August 17. There is an article with more details in the Star this week. Contact Phyllis Renner Murphree at phyllismurphree@gmail.com or Connie Slagle at frionabookshoppe@gmail.com for more information. (more...)
--------------------------------------------------------------------
Texas milk boom elevates state dairy profile
By Darren Turley - TAD Executive Director
Texas milk production continues to grow month over month and year over year. The large quantity of milk Texas dairies produce – about 12 billion pounds annually and climbing – along with the long streak of milk production increases have people wondering what will slow down the milk flow. (more...)
--------------------------------------------------------------------
Class of '69 Fifty Year Reunion Slated for August 17
Did you graduate from Friona High School in 1969? Believe it or not, it has been fifty years, and a big reunion is in the works. Please join former classmates at the Holiday Inn West, 8231 Amarillo Boulevard, Amarillo, Tx. on Saturday, August 17th. (more...)