They're Baaaaack!
Students, Parents, Teachers, Staff, and Administrators are all set to launch the 2018-2019 school year. As of Thursday, August 16th, summer break is over and it is back to readin', writin', and 'rithmetic. Well, sort of. The Friona Star hopes everyone has a great year and reminds everyone to SLOW DOWN when driving through school zones.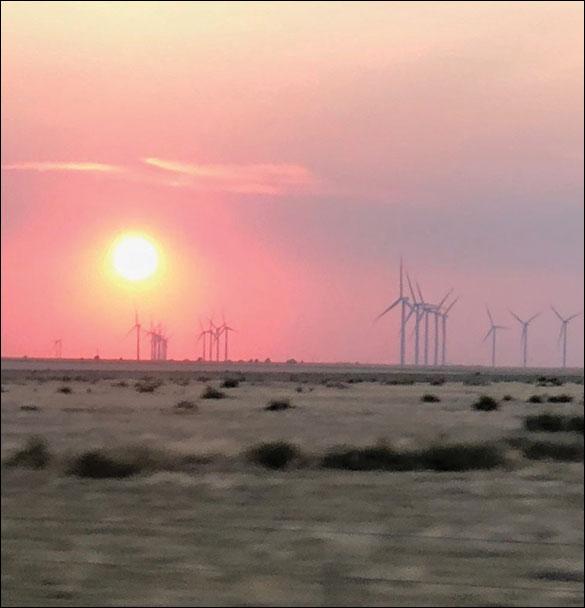 Solar Power meets wind power. Another beautiful Texas sunset. Photo by Sarah Geries.
This past week, Patsy Bandy brought by a copy of "The Floyd County Hesperian-Beacon" which is the newspaper that covers Floydada, Texas. It had an feature on her son, Todd Bandy, who has been the Athletic Director and Head Football Coach at Floydada since 2009. Todd is still the AD this year, but is "retiring" from football and will be the Head Girls Track Coach. (more...)

Miss Friona/Little Miss casting call

The Friona Chamber of Commerce is looking for the next Miss Friona and Little Miss Friona.

All girls currently enrolled at Friona High School as a sophomore, junior or senior for 2018-2019, or is enrolled in a sanctioned Homeschool Program and agrees to the terms and conditions, qualify to enter the Miss Friona pageant on Friday, September 15, 2018 at 6 p.m. in the FHS Auditorium.

The deadline to sign up is Friday, August 24. (more...)

Blood supply is low, Coffee Memorial needs your help

The Friona Noon Lions are hosting a Friona Community Blood Drive on Thursday, August 23rd from Noon until 7:00 p.m. in the Calvary Baptist Church Fellowship Hall at 1500 Cleveland. This event is part of the Coffee Memorial Blood Center's "Boots & Badges" promotion. Blood donors will receive a Limited Edition Boots & Badges T-shirt. The Noon Lions will also be cooking for all donors. To schedule an appointment, call 806-331-8833 or visit yourbloodinstitute.org.