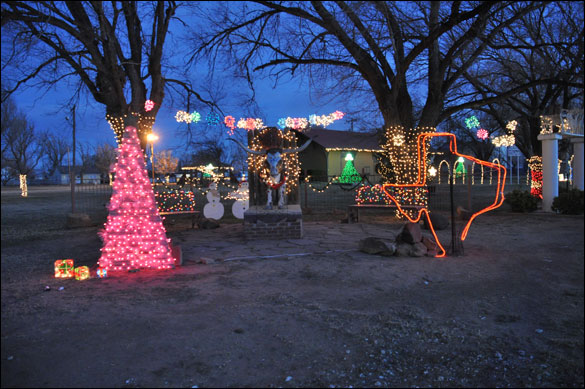 dana jameson photo
Friona is in the Christmas spirit as seen in the lights and decorations at the city park. The Chamber of Commerce will drive around town Monday, December 16 to judge Christmas decorations so be sure to have yours turned on. You could win some Friona Bucks.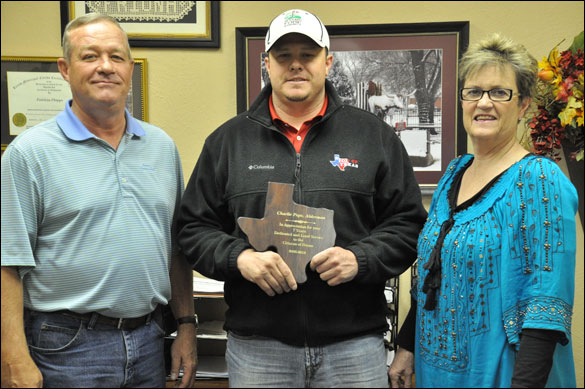 ron carr photo
Mayor Rick White, left, and city manager Patricia Phipps, presented an award of recognition of service to Charlie Pope who served seven years on the Friona city council. Charlie resigned from the council recently. He is the plant engineer at Cargill and serves on the Cargill management committee that is in discussion with the city about water issues.
Town Talk II
We woke up to ice/frost covered trees Sunday morning but no ice on the streets. They were kind of pretty. It all melted by afternoon as temps got above freezing for a change. Lets be thankful we didn't have any power outages. I was inside most of the weekend. Cold weather doesn't agree with me. My kids in the Denton/Frisco area were housebound for a few days from the ice storm. A fella I had a meeting with Friday left Friona about 3 p.m. for Lubbock. He was flying back to California and finally got there at 9 p.m. Sunday after being stuck at DFW for two days. Winter doesn't begin until December 21.
*****
Some of the wind turbine companies are being fined by the government because the wind turbines are killing birds, especially eagles they claim. So the government subsidized the wind farms and are now penalizing them for bird kill. I suggest the politicians and bird lovers go talk to the birds about the dangers of flying into a wind turbine blade.
*****
The Parmer County Junior Livestock Show dates are January 15-18. Weigh-in Wednesday the 15th, show is the 16th, and sale is the 18th. We think the dairy heifer show is on Tuesday the 14th. Exact schedule and times later. (more...)
Nancy Davis appointed to city council
The Friona city council met in regular session at 6:30 p.m. Monday, December 9 with all members present plus city manager Patricia Phipps, city attorney Slater Elza, and deputy city secretary Rosa Mendez. Mayor Rick White presided.
Doug Kelley and Fred Cook were reappointed to the city planning and zoning commission. Police Chief Frank Mooney gave his departmental report and introduced Andrew Aguirre who will begin the Police Academy in Amarillo in January and graduate in August at which time he will become a full time Friona officer. Chief Mooney said they were having no luck hiring a proposed School Resource Officer (SRO). There have been no applicants for the position. It was reported that court fines are down by $18,000 this year from 2012.
With the recent resignation of Charlie Pope from the council, the options were to fill the seat by appointment or leave it vacant until the May 2014 election. An appointment to fill the seat would be effective only until the May election at which time the appointee would have to run for election to complete Pope's one-year remaining term. (more...)