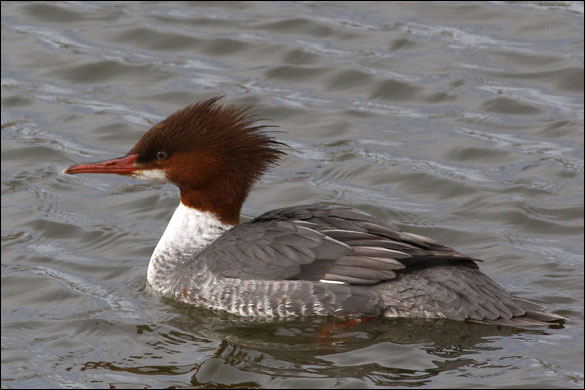 gary cash photo
The tame ducks and geese at Reeve Lake have a wild visitor from the northwest or Alaska. This is a Common Merganser female. You can find many more of Dr. Cash's bird and wildlife photos on Facebook, which is where we retrieved this one.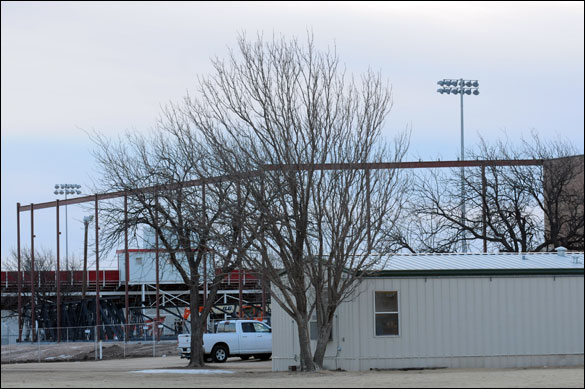 ron carr photo
Here is a view of the construction of the new FHS activity center from Etta St. We will be recording the construction in photos as it progresses.
by Ron Carr
By the time we went to press Wednesday afternoon (1/9) it should have been raining or maybe snowing or maybe both. The meteor people in Amarillo have been giving us some confusing forecasts for Wednesday and Thursday. Looks like we will get wet, just don't know how wet or what kind of wet. It is going to be cold this weekend after temps in the 50s Friday. So they say. Bring a coat.
*****
Friona elementary school will recognize UIL participants during morning announcements from 7:50-8 a.m. Friday Jan 11. UIL award winners will be presented during the Awards Assembly on this schedule: 2nd grade 9:30 a.m.; 3rd grade 10:10 a.m.; 4th grade 10:50 a.m.; 5th grade 11:30 a.m.
*****
Former Chiefs in state playoffs. Robert and Marie Saiz's boy Charlie, an FHS grad, is a coach at Denton Guyer. He was in the booth calling plays for Denton Guyer's 4A state playoff football game at Cowboy Stadium which Guyer won. Another Friona grad, Jeff Chaney, is a former coach at Allen. He now manages the new $60 million Allen football stadium complex. Allen won the 5A state football title. Way to go former Chiefs.
*****
My friend Jim Zehner stopped by to visit this week. Jim is a former Bovina resident who moved back to his home state of Minnesota a few years ago. He lives in Evansville, MN. He is a spray pilot and skydiver and motorcycle rider. Before he got to Friona this trip, he went through Arizona where he completed his 1,000th parachute jump. (more...)
Livestock show week starts Sunday
A week of stock shows begins Sunday January 13 when the local show is held. Move-in and registration starts at noon and the show begins at 2 p.m. A concession stand operated by the FCCLA will be available.
The Parmer County Junior Livestock Show will include a dairy heifer show this year. The dairy show will be Tuesday January 15 at 6 p.m. Livestock Show superintendent Mack Heald says there will be about 25 heifers in the dairy show.
A concession stand by local 4-H members will be available during the heifer show and also on Thursday during the show and Saturday before the premium sale. (more...)