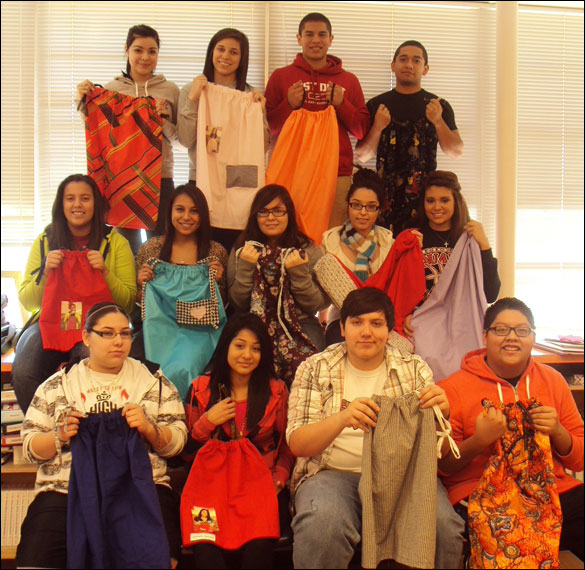 courtesy photo
FCCLA members are sending their dresses and the promise of hope to 66 children in Africa. With the dresses they made are: front row, l-r, Bailee Braillif, Elizabeth Gonzalez, Adrian Rodriguez, Ivan Soto; middle row, l-r, Jessica Vital, Karina Hernandez, Paulina Jaramillo, Brenda Arzate, Adilene Adame; back row, l-r, Jessica Moreno, Josephine Samarron, Omar Ramos, and Adan Hernandez.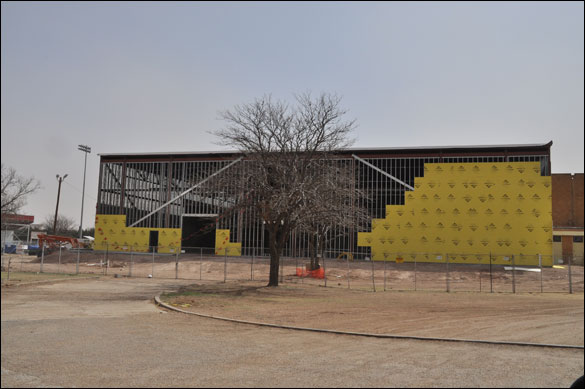 ron carr photo
The siding is being installed on the high school activity center as work continues. This photo was taken from the ag shop on the north side of the building.
by Ron Carr
THE BURN BAN IS BACK. County commissioners reinstated the county-wide burn ban effective from now to June 24. No outdoor burning of any kind allowed. Contact County Judge Trey Ellis, the Sheriff's Office, or your precinct commissioner if you have any questions about the burn ban. Violations are a Class C misdemeanor.
*****
Squat 805 pounds. Bench 400 pounds. Edgar Guerrero, FHS sophomore, was aiming to win a gold medal at the state powerlift meet but he had trouble with his deadlift. Coach Hutchins said he slipped on his first deadlift attempt and got red lights on his next two when the judges never told him to put the bar down. The squat of 805 pounds set a Texas high school record for that event but it doesn't count since he didn't finish the meet. Congratulations Edgar. Get them next year. (more...)
Chamber schedules public forum for mayor, school board candidates
The May 11 local election will see numerous candidates on the ballot for Friona Mayor and the FISD Board of Trustees. Two seats are open on the school board and five candidates are running. Four candidates are signed up for the mayor position.
The Friona Chamber of Commerce is sponsoring a public forum on Thursday, April 18, at 6 p.m. in the junior high cafeteria. Invitation letters were sent this week to all of the candidates to participate in the meeting. Each candidate will be given time to address the audience, introduce themselves, share their reasons for seeking office, and answer questions from the public.
The format for the meeting is still being developed by the Chamber. Candidates will draw numbers prior to the public forum to determine the order of appearance. Interested citizens are urged to attend to meet the candidates. (more...)
Students make clothing for Africa kids
Family and Consumer Science students at Friona High School do care about others. They partnered with Malouf's Fabrics store, Gay Taylor, and the Speech and Drama Department to make and send 66 dresses to various countries in Africa.
After researching "Little Dresses for Africa" online, they learned basic sewing skills, used donated supplies, and started making dresses. Sewing groups were held after school throughout the fall to givbe other students an opportunity to get involved.
Malouf's Fabrics provided supplies and long time high school substitute Gay Taylor helped with supplies and dresses that she made. The Speech and Drama Department volunteered to pay the postage to get the dresses delivered. (more...)