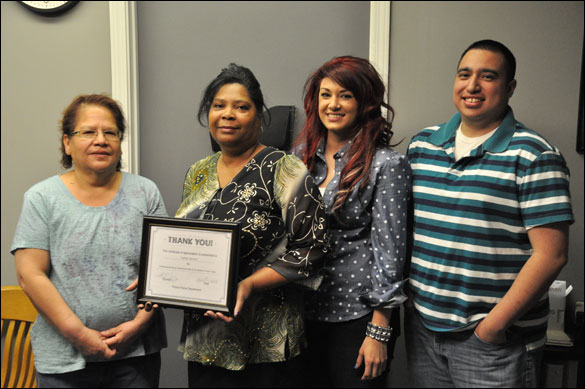 ron carr photo
Dispatchers tell police where to go! Friona police department dispatchers, l-r, Juanita Carrasco, Rebekah White, Melissa Gallego, and Jon Marquez, were recognized for their service during National Telecommunications Week. Not pictured is dispatcher Desiree Sandoval.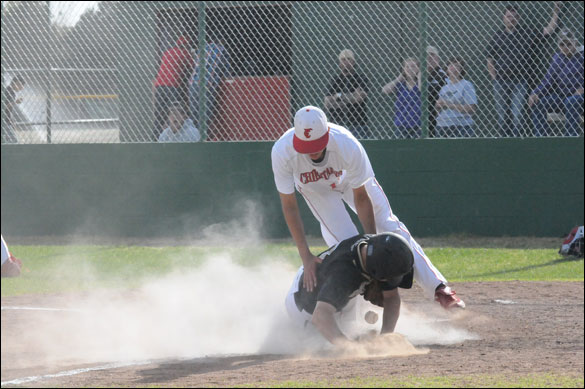 ron carr photo
Chieftain pitcher Brad Stowers attempts a tag on a Bushland runner at home plate. The runner was safe when Brad dropped the ball. The Chieftains are headed for the baseball playoffs. Details TBA.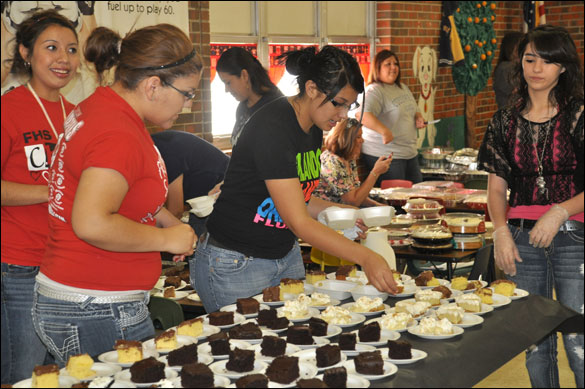 ron carr photo
Nohely Juarez, Gaby Quintana, and Magali Moralez helped with homemade dessert selection at the Senior Steak Dinner on Sunday.
by Ron Carr
As we went to press Wednesday afternoon a couple of days of freezing temps were predicted for Wednesday night and Thursday. Spring weather is struggling along at this point.
*****
The monthly grief and bereavement support meeting will be held Friday April 26 at 5 p.m. in the Bluebonnet Home Health office. Anyone needing information or guidance in dealing with the loss of a loved one is welcome to attend.
*****
The next Friona blood drive will be Thursday May 2 at Calvary Baptist fellowship hall from noon to 7 p.m. The Noon Lions will furnish corn dogs and fries for donors. Each donor will be entered in a drawing for dinner for two at Hunan's Restaurant, plus receive a t-shirt. Previous winners are Daisy Delgadillo, Gloria Aragon, and Renee Jameson. More details in a later Star.
*****
Kids Inc parents, players, and coaches are asked to be at the baseball fields Saturday April 20 at 9 a.m. for a clean-up day. Bring rakes, hoes, weedeaters, and shovels. (more...)
Politics from afar.
Most of us who pay attention to politics do so from a distance. Out here in the southwest Panhandle we don't see many politicians or famous people up close. Our information comes via radio, television, iPhones, iPads, Facebook, tweets, or blogs.
On occasion our state senator Kel Seliger or Congressman Randy Neugebauer will come to town for an hour. Sometimes an Amarillo TV station will come down to film but not often. We don't meet many real legends out here.
Many noted folks think they are legends. Then there are those who really are. Bob Woodward is one of those. Mr. Woodward spoke Monday evening in Canyon as part of West Texas A&M University's Distinguished Lecture Series. (more...)
Chief/Squaw area track results
The area round of track competition was held Friday April 12 in Abernathy. Here are Friona results. The girls finished 8th with 26 points and the boys finished 8th with 37 points.
Girls results: 400m dash, 2nd Kalley Preston 1:04.49; 300m hurdles, 8th Christina Green 55.25; Shot put, 2nd Adilene Adame 37' 4 ½" 4TH Kailey Lucas 36' ¼"; discus, 3rd Kailey Lucas 103' 11".
Boys results: 200m dash, 5th Jose Rivera 22.89, 8th Eddy Garcia 23.47; 400m dash, 7th Aran Ramirez 54.26; 1600m run 7th Jose Flores 5:11.96, 8th Dallin Woods 5:16.49; 3200m run 7th Jose Flores 11:55.37; 110m hurdles, 2nd Sawyer Osborn 15.898th Skyler Harris 18.68; 300m hurdles 5th Skyler Harris 42.53. (more...)