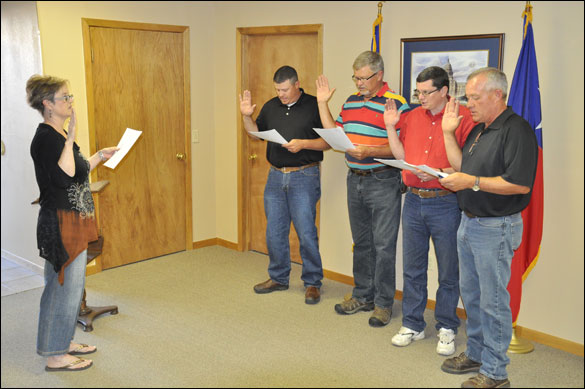 ron carr photo
City manager Patricia Phipps administers the oath of office at Monday's city council meeting to, l-r, councilmen Charlie Pope, Alan Monroe, Bruce Fleming, and Mayor Rick White. Charlie is a returning councilman. Alan, Bruce, and Rick are new to the city council and conducted their first official meeting Monday after being sworn in.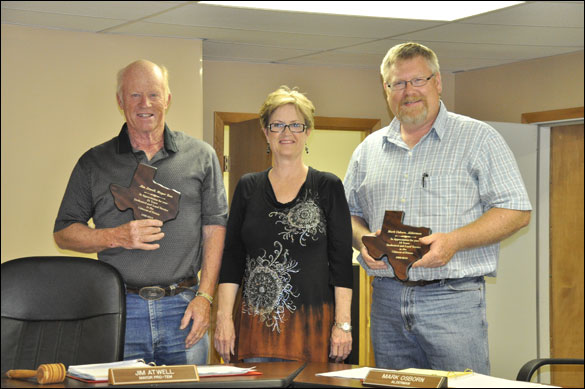 ron carr photo
At Monday's city council meeting, city manager Patricia Phipps presented plaques of appreciation to outgoing councilmen Jim Atwell, left, and Mark Osborn. Mr. Atwell served on the city council for 21 years and Mr. Osborn for 14 years.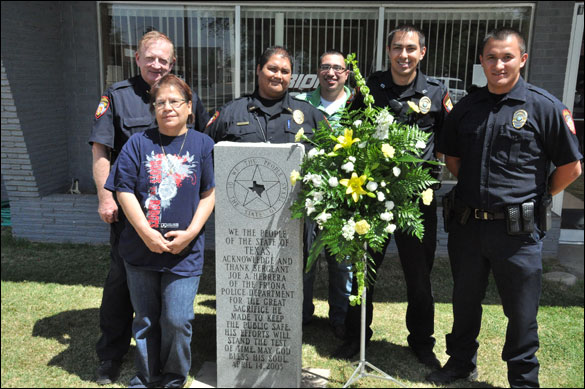 ron carr photo
The Friona police department observed Peace Officer Memorial day for fallen officers last Friday. The memorial and wreath in front of the police station honors Sgt. Joe Herrera, a Friona Officer who was killed in the line of duty in April 2003. From left are Police Chief Frank Mooney, dispatch supervisor Juanita Carrasco, Lt. Isidro Jimenez, dispatcher Jon Marquez, and officers Adrian Suarez and Raul Martinez.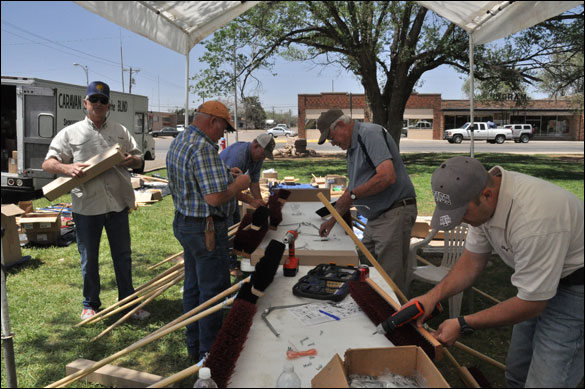 ron carr photo
If it is a Lions Club Broom Sale you need brooms. Members of the Noon Lions and Evening Lions held the annual Broom & Mop Sale Thursday May 16. Noon Club Boss Lion Clint Mears said sales set a record of $6.065.75, the first time ever sales were over $6,000. The clubs thank the businesses and individuals who purchased supplies and continue to support Lions fundraising events. This crew putting together more brooms are, l-r, John Gurley, Linvell Rose, Fred Cook, Ron Davenport, and Jon Surman.
by Ron Carr
Yes that was thunder, lightning, and rain during the early morning Tuesday. Scared a bunch of folks. Official weather guy John Gurley said he recorded .39" in town and .45" north of town. A report on the Clovis News Journal Facebook page said .66" in Bovina. Most of us were glued to the newscasts about the massive tornado in Moore, Oklahoma Monday afternoon. What a tragedy, especially the deaths of the children.
*****
Chamber of Commerce board member LaDonna Grubbs will be traveling to Oklahoma this weekend and next weekend to give a helping hand to tornado victims. If anyone would like to donate please call LaDonna at Kendrick Oil, 806-250-3991 ext 222. They are mainly asking for money at this point. Make checks payable to Oklahoma Relief-Red Cross. (more...)
Mayor, councilmen sworn-in at Monday meeting
The Friona city council met in regular session Monday May 20. Council members Jim Atwell and Mark Osborn participated to open the meeting with Atwell presiding as mayor pro-tem. Both voted on canvassing the May 11 election results as their final official duties, then relinquished their council seats as outgoing councilmen.
City manager Patricia Phipps then administered the oath of office to newly elected Mayor Rick White, returning councilman Charlie Pope, and new council members Alan Monroe and Bruce Fleming. In the first order of business councilman Greg Lewellen was elected to serve as mayor pro-tem for the 2013-2014 year. (more...)
The Friona High School Class of 2013 will receive diplomas Friday May 31 at 8:00 p.m. during commencement exercises at Chieftain Field. Sajal Patel is the class valedictorian. Co-salutatorians are Kalley Preston and Maddie Murphree.
Rounding out the top ten graduates, in order, are Maria Chacon, Nicole Anchondo, Jessyca Rivas, Stephen Dominguez, Dakotah Hicks, Magali Moralez, and Marissa Lozoya. Awards and scholarships were presented to the class at the awards assembly Sunday, May 19 in the high school auditorium. Congratulations and good luck to the Friona High School Class of 2013 (more...)
Sajal Patel - Valedictorian

Maddie Murphree - Salutatorian

Kalley Preston - Salutatorian