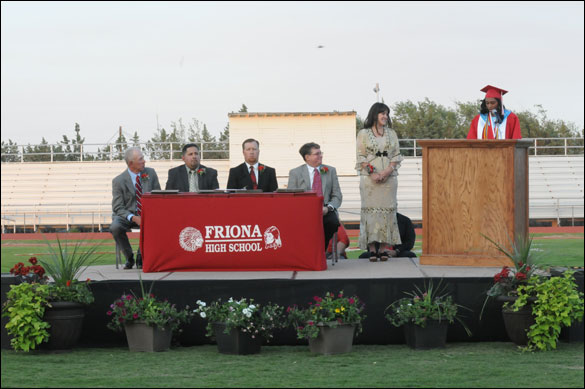 ron carr photo
Friona High School Class of 2013 valedictorian Sajal Patel delivers her valedictory address during commencement exercises Friday May 31 at Chieftain Field. From left to right are former school board member Butch Preston, school board members Antonio Rocha and Wade Schueler, Superintendent Kenny Austin, FHS principal Dr. Pam Ray, and Miss Patel.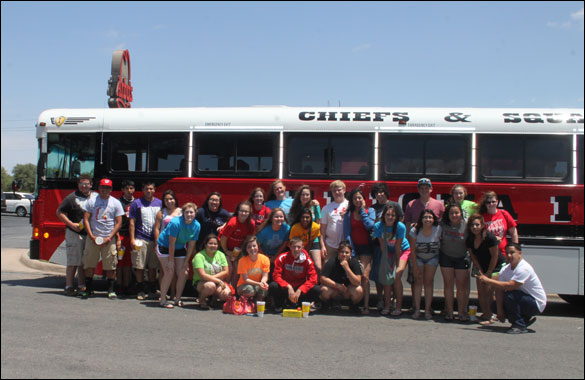 courtesy photo
Members of the Friona High School music department took the Big Red Bus to Austin for the UIL Texas State Solo and Ensemble Contest and brought back seven gold and thirteen silver medals.
by Ron Carr
Guess I'm not the only one who slept through the wind that hit town early Monday morning. It was strong enough to move a trampoline from a backyard to the front yard on Summitt, peel the roof off of the Friona Detail building on Highway 60, and blow Carolyn and Kevin Wiseman's patio gazebo up on their roof. Only a bare trace of rain came with it, not even enough to measure. Rain is in and out of the forecast for the remainder of the week though.
*****
Family gathered on Memorial Day weekend at the home of Velma Schlenker to celebrate her 90th birthday. All four of her children were able to attend: Connie Johnson of Friona, Jim Schlenker of Hermitage, Pennsylvania, Floyd Schlenker of Friona, and Carleen Sims of Lubbock. Connie said seven of ten grandchildren and eight great-grandchildren were there to help her celebrate. (more...)
Summer Drama Workshop Jul 8-20
Dates have been set for the 2013 season of the annual Summer Drama Workshop sponsored by the Friona Fine Arts Council. The workshop will start Monday July 8 with performances presented Friday July 19 for junior high and high school and Saturday July 20 for elementary.
Directors' for this year's productions are Joy Morton, high school; Candice Geske, junior high; and Allison Johnston, elementary. Students who have completed kindergarten through completed 5th grade are eligible for the elementary show. Students who have completed 6th grade through completed 8th grade may enroll in the junior high show. Students who have completed 9th grade through completed 12th grade may participate in the high school show.
The cost for the workshop has not changed in the over 40 years that the workshop has been in existence. It is still only $25 per person for the entire two weeks. (more...)
FHS musicians earn a busload of medals
On May 24, thirty students from Friona High School travelled to Austin for the UIL Texas State Solo and Ensemble Contest. It was held at Hendrickson High School in Pflugerville, Texas.
Choir director Allison Johnston said, "These students did an incredible job and represented Friona very well." The Friona High School music department, band and choir, brought back seven gold medals and thirteen silver medals from the contest. (more...)