Alma Clayton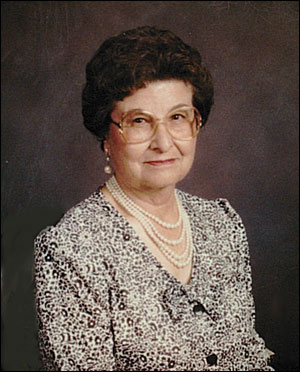 Alma Clayton, 90, of Bovina went to join Jesus on Friday, August 16, 2013 in Friona. Funeral services were held at 10:30 a.m. Monday August 19, 2013 at the First Baptist Church in Bovina with Rev. Brian Mullins, pastor, officiating. Burial followed in the Bovina Cemetery by Blackwell-Mullins Funeral Home of Friona.
Alma was born February 4, 1923 in Manitou, Oklahoma to Jim and Rosie Roberts. The family moved to Amherst, Texas to begin farming. At the age of 17, Alma was playing outside volleyball with girlfriends when she looked up to the new gym that was being built and saw the man she sould later marry on June 15, 1940. Two months after she and her husband Jack Clayton celebrated their 70th wedding anniversary, Jack died.
She was a wonderful person and enjoyed being a hardworking, loving stay at home mom who helped raise three children and enjoyed grandchildren and great-grandchildren. She quilted for her family to stay warm, made clothes for her children and grew many gardens and canned everything she could for years. She loved crocheting and her family.
Mrs. Clayton was a member of the First Baptist Church in Bovina for 50 years where she taught Sunday school. She served as secretary-treasurer and president of the Women's Club of Bovina. She also served the community as an EMT and enjoyed the opportunity to volunteer and serve.
She is preceded in death by her parents, husband, two sisters, and one brother.
She is survived by two sons, James Clayton and wife Sandra of Bovina, and Dickie Clayton and wife Betty of Ruidoso, New Mexico; one daughter, Arlene Bryan and husband Roy of Amarillo; one sister, Esta Lee Lide of Bovina; 10 grandchildren, 21 great-grandchildren, and 5 great-great grandchildren.
Family visitation was held Sunday August 18 from 5-7 p.m. at the funeral home.
You may sign the online register book at blackwellmullins.com.
Virginia Rhodes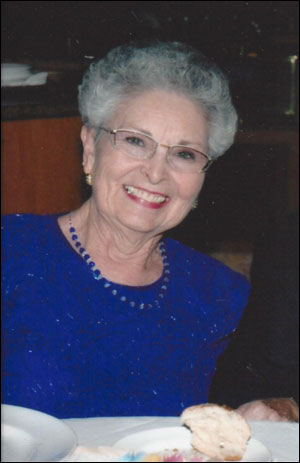 Virginia Rhodes, 78, of Amarillo passed to glory on Monday, August 19, 2013.
Funeral services will be at 1:00 p.m. Thursday at The Church of Christ at the Colonies with Kregg Rhodes, Dick Marcear, Don Stone and Brett McCasland officiating. Mike Prather and Billy Parks will officiate at a graveside service at 4:00 p.m. in the Bovina Cemetery. The family invites the Bovina community to share a celebration of her life at the Bovina Church of Christ following the graveside service. Arrangements are by Schooler Funeral Home, 4100 S. Georgia, Amarillo, Texas.
Virginia was Foy and Grace Bailey's daughter, born in Clovis, New Mexico on September 3, 1934. As a child of the depression, she always found a use for any stamp lacking a postmark, salvaged the last bit of toothpaste from the tube, and allowed merchants the opportunity to honor their coupons.
Virginia married Thomas Rhodes on November 27, 1953 in Clovis, New Mexico. The Rhodes began farming south of Friona in 1959. In 1965, they moved west of Bovina where they farmed Ellison family land until 1992. Virginia was an important part of the farming operations. When the family first purchased a combine and trucks, Virginia was the primary truck driver. After tarping the trucks, she would jump furrows and cross ditches to get the trucks out of the field, all the while talking to the kids about the need to "stay in 'Granny Gear' until you're on the road." Dragging cotton trailers with her daughter Rhonda while enjoying a Tab was another of Virginia's contributions to the farming operations.
After planting a love for snow skiing, Virginia gave up the sport in the early 1970's. She relished jumping in Ute Lake to help her grandkids and many other family members and friends learn to water ski.
In the late 1960's, Virginia began her commute from the farm west of Bovina and attended West Texas State University. She earned her Bachelor's degree in 1972 and her Master's degree in 1980. Virginia then taught in the Bovina Public Schools, allowing her to expand grammar correction beyond family to many students. Following her teaching career, Virginia turned her attention to her antiquing, sewing, bridge and traveling. Virginia never lost her skill and expertise in preparing a feast for her family, and many Amarilloans enjoyed Bovina corn.
Thomas and Virginia moved to Amarillo in 2000 and have been active members of Central Church of Christ and the Colonies Church of Christ. She served as President of The Amarillo Antique Club from 2006 to 2008.
The Rhodes enjoyed many international trips. A particular treat was a 2008 trip to Paris with daughter, Rhonda, and granddaughter, Ragan. While in Paris, they enjoyed a Fat Tire Bike Tour with grandson, Kregg, serving as the tour guide.
Virginia's survivors include her husband, Thomas Rhodes of Amarillo, her daughter, Rhonda and husband Terry Howard of Denver, Colorado, and her son, Alan Rhodes and wife Robyn of Amarillo. Beloved as Grammy to her grandchildren, her inner and outer beauty survives in Ragan Armstrong of Lubbock, Katherine Parks, husband Billy, and great-granddaughters Abigail and Alden of North Richland Hills, Texas, Kregg Rhodes and wife Julie of Dallas, and Jena Rhodes of Dallas.
Virginia is also survived by her brother, Jerry Bailey and wife Nita of Clovis, New Mexico, her sister-in-law, Jeanie Bailey of Lubbock, her sister, Karen McCall and husband Mike of Hempstead, Texas, her sister, Leta Harvel and husband Chuck of Aiken, South Carolina, her sister-in-law, Dorothy Wilson and husband Fred of Amarillo, and a great cloud of nieces, nephews, cousins and friends.
In lieu of flowers, the family suggests memorials to the High Plains Children's Home, P. O. Box 7448, Amarillo, Texas 79118 or the New Mexico Christian Children's Home, 1356 NM 236, Portales, New Mexico 88130.
Please sign our online guest register at www.schoolerfuneralhome.com.
Louis Welch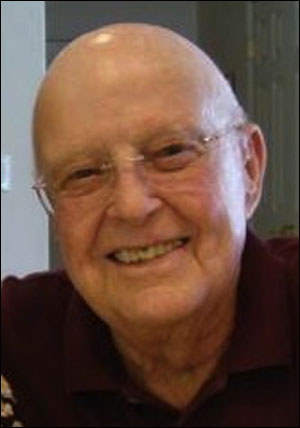 Louis Lealand Welch, 85, died Thursday, August 15, 2013 at his home in Tyler, Texas where he had lived for the past four years.
A graveside service was held at 10:00 a.m. Tuesday, August 20, 2013 at the Friona Cemetery. Ky Graham, longtime family friend and neighbor officiated. Services were under direction of Hereford Heritage Funeral Home.
Louis was born in Friona, Texas on February 18, 1928, northeast of Friona to Ford Nelson and Lucy Estella Shackelford. He attended Friona schools, always enjoying agricultural classes. In 1941 Louis met the love of his life, another redhead named Mamie Lou Wilson. On August 3, 1947 Louis and Mamie were married.
He graduated from Texas Tech University in 1950 with a degree in Agricultural Engineering. Upon graduation he returned to Friona to farm. After retirement from farming and ranching in 2005 they moved to Tyler and bought a house next door to Jan and Bill who took great care of Louis and Mamie Lou until their deaths.
While in Friona he participated in community and school activities. Louis served on the ASCS Committee for fourteen years, the Rural Telephone Co-Op board, the Friona School board, the Friona Wheat Growers board, the Texas Advisory board, and he was the Friona Chamber of Commerce Man-of-the-Year in 1969.
But he was most known for being a devoted husband, father, grandfather, and great grandfather. He was cherished by his family and friends. He was known for his sense of good humor, his contagious laugh, story telling, love of life, and most of all his endless generosity and kindness.
He enjoyed watching sports, fishing, game hunting, playing bridge, water skiing, and liked collecting guns, coins, knives, and watches. He attended the Sixth Street Church of Christ in Friona until moving to Tyler, Texas where he was a member of the West Erwin Church of Christ.
He is preceded in death by his parents and a child, David Craig Welch, and Mamie Lou, his wife of 64 years.
Louis is survived by three daughters, Jan Bogard and husband Bill of Tyler, Gay Jucha and husband Anthony of Rio Rancho, New Mexico, and Holly Easley and husband Waide of Hereford, Texas; one son, Lynn Welch and partner Peter Gueldner of Merida, Mexico; one sister, Murna Welch Miller and husband Jack of Austin, Texas; grandchildren Mende Moore, Melanie Scott, Brandon Petree, Logan Bingham, Blaire Herring, and hayes Jones; great grandchildren Myles and Millie Moore, Jon-Ford Ruger Scott, mamie and Georgia Petree, Hayden, Chloe, and Audrey Bingham, Harley and Halle Jones, Charlie and Stevie Jill Herring.
The family suggests memorials to the World Christian Broadcasting Corporation, 605 Bradley Court, Franklin, TN 37067, or your favorite charity.
Express your condolences and sign the online guest book at herefordheritagefh.com.