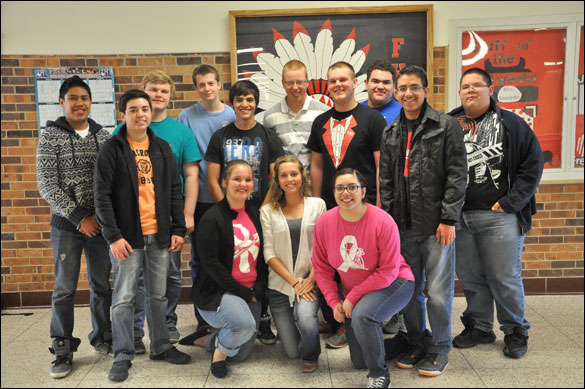 dana jameson photo
FHS Academic UIL students competed at District in Abernathy on March 26. Regional qualifiers were, back row, l-r, Jonathan Lucatero, Haden Smiley, Mason Fleming, Dan O'Brian, Lino Tarango and Seth Fothergill. Middle row, l-r, Christian Merino, David Martinez, Coke Capshaw and Martin Lopez. Front row, l-r, Holly Johnston, Mykelti Rhodes and Alexa Garcia.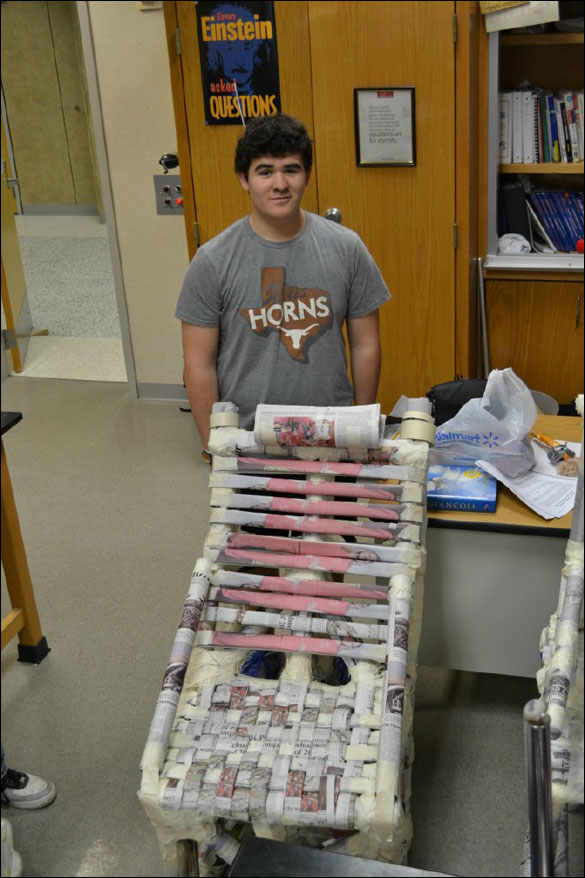 courtesy photo
Jonathan Romero, a junior at Canyon High School, and his chair made entirely out of Friona Star newspapers. Jonathan's physics teacher assigned the project and it had to be strong enough to sit in. The chair is made only from newspapers and masking tape. The students worked in teams on the project. Three chairs were made from Friona Star newspapers and Jonathan's chair held up when the assistant principal sat on it. We assume he made a passing grade. Jonathan is the son of Joe and Evelyn Hart Romero and grandson of Dale and Laura Hart.
Town Talk II
Have we had weather? If you call 40mph gusts and blowing dust weather then we have had it. Official Friona weather guy John Gurley has not been very busy. We have received only 0.07" of moisture in March. The junior high track meet in Olton last Thursday was canceled because of the blowing dirt. They will try again Saturday April 5 at the junior high district track meet in Abernathy.
*****
The farewell performance of the FHS one-act play, "A Midsummer Night's Dream", will be presented Sunday April 6 at 2:00 p.m. in the high school auditorium. Everyone is invited. There is no admission charge.
*****
Lynette Jubay Smith and husband Eddie welcomed baby boy Jaxon Trace Smith on March 25. He was 6 lbs 6 oz and 18.5 inches. Grandparents are Dr. Felipe and Dita Jubay. (more...)
Parmer Medical Center is excited to announce a new community service they will begin offering. PMC's first Nursing Assistant Certification Program will start on April 23rd. One of the requirements that all health care providers face is for all nurse's aides to be certified by the state. With no certification program offered in Friona, any area resident wanting to earn that certification would have to travel to complete the 100 hour course and receive their certification. By having the course offered locally, area residents have the opportunity to obtain that certification and be educationally eligible to apply for those local employment possibilities.
PMC will begin the first Nursing Assistant Certification Program on April 23rd. Prior to the course, on April 22nd, PMC will offer the required CPR course on April 22nd from 1:00 – 5:00 p.m. All classroom course hours will be conducted at PMC while all clinical hours will be provided at Farwell Nursing and Rehab in Farwell, Texas. PMC has opted to truly make this a community service and will be offing the certification course and the CPR class free of charge. Students may elect to purchase the optional textbook "Mosby's Textbook for Nursing Assistant" for $80.00.
Class size is limited and the deadline to apply for the course is April 10th. For additional information regarding the application process, uniform requirements and the class schedule, please call Parmer Medical Center at 806-250-2754 and ask to speak to Devin Carpenter, RN, DON or Carmen Putman, FNP-C, Nurse Executive.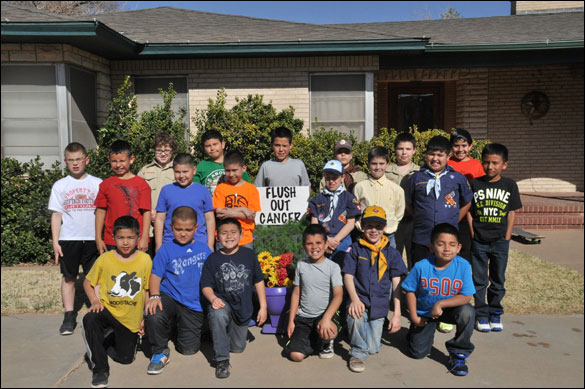 dana jameson photo
The Parmer County Cancer Coalition purple toilet is on the move. It could end up in your yard soon, requiring a donation to the PCCC. Local Cub Scouts will be helping to move the purple toilet to its next location. The fundraising effort is to help Flush Out Cancer in Parmer County. Friona Cub Scouts Pack 56 members pictured are. back row, l-r, Lucas Dickson, Mathew Dimas, Isais Olmos, Tim Ally, Chayton Caywood and Jadon Medrano. Middle row, l-r, Martin Godinez, Deiondre Romero, Alexa Guerra, Stef Ally, Gabriel Abarca, Elijah Robledo and T.J. Vasquez. Front row, l-r, Justin Trevino, Edward Trevino, Andres Pinion, Isaac Olmos, Stef Ally and Jacob Vasquez.