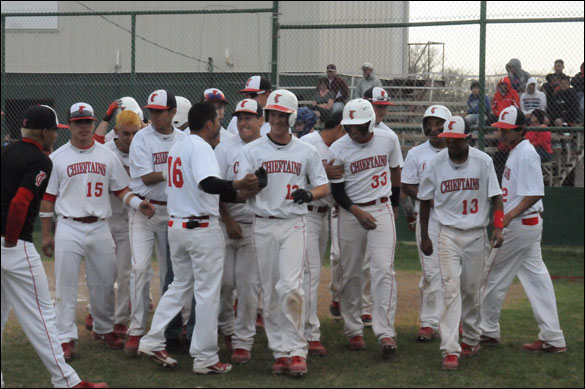 ron carr photo
The Chieftains hit three homeruns Monday on the way to an 18-8 win over Sanford Fritch. Josh Barnett (12) is congratulated by teammates after he hit a three run homer over the centerfield fence. Hunter Sundre and Brayden Pope also had homeruns. The Chiefs start playoff action vs. the Littlefield Wildcats with a Friday game at Littlefield and a second game at the Chieftain Ball Park starting at noon Saturday. A third game will follow 30 minutes later if necessary. Good luck Chieftains. The Chiefs will be without starting pitcher Mason Loflin who broke his leg in the Fritch game. More photos from the Fritch game in our photo section.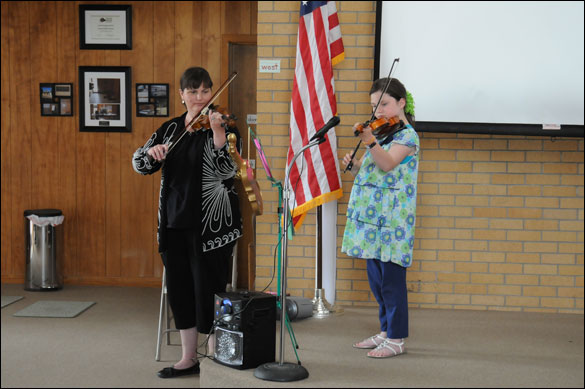 dana jameson photo
Eight-year-old Elaina Procter, accompanied here by her mom Monica, entertained at the Friends of the Library annual meeting Sunday afternoon. Elaina played several solo fiddle selections. She participated in the famous Bob Wills fiddle festival in Turkey, Texas on Saturday. Her dad Jeff said she was entered in the 8-12 year-old competition. She didn't win but it was a great experience and she plans to return next year.
Town Talk II
We prayed for rain and got two days of wind and dirt. Maybe we should pray for some wind and dirt and see if we get rain. Saturday and Sunday the Panhandle was pounded with high winds and blowing dirt. Friona reportedly recorded a wind gust of 58 mph according to Amarillo TV.
*****
The trailer at Kendrick Oil on Main St. is accepting aluminum cans to raise money for the all-night drug free graduation party. All of your aluminum cans would be appreciated. Gary Stowers is the senior dad in charge of the can collecting project. (more...)
Laboratory Professionals honored at Parmer Medical Center
Parmer Medical Center's Laboratory celebrated National Medical Laboratory Professional's week April 21-25.
The PMC lab staff are lab manager Tonya Lookingbill, Leah Onod, Sunette Lawas and Joyce Kube.
The staff celebrated and educated others on the importance of the laboratory professional's role at PMC. The laboratory's task is separating the normal from the abnormal, finding unexpected values and putting it all in the hands of those making treatment decisions. Laboratory results contribute to 70 percent of all medical decisions. (more...)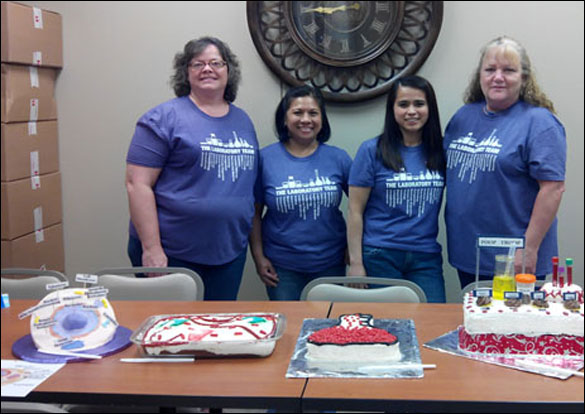 courtesy photo
Parmer Medical Center Laboratory staff are, l-r, Lab manager Tonya Lookingbill, Leah Onod, Sunette Lawas and Joyce Kube. The are pictured with cakes made by various hospital departments.