Obituaries
Ruth Elizabeth Renner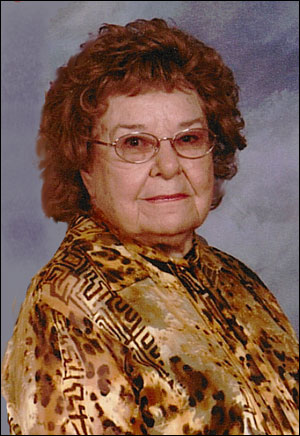 Ruth E. Renner, 94, of Friona, died on Wednesday, June 4, 2014 in Hereford, TX. Graveside services were held at 1:30 PM on Saturday, June 7, 2014 at Shattuck Memorial Cemetery in Shattuck, OK. Arrangements were under the direction of Blackwell-Mullins Funeral Home in Friona, TX.
Ruth was born on February 28, 1920 in Shattuck, to Adam and Mary Kraft. Ruth graduated from Shattuck High School in 1938. She married Bill Schwab on November 27, 1938 in Shattuck. They moved to Friona on September 18, 1954. He preceded her in death. She then married Clyde Renner on April 6, 1972 in Bentonville, Arkansas. Ruth had previously been employed by The Friona Star as a proofreader, as a caregiver, and was an Avon representative. Her hobbies included gardening, canning, crafts and painting.
Ruth was preceded in death by her parents, her first husband, Bill Schwab, a son, Darrell Schwab, eight brothers and three sisters. She was the last surviving sibling.
Ruth was survived by her husband, Clyde Renner of Friona, TX; one daughter: Junita Larkin of Bentonville, Arkansas; two sons, Randall Schwab of Westfork, Arkansas and Michael Schwab of Burleson, TX; three sisters-in-laws; eight grandchildren; three step-grandchildren; and seven great-grandchildren.
To sign the register book online go to www.blackwellmullins.com
Johnnie Faye Battey, 74, died Monday, June 9, 2014 in Friona, Texas. Graveside service for Johnnie Faye Battey, of Muleshoe, Texas, are scheduled for 11:00AM , Thursday, June 13, 2014 at Lazbuddie Cemetery with Pastor Ray Hill of Lubbock, Texas officiating. Burial will be in Lazbuddie Cemetery.
She was born July 1, 1939 in Clovis New Mexico to Ernest and Valter (Wagnon) Nowell. She married Keith Battey in Amarillo, Texas in 1965.
Mrs. Battey was a life long resident of the Friona Community and a wedding coordinator. She was a member of the Calvary Baptist Church in Friona.
She was preceded in death by her parents, and one daughter, Julie Hawkins.
Survivors include her husband Keith, one daughter, Kim Lowe and her husband, Wade, of San Antonio Texas; two sisters, JoAnne Peterson of Abernathy Texas and Jan Adams of Stephenville Texas; and two grandchildren, Keith and Kevin Lowe.
Online condolences may be made at www.ellisfuneralhomes.com.