Construction begins on Hwy 60
Motorists traveling on US 60, in Parmer County, over the next few months can expect various lane closures on a portion of the roadway as the Texas Department of Transportation (TxDOT) begins work on a $2.1 million project in the city of Friona.
"The lane closures will give work crews the space needed to make full-depth road repairs to US 60," said Stevan Perez, P.E., TxDOT's Littlefield Area engineer. "The project will make needed improvements and repairs to the pavement, but is also expected to enhance the overall safety of the roadway."
"Beginning this week, traffic between Summit and Washington Avenues, will be reduced to one-lane in each direction," Perez said. "Motorists should expect brief delays, drive with caution through the work zone, be on the lookout for workers and avoid distractions for their own safety and the safety of the workers."
Duininck, Inc., of Roanoke, Texas, is the project contractor. Work on the roadway is expected to take four months to complete.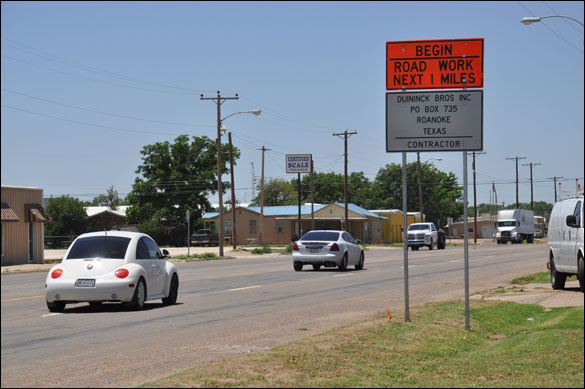 dana jameson photo
Atmos Energy employees were working both sides of Highway 60 just west of Main to lower their gas lines from 3-feet to 5-feet deep. The work was being done prior to TxDOT''s major construction project set to begin on Highway 60 in the next couple of weeks. The plan is to replace the asphalt with concrete from Washington to Prospect. The entire south side of Hwy 60 will be closed first. The construction will take four to six months depending on weather conditions, etc.