Obituaries
Betty Jo Elliot Phipps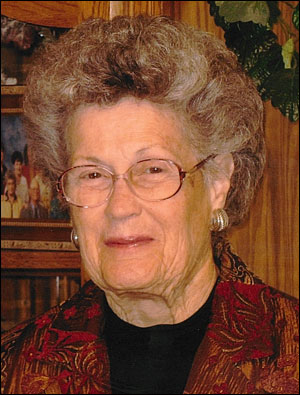 Betty Jo Elliot Phipps, 86, of Friona passed away June 26, 2014. Funeral services are scheduled for Thursday July 3, 2014, at 3:00 P.M., in the Friona Methodist Church with Jeff Procter, Minister of the Sixth Street Church Of Christ and Family, officiating. Burial following in the Friona Cemetery by Blackwell-Mullins Funeral Home of Friona.
Betty Jo Elliot Phipps was born to Guy E. and Blanch Elliot in Anson, Texas, on February 17, 1928. She married E.G. Phipps on July 15, 1945, in Muleshoe, Texas.
MeMa enjoyed gardening and cooking. She was famous for her chicken fried steak. She spent endless hours loving her family and helping with grandchildren and great grandchildren. She was an active member of the Friona Methodist Church and choir until her health failed.
She was preceded in death by a grandson, Drew Baize; her parents; two brothers, Bill Elliot and Pat Elliot; and one sister, Jean Sellers.
Betty is survived by her husband, E. G; and six daughters, Shirley Wilson and husband, Mickey, of Beeville, Texas; Judy Phipps of Amarillo, Texas; Deloris Phipps of Amarillo, Texas; Patricia Phipps of Friona, Texas; and Myrna Hill and husband, Kelly of Amarillo, Texas; and a foreign exchange daughter, Brenda Baxter and husband, Wayne of Wanganui, New Zealand.
She is also survived by her grandchildren and great grandchildren, Cody and Karen Wilson, Kyle, Claire, and Carlie of Atlanta, Georgia; Brady and Heather Wilson, Tyler, Tanner, and Trace of Canyon, Texas; Shambryn and Matt Huie, Abby, Riley and Zachary, of Beeville, Texas; Boone and Amy Hand and Hope of Carlsbad, California; Bowie Hand of Austin, Texas; Morgan and Autumn Baize , Kylee and Cooper of Amarillo, Texas; Logan Baize and Brylee of Amarillo, Texas; Miles Hill of Amarillo, Texas; Mallory Hill of Nashville, Tennessee; Kellie Schooler and Carver of Lubbock, Texas; and the Baxter grandchildren and greats of New Zealand, one sister, Anne Pearson of Austin, Texas; numerous Phipps and Elliot family members; and three special caregivers, Sharron McQuigg, Minda Aguilar, and Raquel Trevino.
In lieu of flowers, donations may be sent to the Friona Methodist Church, 301 East 8th Friona, Texas, 79035 , Friona Public Library, 109 W. 7th Friona, Texas, 79035, or Cal Farley Boys Ranch, P.O. Box 1890, Amarillo, Texas, 79174-0001.
You may sign the online register book at www.blackwellmullins.com