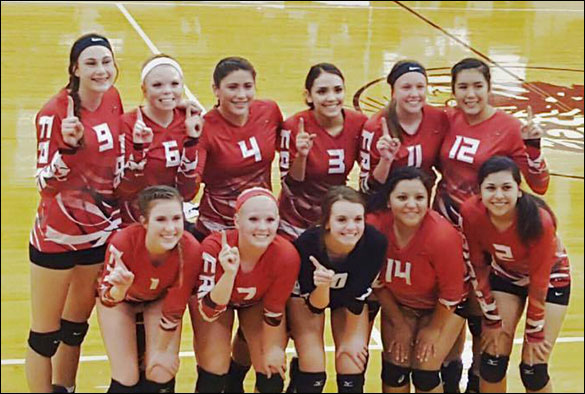 courtesy photo
Congratulations to the 2015 Friona Squaws volleyball district champs. The Squaws beat Littlefield Tuesday evening to clinch district with a 5-1 record. Back row, l-r, Kim DeWit, Paige Upton, Erica Barrera, Evelyn Lozoya, Bailey Pope, Mariah Trevino; front, l-r, Courtney Bunker, Kendall Barnett, Taylor Stallings, Salma Escamilla, Raquel Davila. First playoff game next Tuesday at Randall. Opponent will be either River Road or Childress. They play each other Friday for seeding. Game details will be posted on our Friona Star Facebook page when available.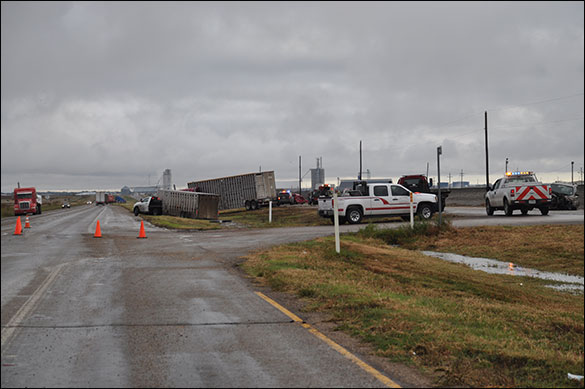 dana jameson photo
A fatality accident Thursday morning October 22 took the life of a Friona woman, Tomasa Raymundo-Rodriguez. There were actually two accidents on Highway 60 at the Cargill plant entrance. The first occurred when a Tuls Cattle pickup pulling a cattle trailer hit an SUV that was exiting the plant. Before first responders arrived a second vehicle exiting the plant pulled around the wreckage onto eastbound Hwy 60 and was rear-ended by a Harold Whitaker semi-cattle truck. The accidents happened about 6:30 a.m. while it was still dark. Mrs. Raymundo-Rodriguez was a back seat passenger in the second car. In the photo the two trucks ended up in the median. The red passenger car is visible in the center of the photo and the SUV is at the far right. Friona and Bovina EMS both transported victims to the Friona hospital. Friona volunteer firemen, Friona police officers, Sheriff's department deputies, and several DPS Troopers worked the complicated accident scene. Eastbound Highway 60 was closed for several hours. All traffic was diverted to the westbound side of the highway.

Don't forget to turn all of your clocks back one hour as of Sunday November 1 at 2:00 a.m. We are falling back to Central Standard Time, screwing up the daylight for a few months. It is a drag for the first few days but we will no doubt adjust. They recommend you change your smoke detector batteries too.
*****
Glad to see gasoline prices down to $1.99 this week. Wasn't too long ago we were paying $4.09 here and elsewhere. My observation is no matter how low gasoline goes someone will find it cheaper somewhere else and gripe about it. Lower gasoline prices help a lot of people, like my brother Rick, a traveling salesman for Becknell who is on the road every week. Like many others whose livelihood depends on favorable gasoline prices, the $1.99 is nice to see.
*****
Muleshoe native Senior Airman T.J. Brantley, son of Curby and Kay Brantley and husband of Friona native Staci Murphree Brantley, was honored as the 2015 USO Airman of the Year in ceremonies in Washington D.C. Staci and T.J. met Vice President Joe Biden and other star-spangled folks. They will soon be adding another grandbaby to the Murphree clan. It will be Curby and Kay's first grandchild. (more...)