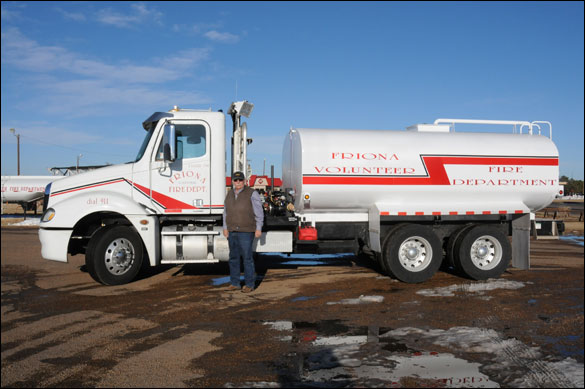 ron carr photo
The Friona volunteer fire department has a new tanker truck. It is a 2007 Freightliner. They bought the truck chassis in Clovis and the tank was installed at 4-Way Pump. Light bars and other accessories were provided by the Parmer County Sheriff's office. They traded in the tractor from an old semi-tanker truck. The cost of approximately $30,000 was paid by the fire department from funds earned by the annual sale of raffle tickets to give away a 4-wheeler during Maize Days. Fire Chief Jim Taylor, shown with the new tanker, said the department was proud to be able to purchase the truck with fire department funds and sends thanks to everyone for their continued support of the fire department.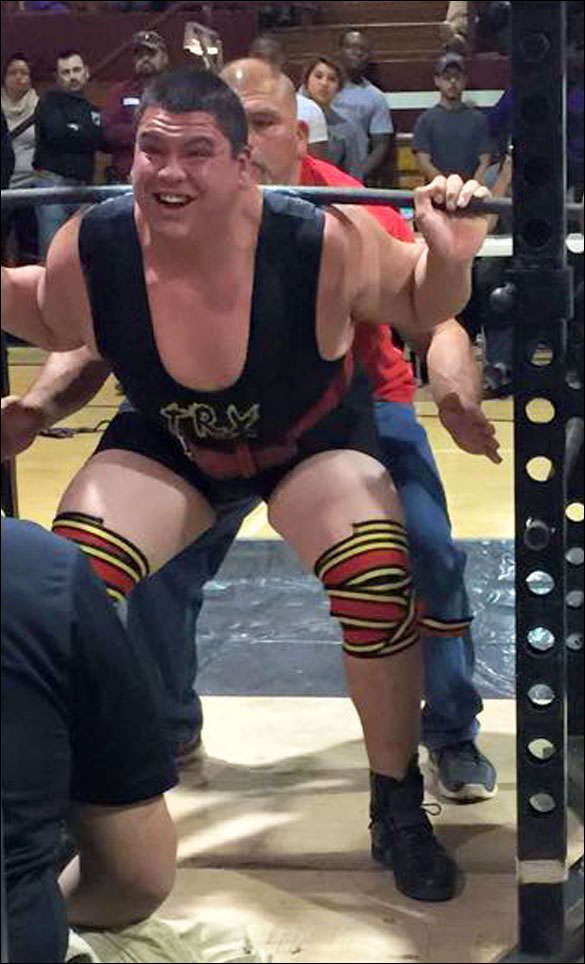 dana jameson photo
Snow and ice descended on the area over the weekend causing a challenge for the ducks at Reeve Lake. Friday evening Friona received a layer of sleet which was then covered by 6-inches of gently falling wet snow and freezing rain on trees. There was virtually no wind accompanying the snow, leaving a white blanket on everything in the area. There was a warmup Monday and Tuesday but temps plunged again Wednesday.

Enough already! Woke up Tuesday morning with another dusting of snow on the ground. Wasn't supposed to snow until Tuesday night into Wednesday. Hopefully by the time you read this the warm weather they promised will have melted it all away. Been a nice run but ready for some sun.
*****
Greg Lewellen told me the annual Pudge Kendrick Memorial Golf Tournament will be held at the Hereford Country Club in late July. Details will be provided later. The popular tournament benefits the Parmer County Cancer Coalition. (more...)
County livestock show to feature new events
The 78th Annual Parmer County Livestock Show will kick off at the Friona Community Center on Tuesday, January 20 at 11 a.m. with the Beef Heifer Show, which will be followed by the Steer Show. This year there are 7 beef heifers and 33 steers entered.
Livestock show General Superintendent Mack Heald stated that normally the Beef Heifer and Steer Shows are held in the evening but because of basketball games scheduled that evening the show will take place during the day to accommodate students in both activities. (more...)
By Ricky White
Greetings!
I hope everyone had a wonderful Christmas and a Happy New Year.
I would like to begin this month by recognizing Larry Martin on his retirement. The City of Friona will sorely miss his service, expertise, and knowledge. Good luck Larry in your retirement.
The public works employees took advantage of the cold weather and continued their efforts painting the city office and making some renovations. There was a major water leak directly behind the apartments on 12th Street, just north of Friona Interbank. The leak was detected on New Years and the employees did a great job isolating the leak and repairing it. (more...)
The Chieftain/Squaw powerlifters had their first meet of the year in Bovina last weekend. The Chiefs earned 3rd place as a team and the Squaws team placed 5th.
Coach Daniel Hutchins said this year's Chief team has two seniors, two juniors, 13 freshmen and sophomores. The Squaws have three returning lifters. Meet results:
Chiefs: Edgar Guerrero was 1st in Super Heavyweight and was Outstanding Lifter; Juan Macias 2nd in 148 class; Rene Rodriguez 4th in 181 class; and Juan Samarron 4th in 198 class. Squaws: Chelsie Gomez 1st in 114 class; Lupita Hernandez 3rd in 181 class; Claudia Correa 4th in 97 class; Andrea Juarez 4th in 148 class; and Salma Escamilla 4th in 165 class.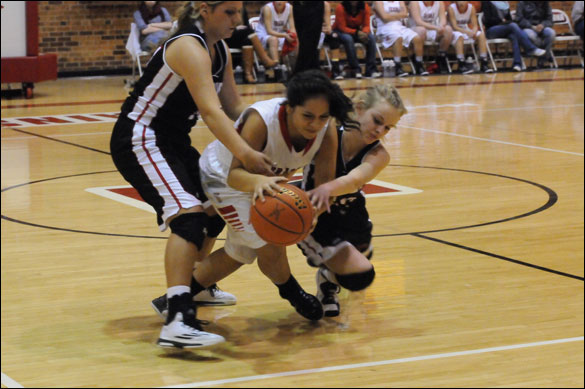 ron carr photo
Alexis Alvarado is attacked by a couple of Shallowater Fillies Tuesday evening. The #1 ranked Fillies beat the Squaws 62-23. The Squaws lost at Tulia last Friday and take a 0-2 district record to Dimmitt Friday January 16. The Chiefs will open their district season at Dimmitt Friday. All Chiefs/Squaws district games are being broadcast on KNNK 100.5 FM, WT Services channel 6, and knnkradio.com. Muleshoe will visit Friona gym Tuesday January 20. JV at 5:00, Squaws at 6:30, and Chiefs at 8:00 p.m.