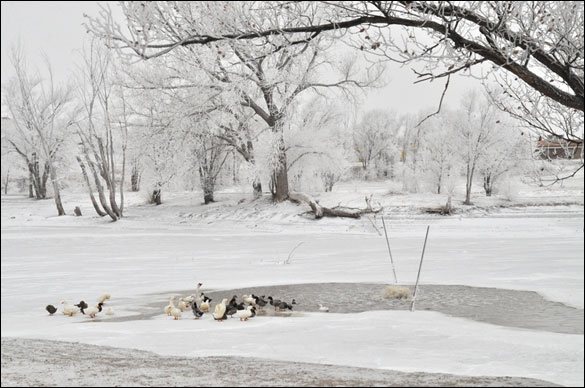 dana jameson photo
Snow and ice descended on the area over the weekend causing a challenge for the ducks at Reeve Lake. Friday evening Friona received a layer of sleet which was then covered by 6-inches of gently falling wet snow and freezing rain on trees. There was virtually no wind accompanying the snow, leaving a white blanket on everything in the area. There was a warmup Monday and Tuesday but temps plunged again Wednesday.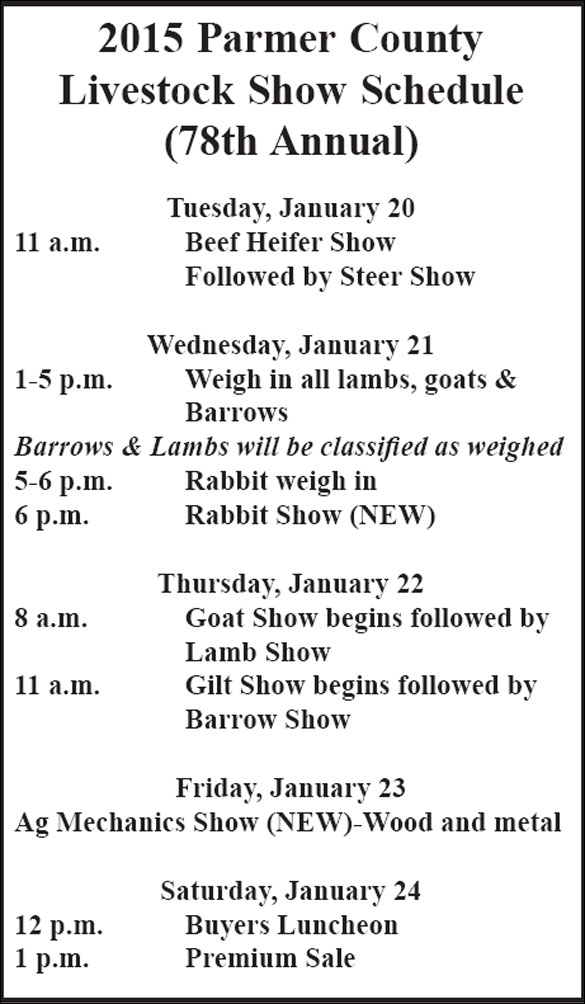 What a weekend we had around here. About 4:00 o'clock last Friday afternoon the sleet showed up. That was covered with 6" of slow falling wet snow by Saturday morning and some nice freezing temperatures and wind chill. Throughout the weekend law enforcement, EMS, and firemen were busy pulling people out of ditches and the median. Several accidents resulted in injuries but none serious as far as we know. I did not leave my apartment from Friday evening until Monday morning. No need for me to be out there sliding into a ditch causing further chaos. A big thanks to our law officers and our volunteers for their hard work and dedication during the ugly weather.
*****
Friona firefighters responded to a vehicle fire at Cargill Tuesday morning about 10:00 a.m. A Clarendon College bus was here with some students practicing meat judging. The fire started in the engine compartment and the bus was deemed a total loss. It was not occupied at the time and was parked away from any other vehicles. (more...)
Accident claims life of local man
Friona firefighters, EMS, and sheriff's deputies were dispatched Sunday January 4 about 2:00 p.m. to the J.D. Heiskell Co. grain elevators west of Friona. A man was said to be trapped in a grain building filled with corn. The man had been walking on top of the corn stored in the building when it gave way, trapping him underneath.
Firemen and Heiskell employees worked feverishly to remove the corn from the building to try and recover the man. At least 18 Friona volunteer firemen worked from 2:00 p.m. until after midnight before recovering the body of 21-year-old Andrew Lopez of Friona. He was pronounced dead at the scene by Precinct 1 Justice of the Peace Jo Beth Gipson and transported by Blackwell-Mullins Funeral Home. (more...)
The Friona Chamber of Commerce & Agriculture announced this week that the 59th Annual Friona Chamber Banquet will be Thursday, March 26 at the Friona Community Center.
The banquet will feature a delicious dinner and guest speaker Brandon Slay. (more...)
Local stock show set for January 17
The Friona Stock Show will be held Saturday, January 17 at the Friona Community Center. Weight cards for animals need to be turned in by 11 a.m. the day of the show.
This years judge will be Scotty Wright, Boys Ranch Ag Science Teacher. Wright was a member of the South Plains College and Texas Tech judging teams as he pursued his degree in Agriculture Education. He has raised show barrows and medium wool sheep and been very successful in producing quality show animals for FFA and 4-H members. (more...)