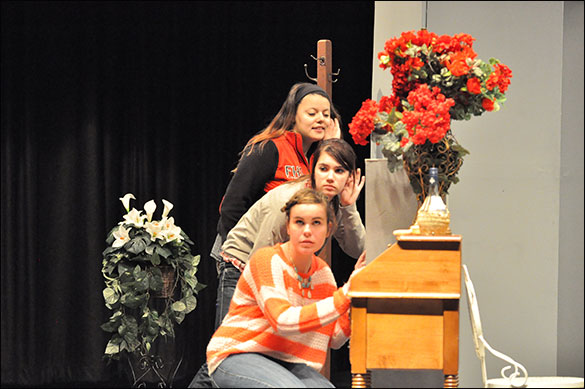 dana jameson photo
Jasmine Rodriguez, Lydia Alexander and Brooklynne Johnston practice eavesdropping during the rehearsal of the Friona High School One Act Play "Lend Me A Tenor". The troupe will perform at the One Act Play Festival in Ropes on Monday, March 2. A public performance will be given at a later date.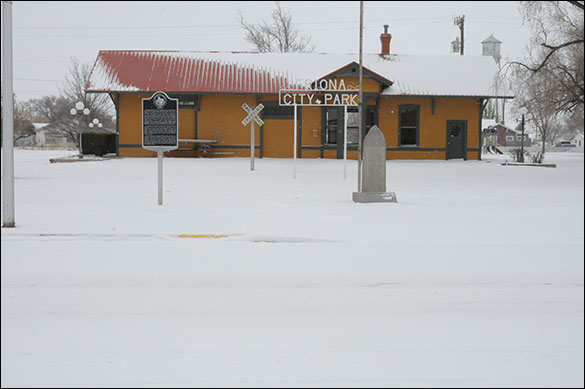 ron carr photo

The Monday morning snow blanketed the city park and the town as winter rolled through again and temperatures fell into single digits. By Wednesday it had melted away but more snow is predicted for this weekend, then even more next week. It is still winter. Daylight Saving Time begins Sunday March 8 and the first day of spring is Friday March 20.
What can we say about the weather? Sunny one day, snowy the next. Plays havoc with lots of people's plans, getting to work, doctors' appointments, and shopping trips. More winter stuff forecast for the weekend. Maybe you saw one of our Friona snow photos on Doppler Dave's weather forecast at 6:00 p.m. Monday. Better go fill up your vehicle and stop by the grocery store.
*****
Not all dementia is Alzheimer's, so says Rhonda Sanders, a certified grievance counselor at Bluebonnet Home Health & Hospice here in Friona. Rhonda has organized a caregiver group called "Coffee Break for Caregivers." They meet the first Friday of every month at the First National Bank community room. Coffee and donuts at 9:30 a.m. and the meeting is at 10:00 a.m. Next meeting is Friday March 6. All caregivers are welcome to attend and connect with other caregivers. (more...)
Registration for Friona Kids Inc. Baseball begins Friday, February 27 and will run through Friday, March 20. Children ages 4 through 13 are eligible to participate. Participants will be distributed to teams on March 26. The first Coach's meeting will be held at the Boy Scout hut on April 1. Games will begin Friday, May 1.
Registration forms can be obtained by calling Tonia Abarca at (806) 240-2943 or Jamie Lewellen at (806) 206-0743. Registration fees are: T-Ball (4,5 & 6-year-olds) $25; Coach Pitch (7 & 8 -year-olds) $30; Minor (9 & 10-year-olds) $35; and Major (11, 12 & 13-year olds) $40. Deadline to return completed forms with the registration fee is Friday, March 20, 2015 at 3 p.m. to the Friona Primary Office or the Friona Elementary Office. Checks can be mailed to Friona Kids Inc to 1205 W 6th St., Friona, TX 79035. A registration form can be found on page 9. (more...)
Deadline approaching for Chamber nominations
The Friona Chamber of Commerce is accepting nominations for Citizen, Man, Woman, Teacher, Boy & Girl Student and Most Courteous Employee of the Year. The deadline for nominations is Friday, March 6. Nomination forms are available at the Chamber office at 621 Main Street or online at www.frionachamber.com
The winners will be announced at the 59th Annual Friona Chamber of Commerce Banquet on Thursday, March 26 at the Friona Community Center. Tickets are $25 and can be purchased at the Chamber office or at the door. (more...)