Obituaries
Helen Louise McWhorter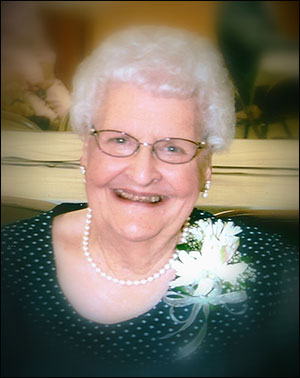 Helen Louise McWhorter, 86, of Friona, formerly a longtime Plainview resident, died January 29, 2015 in Friona. Funeral services were held 10:00 A.M. Monday, February 2, 2015 at the 6th St. Church Of Christ in Friona with Jeff Procter and Ken Sinclair, officiating. Burial followed at the IOOF Cemetery in Plainview. Arrangements were under the direction of Blackwell-Mullins Funeral Home of Friona.
Helen was born December 16,1928 in Hale County, Texas to Harry William and Myrtle James Sandefur Sinclair. She married Joe Robert McWhorter in Plainview on February 24, 1950. She was a servant in many aspects of her life. She loved cooking for others and sending cards of comfort and encouragement. She loved her family, especially her husband, but above all, she loved her Lord. She was a very active member of the Church of Christ.
She is preceded in death by her parents, a sister Edith Amonett, and a brother Wayne Sinclair.
She is survived by her husband Joe of Friona; two daughters, Lenda Trussell and husband Lanny of Muleshoe, and Glenda Procter and husband Ted of Friona; one brother, Ken Sinclair and wife Estelle of Abilene; four grandchildren, Mickey Trussell, Charlotte Bynum and husband Tim, Crista Singer, Barry Procter and wife Tiffanni; five great-grandchildren, Ava, Cale, Cortlyn, Gus and Brittan.
Memorials may be made to Prairie Acres Nursing Home 201 East 15th Friona, Texas 79035.
You may sign the online register book at www.blackwellmullins.com
Beulah M. Shelby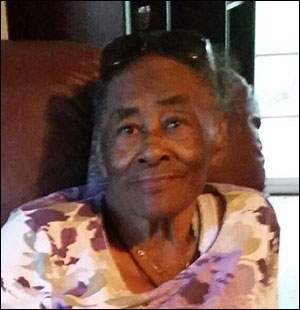 Beulah M. Shelby our mother, grandmother, our angel fell asleep in the arms of Jesus on February 2, 2015 at a her home surrounded by her loving family.
Celebration of Life services will be Friday, February 6, 2015 at 11:00 a.m. at New Light Baptist Church, 518 N. 6th Street, Abilene, TX. Interment will be at Elliott-Hamil Garden of Memories of Abilene, TX. The family will receive friends from 6 p.m. to 7 p.m. Thursday at the church.
Beulah was preceded in death by her loving husband Bennie Shelby, and her son Cedrick Shelby.
She is survived by Billy Ray "Doc" Shelby (Brenda), Elbert Lee Shelby (Lupe), Gerald Dewayne "Moses" Shelby (Teresa), Rodney Bruce Shelby (Teresa), Belinda Montgomery (David), Connie Bowens (Joe), David Shelby, Richard Vargas, Mike Beauchamp (Debra); siblings, Wilma Woods, Leon Bell (Pat); sixteen grandchildren; nineteen great-grandchildren; her caregiver, Brylee Cornett; and a host of other relatives and friends.
Kenneth Kit Carson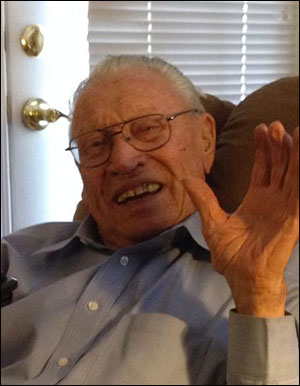 Graveside funeral services for Kenneth Kit Carson will be 2:00 p.m. Saturday, February 7, 2015, at Memorial Hill Cemetery under the direction of Marshall Funeral Home of Waynoka, LLC.
Kenneth Kit Carson, son of the late Kit and Floy (Hinderliter) Carson, was born September 26, 1918, in Woods County, Oklahoma, and passed away February 2, 2015, at Friona, Texas, at the age of 96 years, 4 months and seven days.
Kenneth attended several rural schools Northwest of Waynoka. He loved the outdoors and as a youth became an avid hunter and trapper that brought him enjoyment throughout his life. Soon after serving in United States Army, Pacific theater during WWII, Kenneth was married to Virgalee Redgate Carson on May 13, 1945, in Oklahoma City, OK. The couple made their home in Waynoka where he worked on the Santa Fe Railroad and as a carpenter. To this union the couple was blessed with one daughter Sherry Lee in June of 1946.
In 1961, the couple moved to Clovis, New Mexico where he remained until his recent illness and moved to Friona, TX. With his carpenter skills Kenneth become an accomplished furniture artisan. He is a member of the Church of Christ.
Kenneth is preceded in death by his wife Virgalee (Redgate) Carson; parents, Kit and Floy (Hinderliter) Carson; one sister Bessie (Carson) Devine; and one brother Wayne Carson.
Kenneth is survived by his daughter Sherry (Carson) Atwell, and husband Jim, of Friona, TX; granddaughters Shannon Bullard, Lubbock, TX, and Kenda Dunnam, Dallas TX; two great grandchildren, Alex Dunnam, of Phoenix, AZ and Keeley Dunnam, of Dallas, TX.
Memorial contributions may be made through the funeral home to the New Mexico Christian Children's Home, Portales NM.
Remembrances may be shared with the family at www.marshallfuneralhomes.com.
Ana Juarez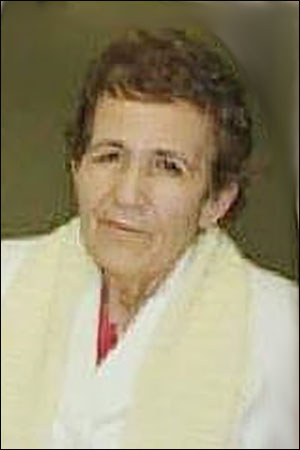 Ana Juarez, 72, of Farwell, TX, died on Monday, February 2, 2015 in Friona, TX. Funeral services will be at 1:00 PM on Thursday, February 5, 2015 at Temple of Adoration with Pastor Roy Dominguez, officiant. Burial will follow at Friona Cemetery. Arrangements are under the direction of Blackwell-Mullins Funeral Home in Friona, TX.
Ana Cabrera was born on July 14, 1942 in La Gloria, Mexico, to Daniel and Manuela (Urbita) Cabrera. Ana married Nicolas Juarez on December 31, 1959 in Mexico. They recently celebrated their 55th anniversary. She enjoyed gardening, cooking for the family, walking, and singing. She was a homemaker and a member of Temple of Adoration Church in Friona.
She was preceded in death by her parents, two brothers, two sisters and two grandchildren, Natalie Alvarado and Jacklyn Ramirez.
Ana is survived by her husband, Nicolas Juarez, of Farwell, TX; three sons, Juan Juarez of Fallbrook, CA, Lupe Juarez of Texico, NM, and Eloy Juarez of Farwell, TX; four daughters, Antonia Ramirez of Friona, TX, Victoria Costilla of Fairview Heights, IL, Gloria Juarez of Friona, TX, and Maria Teresa Tarango of Clovis, NM; two brothers, Rosalio Cabrera and Lupe Cabrera both of Mexico; three sisters: Maria Cabrera, Reyes Cabrera, and Maria de Jesus Cabrera all of Mexico; and 26 grandchildren.
Memorials may be made to Temple of Adoration, 620 Washington Street, Friona, TX 79035.
To sign the register book online go to www.blackwellmullins.com