Council approves city, credit union land swap
At Monday's regular meeting the Friona city council approved a property swap with the Friona Texas Federal Credit Union. Council member Bruce Fleming, chairman of the credit union board, was recused from the official vote. Council member Nancy Davis, credit union president, was absent from the meeting.
The 1.2 acre city owned property east of AgTexas on Austin St. will be traded for the credit union's existing building at 6th and Euclid. Fleming said the credit union will begin construction immediately on a new building. The existing credit union building will eventually be the new home of the Friona Police Department, allowing the Friona fire department to utilize the existing police building.
Some remodeling of the credit union building will be necessary before the police department move. City manager Patricia Phipps said it was an even swap and the closing of the transaction will be completed in the next few days.
Next week, April 20-24 is Friona Firemen Appreciation Week. Mayor Rick White said an appreciation dinner is being planned for members of the fire department and their families.
Dr. Jubay was appointed as medical director for Prairie Acres, replacing Dr. Dickson who will be leaving Friona the first week of June. Randall Field was approved as the city auditor for three more years. Bill Stovell was appointed as Friona's representative on the Parmer County Appraisal District board.
Police Chief Isidro Jimenez reported the department issued 70 citations in March, made 24 arrests, and responded to 392 calls for service. Last Saturday Officer Adrian Suarez was first on the scene of an EMS call for a woman in labor at Cottonwoods Apartments. He helped deliver the baby in the apartment before EMS arrived. They took the mom and baby to PMC then later to Amarillo.
Participation in the statewide Atmos rate increase was approved. Lipham Construction was awarded the sealcoat bid at a rate of $2.35 per square yard which was substantially higher than last year. Phipps said she has cut eight blocks from the sealcoat program to stay within budget.
After approval of accounts payable and financial statements, the council went into executive session at 7:03 p.m. and adjourned upon returning to open session with no further action taken.
For more info about city business see the Mayor's Minutes on page two. The next meeting of the city council is Monday, May 11 at 6:30 p.m. All council meetings are open to the public.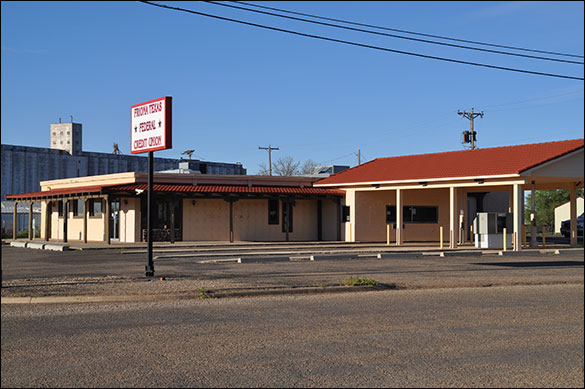 Friona Texas Federal Credit Union building