Obituaries
Kathern Whitehead Milligan Spann
Kathern Whitehead Milligan Spann, 93, of Noble, OK, passed away on September 4, 2015, after a lengthy illness.
Kathern was born on August 18, 1922 to Cletus Whitehead and Nellie Lynn Whitehead in Maysville, OK. She married L. A. (Bud) Milligan in 1940 and they raised two children, Larry Don and Andrea Sue. The family moved to Friona, Texas in 1951. After retirement, they moved back to Oklahoma. Bud passed away in 1982 at 68. In 1986, she married Joseph Byron Spann until his death in 2006. He was 91.
She is survived by her daughter, Andrea Sue; a sister, Norma Jean Pierce Fielder; two grandsons, James Nazworth and his wife Tammy of Grand Prairie, Tx, and Neal Milligan of Dallas, Tx,; a great-grandson, Hunter Nazworth of Grand Prairie, Tx.; and two sisters-in-law Willie Whitehead and Betty Whitehead Flowers.
Kathern was preceded in death by her two husbands; son, Larry Milligan; three brothers, Chester Whitehead, Odas Whitehead and Murray Whitehead; and a sister, Lela Shulz.
Adelina Davila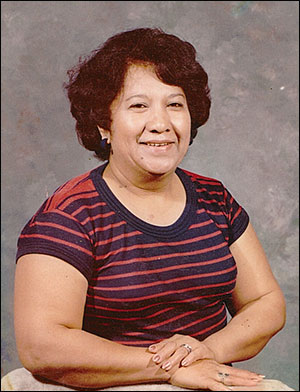 Adelina Davila, 83, of Amarillo, TX, formerly of Dimmitt, TX, died on Thursday, September 17, 2015 in Amarillo, TX. Mass of Christian Burial was held Monday, September 21, 2015 at Immaculate Conception Catholic Church with Reverend Raj Arockia, Celebrant. Burial followed in Castro Memorial Garden Cemetery in Dimmitt, TX. Services were under the direction of Colonial Funeral Home of Dimmitt, TX.
Adelina Martinez was born on January 16, 1932 in Melvin, Texas, to Benito and Maria (Diaz) Martinez. She married Pedro Davila on November 29, 1948 in Brownfield, Texas. Adelina was a homemaker, and her hobbies included cooking for her family, she would hand sew clothes for her children, making her own patterns from newspaper, and she loved to gamble at a casino.
She was preceded in death by her parents; her husband, Pedro Davila; two brothers; four sisters; and one stepbrother.
Survivors include five daughters, Anita Guzman and husband, Andres of Amarillo, TX, Esther Vega, and husband, Jessie of Deer Park, TX, Delia Rios and husband, Ambrosio of Friona, TX, Virginia Davila of Deer Park, TX, Christina Davila of Houston, TX; one son, Fernando Davila and wife, Rosanna of Huffman, TX; four sisters, Corina Martinez, Virginia Martinez, Maria Martinez, and Irene Martinez all of Waco, TX; one brother Guadalupe Martinez and wife, Nicolasa of Levelland, TX; 13 grandchildren; 30 great-grandchildren; and six great-great-grandchildren
To sign the register the book online go to www.colonialfuneralhome.org.
Carolyn Rose Rawlings Jones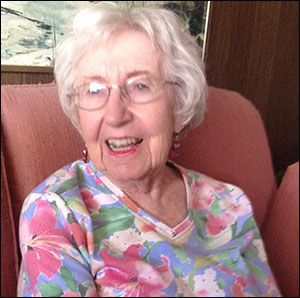 Carolyn Rose Rawlings Jones, 87, of Dimmitt died September 18, 2015 in Lubbock. Memorial services were held Tuesday September 22, 2015 at Colonial Funeral Home Chapel in Dimmitt, Kara Wichmeyer of Lubbock, officiating. Arrangements were under the direction of Colonial Funeral Home of Dimmitt.
Carolyn was born August 10, 1928 in Amarillo, Texas to James Choate and Tina K. SoRelle Rawlings. She lived in Shamrock until the family moved to Dimmitt in 1936.
Carolyn graduated from Dimmitt High School in 1946. Upon graduation, she attended Gulf Park College in Gulfport, Mississippi. She then transferred to the University of Texas where she obtained a degree in Geology.
Carolyn returned to Dimmitt and was owner of Jones Rawlings Insurance Agency until she retired. She was an active member in St. Thomas Episcopal Church in Hereford and always enjoyed her weekly bridge games with the ladies bridge club in Dimmitt, was a member of the Republican Organization of Women, hospital auxiliary and attended various books clubs and Bible studies.
She is preceded in death by her parents, and one sister, Patsy Rodgers.
Survivors include one son, Robert Jones and wife Becky of Friona; one daughter, Tina Patricia Kozak and husband Kevin of Fernandina Beach, Florida; three grandchildren, Allison and Abigail Jones of Lubbock and Frances Hanold of Jacksonville, Florida; and several nieces and nephews.
In lieu of flowers, memorials may be made to the Plains Memorial Hospital Auxiliary or your favorite charity.
You may sign the online register book at www.colonialfuneralhome.org
Christine Joyce (Southall) Braxton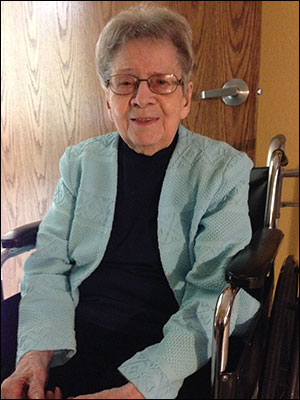 Funeral services for Christine Joyce (Southall) Braxton, 91 year-old Weatherford, Oklahoma resident, were held Thursday, September 24, 2015, 9:30 a.m. in "The Chapel" of Lockstone Funeral Home with Rev. Ken Bryant officiating. Graveside services were held Thursday, September 24, 2015, 4:00 p.m. at Friona Cemetery in Friona, Texas.
Christine Joyce Southall Braxton passed into the loving arms of her Lord on September 19, 2015, at Weatherford Regional Hospital in Weatherford, Oklahoma, at the age of 91 years, 8 months, and 15 days.
Mrs. Braxton was born January 4, 1924, in DeLeon, TX to Porter and Fannie (Brumbelow) Southall. When she was three years old, the family moved to Parmer County, Texas, where they had purchased land from the Capitol Syndicate Corporation when it divided and sold the enormous XIT Ranch to pay for the state's Capitol building. She grew up there and attended elementary and secondary schools in Friona, graduating from Friona High School in 1942. On September 26, 1942, she married James Ross "Pete" Braxton in Friona. They had two sons, James Ross Jr. "Jim" and Ray Gene.
The Braxtons owned and operated the Tri-County and Black, Texas Grain businesses for 34 years. Their first home was above the grain elevator's office. In 1950, they built a house across the road from the elevator, where they raised their family. They also operated businesses in Ruidoso, NM, Amarillo, TX, and Edmond, OK. After retiring in 1979, the couple moved to Weatherford.
Mrs. Braxton enjoyed working with her husband in the family businesses. However, her greatest joy came from taking care of her family. She was a devoted wife who adored her boys. The family enjoyed traveling, skiing, and sightseeing. Throughout the years, they traveled to 38 states as well as Mexico and Cuba. Pete and Christine were in Cuba when the Castro revolution took place.
Mrs. Braxton was a member of the First Baptist Church in Friona and the Order of the Eastern Star. She was an active member of the Retired Senior Volunteer Program and the Pioneer Center in Weatherford, where she served 10 years as a council member. She served 2 years as secretary of a five-county nutrition program.
Mrs. Braxton is survived by her step-granddaughter Jenny of San Francisco, CA, and by her sister and brother-in-law Anna Jo and Gene Smith of Del City, along with numerous nieces and nephews. She leaves behind many friends in both Texas and Oklahoma, especially at the Corn Heritage Village of Weatherford, where she resided for the past 2 years.
She was preceded in death by her husband Pete and sons Jim and Ray, as well as her parents and four siblings.
In lieu of flowers, contributions may be made to the charity of your choice.