Obituaries
Charley A. Morrison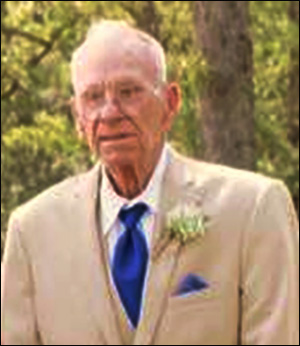 Charley A. Morrison, 92, of Friona, died January 2, 2016 in Friona. Funeral services have been scheduled for 10:30 a.m. Friday, January 8, 2016 at the First Baptist Church in Friona with Rev. Brett Hoyle, pastor, and Rev. Charles Broadhurst, former pastor officiating. Burial will follow in the Friona Cemetery by Blackwell-Mullins Funeral Home of Friona.
Charley was born February 3, 1923 in Vernon, Texas to Wilson and Jessie Mae Lee Morrison. He served in the Army Air Corps where he fought in World War II then he later joined the United States Marine Corps where he fought in the Korean War earning among others, the Purple Heart. He married Lou Ella Hall on March 3, 1957 in Amarillo, Texas. A resident of Friona since 1971, he was a maintenance worker for Cargill, and a member of First Baptist Church. He loved to fish, grow a garden, spend time with family, go to sporting events, listen to country music, and he loved John Wayne.
He is preceded in death by his parents, wife, three sisters, five brothers, one great-grandchild, and one son-in-law.
Survivors include two daughters, Marie Saiz of Friona and Peggy Schmidt of Fairmont, Nebraska; one sister, Carolyn Ritchey and husband Dean; three grandchildren, Charley and Phillip Saiz and A.J. Schmidt; and one great-grandchild, Isabella Saiz.
Memorials can be made to Friona Heritage Estates, 201 E. 15th Street in Friona, Texas 79035, Parmer Medical Center, 1307 Cleveland, Friona, Texas 79035 and First Baptist Church, 404 W. 5th Street, Friona, Texas 79035.
You may sign the online register book at www.blackwellmullins.com.
Lois C. Weis, of Grand Junction, Colorado, passed away, Sunday, December 20, 2015.
Lois was born June 24, 1929 to Emanuel Alexander and Leona Faye Thompson on a ranch in Pitkin County, near Carbondale, Colorado. The family later bought a ranch 16 miles up the White River East of Rangely, Colorado, where she and her siblings spent their childhood, helping with chores and attending school in a one-room school house at Angora, along with their cousin Emery Mobley. In her sophomore year she stayed in Meeker, Colorado with family, where she graduated high school at age 16. She then moved to Denver where she attended nursing college. Lois worked in the medical field almost exclusively until her retirement.
Lois moved to Texas where she met and married Harry C. Weis. They moved to Southern California where Harry worked as a building contractor. They both loved to square dance and were very involved in it. They were married 55 years at the time of his death in April of 2012. May of 2012, brought Lois to Moab, Utah to live with her sister and brother-in-law Pauline and Roy Lathrom, where she resided until health issues demanded more care. She moved to Grand Junction, Co. April 1, 2015, where she spent the last 8 months in assisted living at Beehive Homes where she made friends and enjoyed visits from family and friends and received loving attention from all the workers at the home, as well as from her niece Lori and husband Nick, who took her to Dr. visits, shopped for her and did whatever they could to help. Lois loved to read and when she could no longer see, she read her talking books, which she thoroughly enjoyed. In years past she did a lot of fancy work, knitting tatting, crocheting and embroidery. she also loved to bake, and loved her roses.
She was proceeded in death by her husband Harry, parents, sisters Muriel Devereaux, and Melba Ester Thompson and brothers Vernon and Larry Thompson and Jim Renfro.
She is survived by sisters, Pauline Lathrom, Phyllis Phillips and numerous nieces, nephews and cousins who will all miss her!
A graveside service will be held in Friona, Texas at a later date.