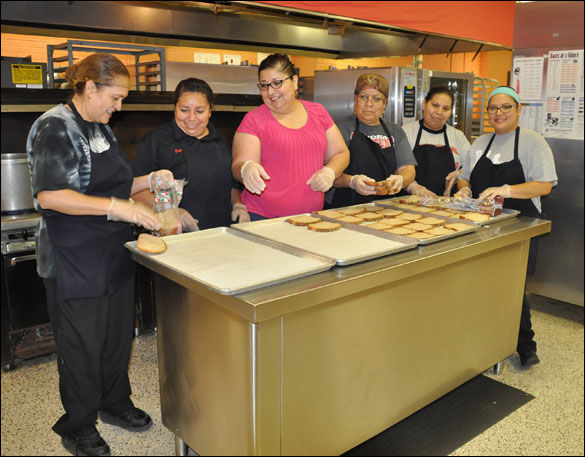 dana jameson photo
Throughout the school year these dedicated cafeteria ladies prepare delicious and nutritious meals for students that attend Friona schools. They are even busy during June feeding breakfast and lunch. Above they are preparing toast for the next days breakfast. Pictured are, l-r, Luisa Rojas, Olivia Huerta, Laura Romero, Flora Reyes, Margarita Garcia and Lucy Castillo.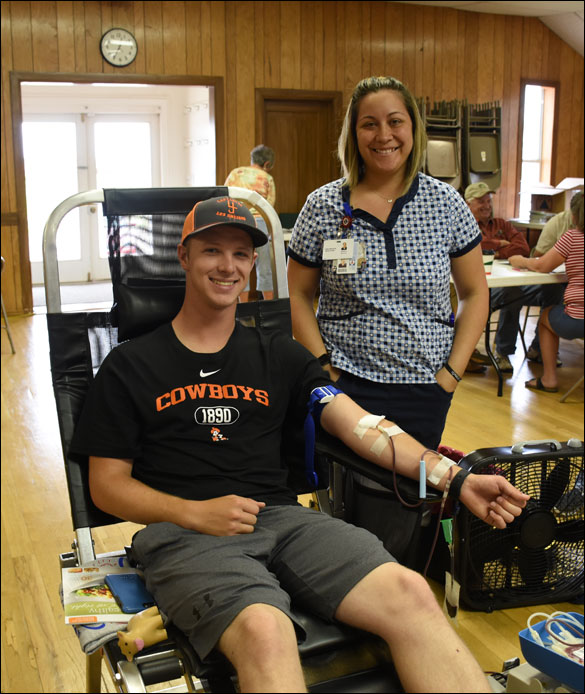 ron carr photo
Coffee Memorial Blood Center technician Sarah Scarbrough tends to blood donor Josh Barnett at the June 2 Friona blood drive. A total of 58 units of blood were collected. Thanks to everyone that came out to donate and give the gift of life.
Official weather guy John Gurley says we received 0.33" of rain Sunday night and have 2.01" so far this month. And the month isn't even half way over. More is in the forecast they say on the TV news. (more...)
Sign-up for Kendrick Golf Tournament
The 8th annual HK "Pudge" Kendrick Golf Tournament will be held July 30-31 at the John Pitman Golf Club in Hereford. The format is a two-person scramble and the fee is $250 per team. (more...)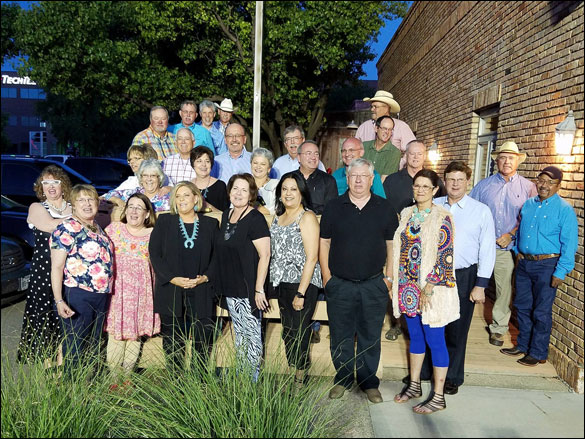 courtesy photo
The Friona High School Class of 1976 held a reunion Saturday June 4 at the Hoffbrau Steakhouse in Amarillo. First row, l-r, Pamela Lindley Pauling, Leesa Mercer Stephens, Lisa Edelmon Veggeberg, Iris Stephenson Bowyer, Rhonda Webster Wilkins, Lucinda Aguirre Stokes, Johnny Jones, Myrna Phipps Hill, David Gowens; 2nd & 3rd row, l-r, Paula London Clark, D'Aun Wilson Pratt, Jim Murphree, Tamela Hassenpflug Bandy, David Barnett, Cindy Lundy Todd, Noel White, John Seright, Bobby Zetzsche, Loren Martin, Kenny Stowers, Danny Campbell, Dennis Brito; Top, l-r, Davy Carthel, Robin Renner, Hal Blackburn, Gary Self, Mike Southward.