Obituary
Jose Angel "Bebe" Guerra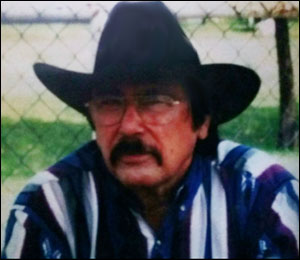 Jose Angel "Bebe" Guerra, 86, of Hereford, died Friday, July 22, 2016, in Hereford. Mass of Christian burial services were held Tuesday, July 26, 2016 at St. Teresa's Catholic Church in Friona with Rev. Anthony Neusch of St. Anthony's Catholic Church in Hereford as Celebrant. Burial will follow in the Friona Cemetery by Blackwell-Mullins Funeral Home of Friona.
Jose was born in El Ranchito, Texas on February 21, 1930 to Higinio and Angelita Bueno Guerra. Jose loved to play guitar and sing. He blessed many families with his music at funerals and serenaded mothers on Mother's day. He was active at St. Teresa's Catholic Church in Friona, where he would play and sing in services. Jose was a member of the Cruccio Men's Organization of the church. He was a beloved father, grandfather and great-grandfather.
Jose is preceded in death by his parents; two sons, Alex and Joe Angel; two brothers; and one sister.
Survivors include his wife, Guadalupe Guerra of Bovina; five daughters, Angie Gomez of Bovina, Rachel Gonzalez of Lubbock, Francis Pena of Amarillo, Lisa Guerra of Lubbock and Christy Rico of Hereford; one son, Daniel Guerra of Friona; three brothers, Higinio Guerra of San Benito, Calistro Guerra and Robert Guerra both of Levelland; one sister, Lupe Martinez of Arkansas; fifteen grandchildren; and thirty-one great-grandchildren.
You may sign the online register book at: www.blackwellmullins.com