Obituaries
Katherine Ann Byler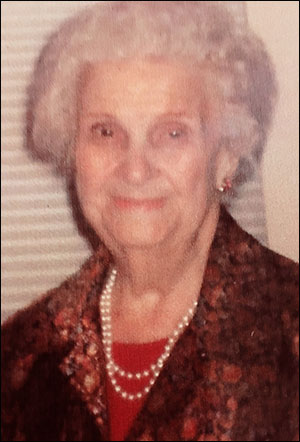 Katherine Ann Byler, 96, of Stephenville, formerly of Bovina and Amarillo, died Thursday, March 30, 2017 in Stephenville. Graveside services were held Monday, April 3, 2017 at the Bovina Cemetery with Rev. Brian Mullins, pastor of the First Baptist Church in Bovina, officiating. Burial following by Blackwell-Mullins Funeral Home of Friona.
Katherine was born in Bovina and was the youngest daughter of Norman and Lucy Wilson. She had an older brother, Joe Wilson, and an older sister, Norma Lee Plummer, who are both deceased.
Katherine lived in Amarillo, Texas for sixty plus years and was a member of Paramount Terrace Christian Church. She was a wonderful wife, mother, grandmother, and friend to many. She was also a very talented seamstress, cook, investor, money manager, and craft expert. Katherine made everything from afghans to Christmas decorations. Her backyard was always a beautiful flower garden and gathering place for family and friends.
She was also preceded in death by her husband John Byler Jr.; her son, Norman Lewis Byler; and her daughter, Pamela Jean Byler.
Katherine is survived by her son, Johnny Wilson Byler and wife Jimmie of Dublin, Texas; her daughter, Jo Ann Johnson and husband Michael of Fort Worth, Texas; and four grandchildren: Craig Byler and wife Rebecca of Little Elm, Texas, J'Layne Mayfield of Aubrey, Texas, Katherine (Kate) Forsythe and husband Bryan of Coppell, Texas, and John Byler and wife Kristi of Southlake, Texas. She is also survived by eight great-grandchildren: Kristen Byler, Taylor Mayfield, Sarah Byler, Brennan Forsythe, Caden Forsythe, John M. Byler, Graham Forsythe, and MaKenzie Byler; as well as a niece Frankie Smith of Valley Mills, Texas; great-niece Becky Smith; and sister-in-law Helen Preston of Amarillo, Texas.
You may sign the online register book at www.blackwellmullins.com.