Barnett resigns, new trustees sworn in
The Friona Independent School District Board of Trustees held a special session on Friday, May 19, 2017 at 7 a.m. address a short agenda that included the resignation of President Ricky Barnett and the appointment of new members and officers.
The Board heard from Director of Technology Darla Hutchins concerning bids taken for a new phone system for the district. After a lengthy discussion, the item was tabled until the representatives for the two bids that were received could make a presentation to the board.
The board voted to accept the resignation of Ricky Barnett from the Board of Trustees after a letter written by Barnett was read by FISD Superintendent Dr. Pam Ray to the assembled group.
Corbin Riethmayer was accepted by the board to finish out Barnett's term of one year. A special election will be held in May of 2018 for a one-year term. The regular election will be held in May of 2019 when a three-year term becomes available.
Wade Schueler, Jamie Lewellen and Corbin Riethmayer were sworn in as new members of the board. The oath of office was administered by Imelda Saucedo, Superintendent Secretary.
The board elected Becky Riethmayer as the new president of the board. Andy Montana was elected the vice president and Jason Rector will take over the secretary duties.
After a brief discussion the meeting was adjourned.
The FISD Board of Trustees will meet in regular session on Monday, June 12, 2017 at 7 p.m. in the administration building boardroom. All meetings are open to the public.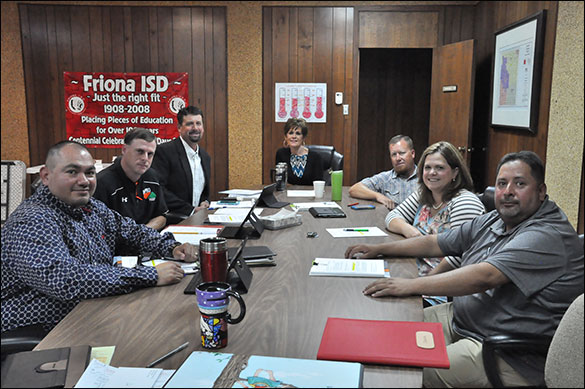 dana jameson photo
The Friona Independent School District Board of Trustees has a new look after the board meeting held Friday, May 19. Pictured are, l-r, Vice President Andy Montana, Secretary Jason Rector, new board member Corbin Riethmayer, President Becky Riethmayer, Wade Schueler, new board member Jamie Lewellen, and Antonio Rocha.