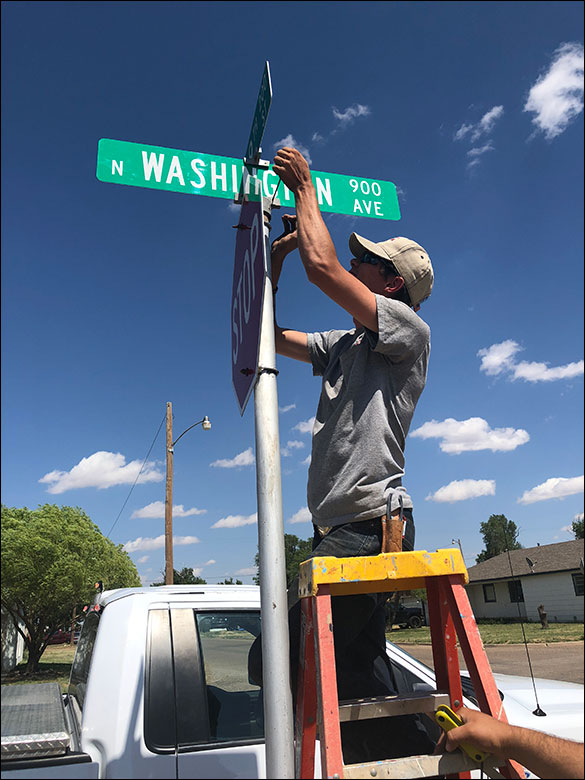 New street signs being installed
The City of Friona has purchased over 99 street name signs to replace old or missing signs throughout the City. New street signs will help with mail distribution and assist police, fire and EMS personnel in navigating streets during emergencies. "We have several part-time EMS personnel who live outside the city limits who would greatly benefit from the new street signs," states City Manager Lee Davila. "Our goal as a City is to ensure that we supply our employees with every resource available (including signs) to assure that our residents receive quick and responsive medical attention." Pictured above is City employee Skyler Harris placing new street name signs at the intersection of Washington Avenue and East 9th Street.

City now accepting credit card payments

The City of Friona now accepts credit card payments for City services. "I want to bring convenience to our residents who wish to pay their utility payments via credit card," states City Manager Lee Davila. The City will continue to accept cash and checks. With the support of the Mayor and City Council, the City of Friona plans to increase their online digital presence by creating a website, integrating online utility payments, and establishing social media outlets in the near future.
Congratulations to Adilene Adame and Cristina Aguilar from Friona for graduating from ENMU recently.
«««
Happy Anniversary to Corbin & Becky Neill, who married on June 11, 2016. Have a lovely day. Here is to many more! (more...)

Chieftain Baseball Camp is a big hit!
Friona Chieftain Baseball camp was held from May 30 through June 1. It had a tremendous turnout. There were 61 campers that participated in the 3-day camp. A majority of the campers were from Friona, but we also had participants travel from Hereford everyday for the camp. The camp focused on teaching baseball fundamentals and also provided the children with everyday life lessons. The Chieftain Baseball coaches gave speeches each day on the importance of education, mental toughness, and respect. The current members of the Chieftain Baseball team and Coaches ran the camp. As well as Mrs. Rosales, who helped get the kids registered. ​Coach Rosales and the Chieftain baseball program would like to thank Jason Daniels, Eric Geske and Rosa Cigarroa for helping distribute camp flyers and encouraging our youth to be actively involved.