The Farmwife Kitchen is now open for business! A ribbon cutting ceremony was held last Thursday to celebrate the opening of the new restaurant at 1505 W. 5th in Friona. Back (l-r) Socorro Gonzales, Yvette Williams, Heather Grimsley, Cody Grimsley, Sergio Mendez, Front (l-r)
Varla Wilcox & granddaughter, Erika Carrillo, Erin Grimsley & sons Cannon & River, Chris Alexander & Larry Rector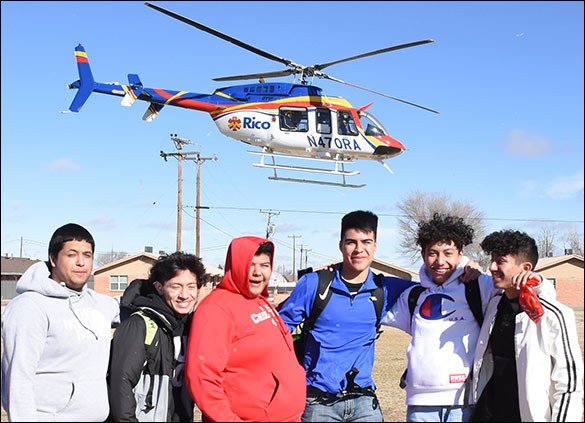 Front Row: Jesus Flores, Eduardo Chavez, Zeus Zamudio, Jose Grado, Ricky Luna, and Alex Santiago. Back Row: Rico Aviation air ambulance crew. More photos on page 9 of the Friona Star.
Town Talk
Future Chiefs!!! All 8th grade students are invited to meet and plan for high school. The event will start at 5:30 p.m. on Thursday, February 13th at the FHS cafeteria. (more...)
FHS grad joins faculty at Texas Tech

Renowned horse expert and veterinarian Britt Conklin has been hired as the new Associate Dean for Clinical Programs at the Texas Tech School of Veterinary Medicine. (more...)
Chieftains receive 4 selections on TSWA Class 3A All-State Football Team
The Friona Chieftains received four selections on the 2019 Texas Sports Writers Association Class 3A All-State Football Team that was announced on February 12th.
Sophomore running back Jacob Bautista was a TSWA All-State 2nd Team selection. He set two school records by rushing for 2,091 yards and scoring 158 points. Jacob was a 2nd Team Offense All-District selection. (more...)
In December 2019, area representatives from Bovina, Farwell, Friona, and Lazbuddie partnered with the U.S. Census Bureau to create a Census 2020 Complete Count Committee. This committee, chaired by Friona City Manager Lee Davila and Bovina City Manager Cesar Marquez, is comprised of about 20 individuals from the community, local schools, county offices and city governments. They are responsible for outreach and education for the 2020 Census in Parmer County. Their goal is to perform outreach to residents regarding the upcoming census and the benefits of an accurate count for each city. In the coming weeks, the Friona Star will assist them in sharing information about this year's census in order to encourage residents to promptly self-respond to the census, eliminating the time and tax dollars spent sending employees door-to-door to gather information. But first, here's a quick refresher of what the census is and why it's essential for everyone to be counted. (more...)