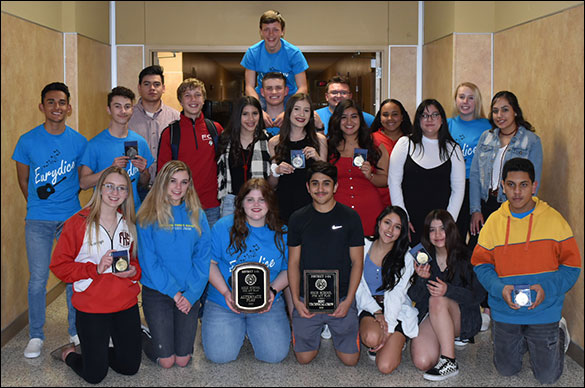 The One Act Play cast and crew won Alternate Show to Bi-District!!! Zeke Garcia was Honorable Mention All Star and Mariah Rivera was All Star Cast. The OAP also received the award for Outstanding Technical Crew. Congratulations to all!!!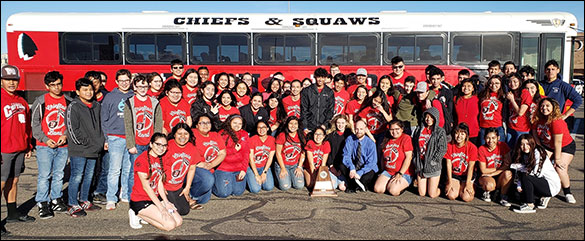 Mighty Chieftain Band Sweepstakes!!!
1's in Concert and Sight-Reading!!!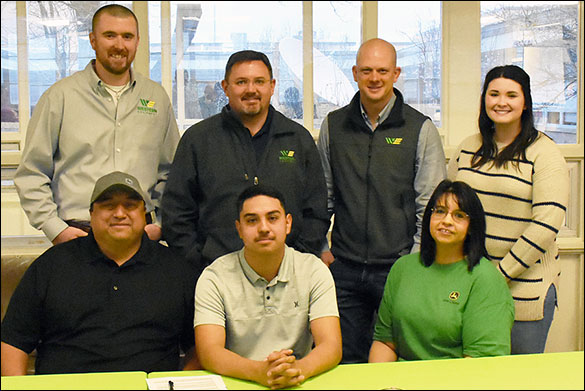 Back row (l-r) Western Equipment representatives Cody Ponder, Doug Ogle, & Colby Flaming; and FHS Ag Teacher Malia Blackburn; Front row (l-r) Anthony Padilla Sr., Anthony Padilla, Sandra Padilla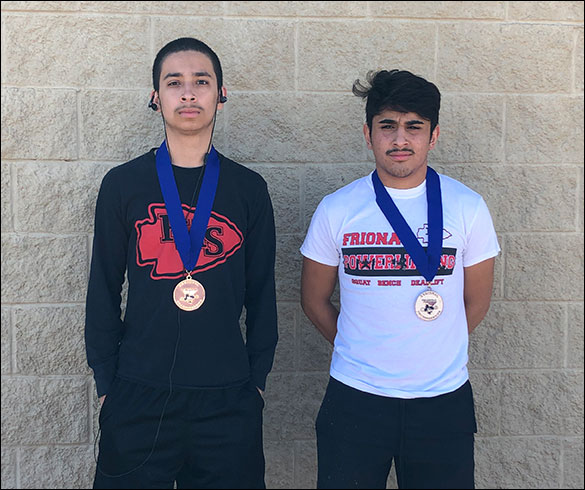 Powerlifting Meet results March 14th
Nathan Flores 4th place 114
Jeremiah Díaz 2nd place 148 (state qualifier)


Area Closures:

• FISD Schools are closed through April 3.

• FISD Meal Schedule: Meals will be served from 9:00 a.m. - 12:45 p.m. at the Friona Jr. High Cafeteria. Available to all children 18 years of age & under. Breakfast & Lunch will be combined into one package each day.

• City of Friona, Chamber of Commerce, Municipal Court & Friona Public Library will be closed to the public until further notice. You can still call to conduct business and use City Dropoff.

• Parmer County Courthouse is open but office entry is restricted. Please call in advance to schedule an appointment.

• Friona Interbank, Friona Banking Center, Friona TX Credit Union offices are closed until futher notice. You can conduct business at their drivethru locations only.

• All restaurants are take-out or drivethru only.

• Senior Citizens Center meals will be discontinued until further notice.

• No visitation at Prairie Acres until further notice

• County Jail Visitation Suspended

• Bovina Chamber Banquet Postponed

• Drivers License Office Temporarily Closed (CDL testing by appointment)

• Deaf Smith Electric Coop 82nd Annual Meeting has been postponed

• WT Services Annual Meeting has been postponed

• Friends of the Library Book Shoppe is closed until further notice.

• Friona Star Newspapers are available at our office.

• Bi-Wize Pharmacy and Furniture will be "limited access" for the foreseeable future. We are open regular hours and most services are still available, however, only the front foyer of the store is open to customers. We ask that no more than 2 customers be in the front area at a time. We encourage you to handle as much of your business as possible by phone. Curbside service is available and we urge the most at-risk members of the community to use it. Prescriptions, over-the-counter items, and even furniture are all still available for purchase. See our ad in today's paper for more details.
Contact Friona Star at 250-2211 or frionastar@wtrt.net to add to this list. (more...)
---
Town Talk
Starting next week, the Friona Star will print a list of businesses and/or organizations that need to change the way they interact with the community. Call us at 250-2211 to inform us of changes that the public needs to know about. We will publish them in next week's edition. Cancellations and postponements will also be listed above. (more...)
---
PMC takes precautionary measures
Parmer Medical Center (PMC) is staying abreast of the ever-changing guidelines being issued by the Center for Disease Control (CDC) regarding COVID-19, more commonly referred to as Coronavirus. The following information may change at any time. If you have any questions regarding the current guidelines being followed at PMC, please do not hesitate to call (806) 250-2754 and ask for Devin Carpenter, Director of Nursing; Rhonda Wilkins, Director of Senior Services; or Gayla Quillin, CEO. (more...)
---
Padilla signs with Western Equipment
Congratulations to Anthony Padilla! He signed with Western Equipment for their John Deere Ag Tech Program. The classroom education and on-the-job skills he will gain in the two-year associate's degree program will help him build a solid, successful and rewarding career. The course instructors and personnel from the sponsoring dealerships are committed to providing the highest quality training. Successful graduates go to work at John Deere dealerships that provide job placement, excellent starting pay, extensive benefits and great work conditions. Dealerships invest in the new technicians because they will be the best in the industry. Good luck Anthony!
---