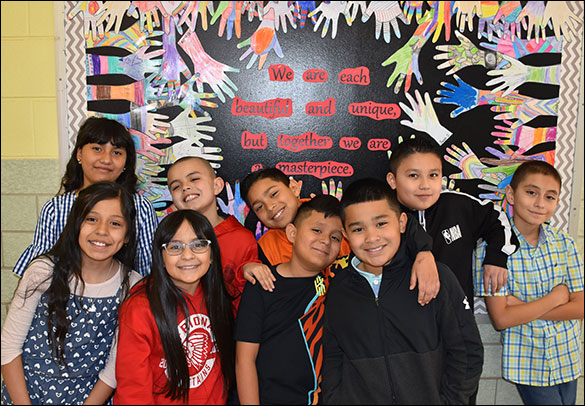 Back row (l-r) Kimberly Avila, Octavio Arias, Max Reyes, Gabriel Castillo, Roberto Corrales; Front row (l-r) Angelina Esparza, Kailey Jaramillo, Isaias Casas, Isael Guzman

These Friona 4th Graders are soon to star in public service announcements promoting the upcoming 2020 Census. Filming has begun under the direction of City Manager Leander Davila and Production Manager Eric Gonzalez of EG Photography. 4th Grade Teacher Marie Samarron is the Associate Producer. These "cinematic masterpieces" will highlight the importance of having an accurate population count. Stay tuned.
------------------


These FHS choir students advanced as soloists to the state competition that will be held in May. Back row (l-r) Angel Carranza, Eric Gonzalez, Emmanuel Gonzalez, Antonio Vasquez. Front row (l-r) Adaline White, Nayeli Soto, Kade Rector.

Town Talk
SAVE THE DATE: Deaf Smith Electric Cooperative will hold its 82nd Annual Membership Meeting at 5:30 p.m. on Tuesday, March 24, 2020 at the Hereford Bull Barn. (more...)
The City of Friona has been working hard to bring awareness to the approaching 2020 Census. Additionally, the City is publishing weekly articles in the Friona Star to make folks more comfortable with the census process. For the first time, the 2020 Census will allow online entering of census information. City Manager Leander Davila has been working with a group of 4th graders to film a public service announcement about the census with the help of Eric Gonzalez from EG Photography and 4th Grade Teacher Marie Samarron. (more...)
Texas Increases Security Features, Unveils New Design for Driver License/ID and License to Carry Cards
Starting this week, the Texas Department of Public Safety (DPS) began issuing the newly designed Texas driver licenses (DL), identification (ID) cards and license to carry (LTC) cards to all Texans. Most notably, all of the cards will feature a new look with an updated design and enhanced security features. The DL/ID cards will also feature visible and discrete identifiers on the front. It's important to note that previously issued DLs are still valid until the expiration date listed on the card. (more...)