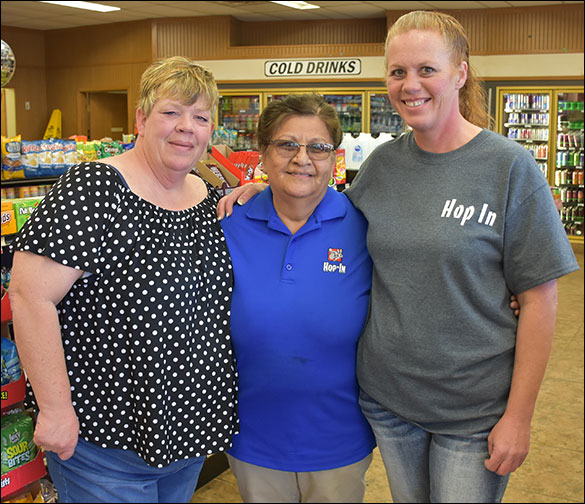 Hop-In management (l-r) Shelly Cardonita (District Manager/10 Stores), Esperanza Herrera (newly retired Store Manager), and Pam Radford (new Store Manager)




Earth Works of Lubbock began work last week on the High School portion of the FISD Building and Construction Project. The company is also working at the Junior High and the new Primary School location. More photos next week.
---
The International City/County Management Association (ICMA) recently recognized members' dedication to public service and professional management at their annual conference in Nashville, Tennessee. Among those recognized was Friona City Manager Leander Davila for his 20 Years of Service. The ICMA advances professional local government through leadership, management, innovation, and ethics. Their vision is to be the leading professional association dedicated to creating and supporting thriving communities throughout the world. (more...)
---
---
Texas WIC Expands Eligible Foods, Launches Updated App
AUSTIN – Texas Health and Human Services announces Texas WIC, the special supplemental nutrition program for women, infants, and children, is expanding the number of food items eligible for purchase through the program. It is also updating the MyTexasWIC app to ensure Texans who need access to nutritious food will be able to find it in their local grocery stores. (more...)
Friona Blood Drive is April 9th
The Friona Noon Lions Club is sponsoring a Friona Community Blood Drive on Thursday, April 9th from Noon until 7:00 p.m. in the Calvary Baptist Church Fellowship Hall at 1500 Cleveland. All donors will receive a t-shirt and another gift. To schedule an appointment, call 1-877-340-8777 or visit yourbloodinstitute.org.
NOTE: You will be able to stay in your car until it is your turn to donate. Also, the Noon Lions Club will be cooking hamburgers and french fries and will bring the food to your car or deliver it to your home. Blood drives are essential services and social distancing guidelines will be followed.
---
COVID-19 News and Updates
Area Closures:
• All Texas State Parks & Historic Sites are closed.
• Outdoor drama "Texas" has been cancelled for the season.
• Texas 4-H Roundup hosted by Texas A&M has been cancelled.
• 2020 Cheeseburger Festival has been cancelled.
• Jury duty for April 15 has been rescheduled to June 23.
• FISD Schools are closed through May 4.
• FISD Meal Schedule: Meals will be served from 9:00 a.m. - 1:00 p.m. at the Friona Jr. High Cafeteria. Available to all children 18 years of age & under. Breakfast & Lunch will be combined into one package each day.
• City of Friona, Chamber of Commerce, Municipal Court & Friona Public Library will be closed to the public until further notice. You can still call to conduct business and use City Dropoff.
• Parmer County Courthouse is open but office entry is restricted. Please call in advance for more information.
• Friona Interbank, Friona Banking Center, Friona TX Credit Union offices are closed until futher notice. You can conduct business at their drivethru locations only.
• All restaurants are take-out or drive-thru only.
• Senior Citizens Center meals will be discontinued until further notice.
• No visitation at Prairie Acres until further notice.
• County Jail Visitation Suspended.
• Bovina Chamber Banquet Postponed.
• Drivers License Office Temporarily Closed (CDL testing by appointment) .
• Deaf Smith Electric Coop 82nd Annual Meeting has been postponed. DSEC has closed its lobby. Call 806-364-1166 for info.
• WT Services Annual Meeting has been postponed. WTRT/WT Services lobbies are closed. Call customer care at 250-5555 for more information.
• Friends of the Library Book Shoppe is closed until further notice.
• Friona Star Newspapers are available at our office.
• Bi-Wize Pharmacy and Furniture will be "limited access" for the foreseeable future. We are open regular hours and most services are still available, however, only the front foyer of the store is open to customers. We ask that no more than 2 customers be in the front area at a time. We encourage you to handle as much of your business as possible by phone. Curbside service is available and we urge the most at-risk members of the community to use it. Prescriptions, over-the-counter items, and even furniture are all still available for purchase. See our ad in today's paper for more details.
• Chieftain Sports and Fitness is closed until further notice. All memberships are frozen until the re-opening.
Contact Friona Star at 250-2211 or frionastar@wtrt.net to add to this list.
---
The Convenient Truth
Esperanza Herrera retired this past Monday after a 27-year career in the convenient store business. She began working at Fast Stop when it was located east of the Junior High School. She started working at the current location, 214 & Highway 60, when the Kendrick family bought the store from Town & Country. Esperanza worked at Fast Stop for 25 years and then for YesWay for one year after the company purchased it from Fast Stop. She has worked for Hop In during the past year after they bought the store from YesWay. Esperanza would like to thank Friona and all of her loyal customers who have supported her over the years. Thank you, Esperanza! (more...)