Chiefs score first win, beat Roosevelt 35-14
It was wet. A few minutes before the 7:30 p.m. kickoff time the rain pelted Friona as fans scampered for cover to wait out the downpour.
The game began in the rain as Friona kicked off to the Lubbock Roosevelt Eagles. About 8 minutes into the first quarter the teams were sent to the locker rooms under a lightning delay. Play resumed after about 40 minutes.
On the first play after the delay, Chieftain Omar Ramos took a handoff and rambled 59 yards to score the Chiefs first touchdown of the night. Offensive coordinator Coach Daniel Hutchins said they drew the play up in the locker room during the delay.
Ramos was the top rusher with 89 yards on 9 carries. Sawyer Osborn had 4 carries for 65 yards, one being a 34-yard touchdown run.
Brad Stowers started at quarterback for the first time this season. Mason Loflin moved out to wide receiver. Stowers carried 10 times for 58 yards and a 21-yard touchdown run, one of his two rushing TDs in the game. Eddie Garcia, brought up from the JV, ran 11 times for 43 yards.
Loflin moved back to quarterback for several series, completing a 37-yard touchdown pass to Sawyer Osborn in the fourth quarter. Loflin completed 2 of 3 passes for 49 yards. Stowers completed 3 of 4 passes for 19 yards. Diego Licerio, Osborn, and Ramos had pass receptions. Licerio was good on 5 of 5 extra point kicks.
The Chieftain defense held the Eagles to 123 yards of offense, 12 rushing and 111 passing. Friona rolled up 269 rushing yards and 68 passing for a 337 total.
Sawyer Osborn was credited with a team leading 6.5 tackles. Abel Palacios had 5 tackles and Richard Rodriguez 4.5. The Chiefs sacked Eagle quarterbacks 6 times, 2 by Osborn and one each by Antonio Adame, Michael Garcia, John Haile, and Sebastian Santiago. Dallin Woods and Stowers each had a pass interception.
The Chiefs hit the road to Dalhart Friday Oct 5 to take on the Golden Wolves. Then district play begins Friday Oct 12 against the visiting Muleshoe Mules.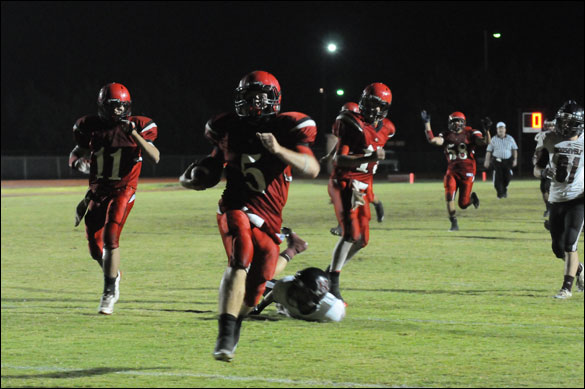 ron carr photo
Chieftain Sawyer Osborn scores a touchdown on a pass from Mason Loflin in the 4th quarter of Friday's game with Lubbock Roosevelt. The Chiefs won 35-14. Others are Stephen Albarado (11), Brad Stowers (15), and Sebastian Santiago (58). More photos from the game in our photo section.